Going out now is more than just going to eat. It is an event.
My heart flutters when I know I am going to a tasting.
I am so fortunate to receive such lovely invites to so many wonderful restaurants.
Before my restaurant writing life I loved ordering. Always asking what you would recommend.
As a former server I personally loved when customers would ask what is good.
I now go to tastings and when I am asked what I would like I respond with what would you like me to have.
Applause to the server's comfort with recommendations. These are the ones that prove excellence in what they do. The suggestion is always spot on.
Occasionally I get to do a true tasting.
Welcome to Limani Roslyn
At Limani Roslyn this experience was not only a true tasting but personally chosen by the Captain, Nestor.
On this cold January evening we drove up to the valet and were greeted by a beautiful entrance. Manhattan worthy décor. Classic and elegant.
Covid safety glass framed beautifully that fit seamlessly.
Bustling open kitchen behind cases of the fresh meats.
Beautiful raw bar displaying the freshest seafood possible.
Impressive wine rooms side by side with private dining available.
As beautiful as the space, the food did not disappoint.
Starters: Pita With 2 Kinds of Hummus
To begin, pita and two kinds of hummus. Delicious.
Followed by Salmon ceviche in vinegar sauce. So clean and fresh and a delightful surprise.
Then the parade of dishes began.
Grilled octopus. Charred beautifully in a light lemon sauce.
Calamari – one of my favorites and done perfectly.
Zucchini and Eggplant chips yum yum yum. Always order Zucchini chips whenever possible.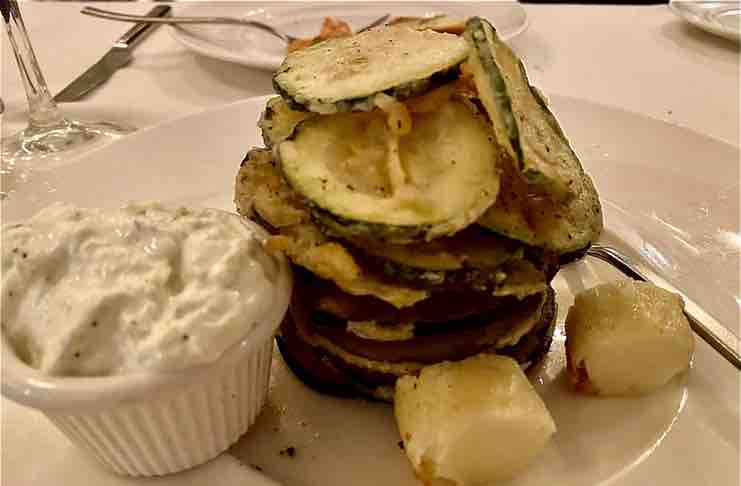 The Star of the Evening
Nestor, our captain, sent over Grilled scallops – Scallops always call to me but can be tricky to successfully execute. The grill on these large, beautiful scallops made each bite tell me this was not a challenge for the chef.
Even after days, my sense memory brings back the perfect smoke with each bite. The flavor of the fresh scallops came through with light notes. For me, this was the star of the evening.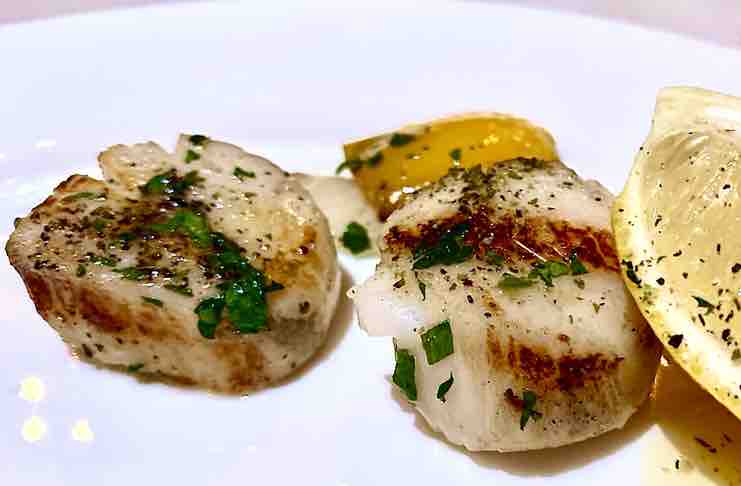 Jumbo shrimp in a tomato sauce – this came out with its friend the scallop.
Shrimp the size of my fist. Prepared lovely and swimming in a beautiful tomato sauce.
Dip-worthy sauce and thank you for the extra pita.
Nestor paired these dishes with the perfect wine. Spyros Hatziyiannis wine of Greece.
A beautiful light white wine with a bold finish.
The plates keep coming.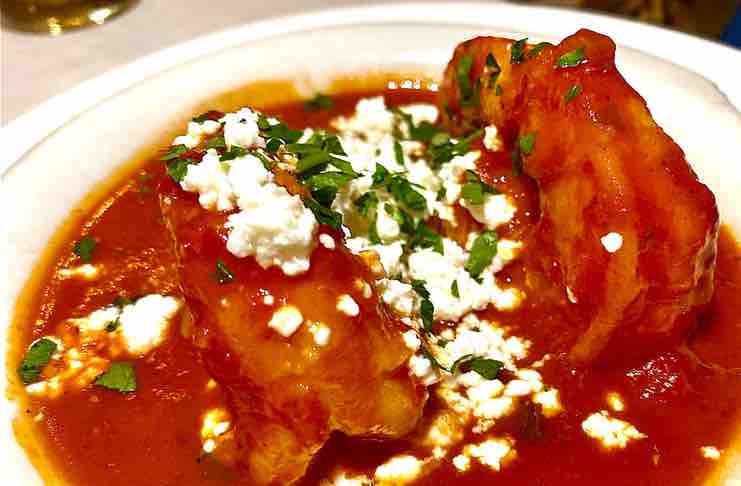 Lobster Pasta and Branzini
Lobster pasta – who does not like pasta…who does not like lobster.
Then the staple of Greece.
A beautiful Branzini, flaky and tasty with a side of greens – Mike loved this!
With the pasta we had Rapsani a lovely Greek red wine
This amazing evening of great food and wonderful service.
Happy and full.
Slowly ended.
Finale of a trio of sweets.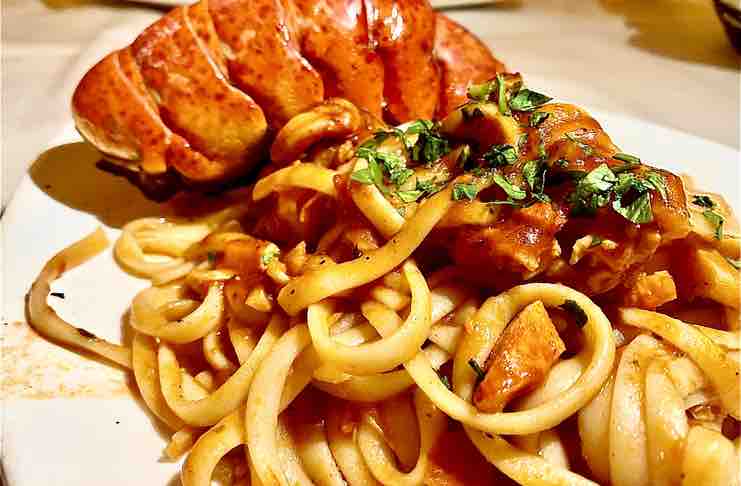 The Desserts
Karidopita 9. Walnut sponge cake, cinnamon, cloves, honey syrup served with vanilla ice cream
Baklava nine. Almonds, walnuts, cinnamon, layers of phyllo baked with honey syrup
Yaourti 11. Authentic Greek yogurt with thyme honey and walnuts
This was the perfect Tasting with the perfect atmosphere made perfect by this incomparable hospitality.
The service was completely on point beginning with the captain.
When I asked Nestor, what would you like me to try…a huge smile came across his face. His excitement came through when he said, I love this, yes. I will take care of you two.
He did.
Conclusion
Now and then you come across a perfect evening.
Nestor assured that it would be this night.
The care and attention to every detail was evident and not intrusive.
Especially noted he gave this outstanding service to every diner.
Limani is elegant dining with the freshest foods prepared and served with care and excellence.
Thank you for a night to remember.
Where? Limani Roslyn
1043 Northern Blvd., Roslyn NY 11576
516-869-8989, or check out their website
Want to read more of our latest posts? Check out our favorite places for hunting in Vermont this year.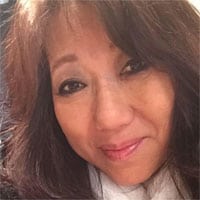 Living and loving in NYC, food has been a passion of hers. East Coast to West, Faith's goal is to explore and learn with the contribution of other like-minded foodies. Faith Rein has written for 2Girlsfromabar@blogspot.com. Youtube channel – faith.rein, love food love faith. You can find her @: Faith.rein/facebook (always looking to add friends) / faith rein@twitter / faith.rein@instagram /