By Ron Rossi
In today's world, it is not too tough to find a Deli here in New York City. They are all over the city. But to find a true, old-fashioned style Jewish Deli is not so easy. They do exist, but you have to find them when you can. In the last few years they have closed and vanished, only becoming a memory to a few of us.
But when we do find one it reminds us of what we used to eat when we went over with family and friends. That is why we are lucky when we walk into PJ BERNSTEIN Deli on the East Side. It is authentic.
I remember being here as a young kid. So, to go back today was like going home. It was more than we expected but similar to what we remembered when we were greeted by Eugene, the Grandson of the owner Alex Slobodski.
THE ORDER OF THE ORDER
Where can you begin? After talking to Eugene, we took a look at the menu. It had everything. Before going in I knew what I wanted to have. It is like a standard order when you walk into the deli you always remembered. It is what you always like and want.
First up was the MATZOH BALL SOUP. This is a classic. It was huge, fresh and filled with everything you would expect. And it was all homemade today. The matzoh ball was large and fresh. It was light and moist. The soup itself was fresh chicken soup and had in it carrots, celery, and some onion. It also was filled with noodles. These alone could have been a bowl of pasta. But in the soup, the bowl could have been an entire meal. It was perfect. And they are famous for it here.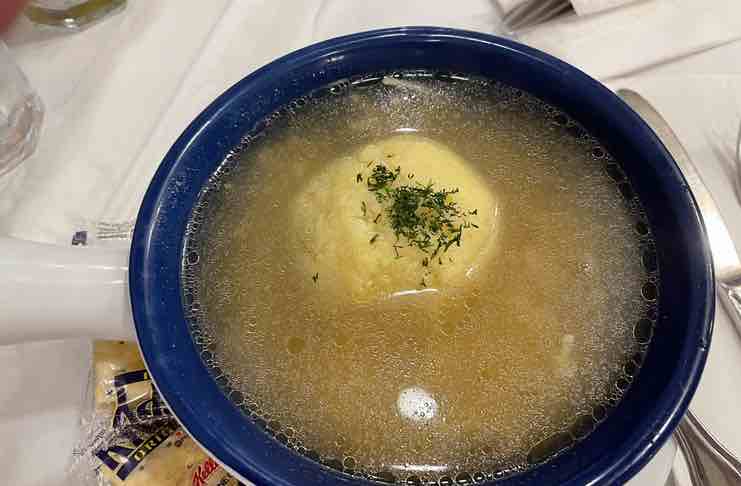 We also had KREPLACH SOUP. This is traditional. Similar to matzoh ball soup, but it is filled with dumplings filled with beef in a soup that also contains carrots, celery and onions. The flavor was perfect. A little salt and pepper, but not too much. It is the beef soup that makes you enjoy each spoon. And it is not just a few dumplings. This small cup of soup had 7 dumplings in it. That was ideal and you tried it.
One extra order was of BEEF GOULASH. It was filled with large pieces of beef along with carrots and some vegetables. It was placed in the bowl on top of noodles. This you eat with a spoon for each bite you take. It is a good dish when you have the soup. These two items can make an entire meal. But here at PJ Bernstein, this is only the way to start. There is more.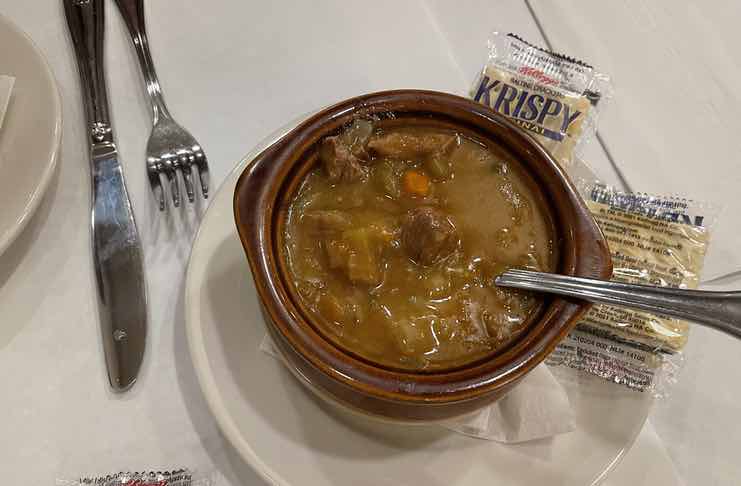 A MAIN COURSE TO ENJOY
Here at PJ Bernstein you have to have a traditional Deli Sandwich. That is what it is all about. Even before we entered we knew what we wanted to have. Of course, when you look at the menu or talk to the team, you might want something else or more. That is the choice you have.
We went with what you expected. To start, we had PASTRAMI on RYE with mustard. That is perfect. The fresh rye bread was just made. It was real rye bread freshly made. It was a good size. Not thick and not thin. Just right. Inside it was filled with fresh pastrami. This was lean, which is perfect for today. In the past, it would have been more fat, but in today's world, it is a bit leaner. In either case, with a little mustard on your sandwich, you could take a bite and be glad you did. It is just right. In fact, you can eat half the sandwich and take the other half home for another meal. That is how much you have here.
The other sandwich we had was the REUBEN. It is a classic. This is a combination of pastrami and sauerkraut placed on fresh rye bread that is then topped with swiss cheese that is roasted so that the cheese can melt. In many places, this is a standard size when you order. But here at PJ Bernstein, it is large.
This is the way it use to be made and to have it here is eating the way it use to be made. It was warm, melted, fresh, tasty. You look at it and believe you cannot eat the entire thing and have to take half of it home. Instead, you sit and eat and enjoy. You can finish the entire Reuben as you enjoy each bite you take. Naturally, this is served with some coleslaw which is homemade, and a pickle. The perfect, traditional Reuben.
Naturally, we also had a side of LATKE. These are freshly made potato dishes that are ground and mixed and then fried. This is something that can be served on the side, or become an entire meal itself for some people. Either way, it is crisp, fresh and tasty. The seasoning is right. When you are in PJ Bernstein you do not need french fries. A latke replaces them and gives you the taste you need.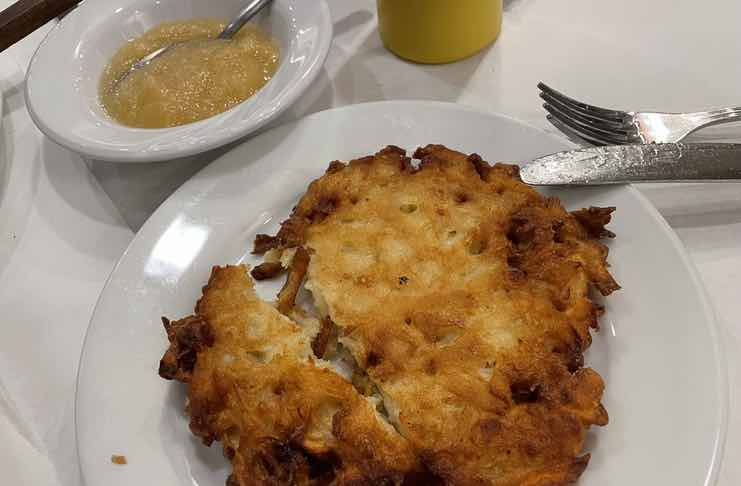 TIME FOR DESSERT
You cannot go to the deli without having a dessert and a cup of coffee. That is the way to finish your meal. And, here at PJ Bernstein, they have a dessert list that will take you time to consider what you want. In our case we went traditional with an order of RUGELACH.
Rugelach is a typical pastry dessert which is not too sweet and has the right flavor and taste. It can be plain, or it can be filled with jams, fruit, nuts, or chocolate. It really is what you would want. We had a variety of 8 different rugelach to try. Each was different and perfect. It was freshly homemade, so it was new and perfect after the meal. aIf you dip it into the coffee then it reminds you of the way you might have had this in the past, or it is a new way to try it if you want. Either way you can enjoy it. It is the perfect way to end a large meal.
PJ BERNSTEIN IS A PLACE TO REMEMBER WHEN IT IS TIME TO EAT.
PJ Bernstein has been around since 1965 at the location on 3rd Avenue and East 70th. The Russian-born Alex Slobodksi, who was a NY cabbie and a regular at the place, bought the Deli in 1983. It is the same location and the same size. It is now managed by his grandson Eugene who is following the family tradition but ideal for today.
The price is right. You know that when your meal arrives. That is a big portion. It is warm and not cold. But it is not hot either. It is just right. It is tasty. It has flavor. Each bite reminds you of the history of eating in a Jewish Deli. (it is non-kosher.)
The staff is excellent. They can answer questions and help you as you try to decide what you want. There are special entrees for the day, so be sure to ask about that. As for the other people there, eating it is like being with your neighbors. People will stop and chat. They can tell you what they have and even ask what you are having. It is friendly and open, which is rare in today's world.
There is also a small Jazz Group that is currently entertaining outside right now. But soon in November or December, they will be inside playing at night to whoever arrives to eat. This is something new and ideal for the time. It is worth checking out when you finally decide what to eat. Stay and listen to what is new as you are there.
One thing to definitely have is a Dr. Brown's Cream Soda. It is perfect when you are eating a sandwich. It is always the first thing I order when stepping inside. It goes with everything you can have.
Overall, PJ Bernstein is the perfect, authentic place to go for breakfast, lunch or an early dinner. It is open 7 days a week, so it will be there when you are ready. It is a place that you will keep in your mind and know it is there. Deli's like this do not exist much any more.
Stepping into PJ Bernstein is like stepping into what we used to enjoy, but now it is still here!
LOCATION:
PJ Bernstein Deli
1215 3rd Avenue (near East 70th Street)
New York NY 10021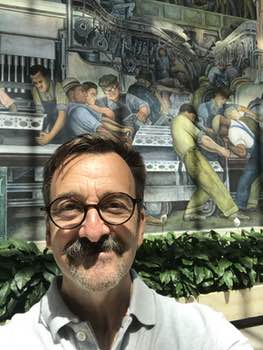 "The Jaded Traveler". Ron Rossi was born and raised in New York. A globalist at heart, Ron is a marketing director by trade, and has lived and worked around the world including Asia, Europe, Africa, and South America. Food is one of the best ways to learn about a country, a people and a culture. So, Ron is always looking for the best in mid-range to budget and street food. He is always on the hunt for a good meal anyone can afford. It is the food of the average citizen that excites him. And with having visited close to 100 countries on 6 continents so far, there have been some pretty good meals.