Are you excited about your upcoming Arctic tour? Different Arctic expeditions offer various activities, but among them, what should you do? Of course, you won't be able to do them all, so it's best to choose now and plan for them in detail as your tour date approaches. In this post, we discuss a few activities that can be done on Arctic tours.
9 Activities to Try on Arctic Tours
Here are 9 activities you can include in your arctic tour:
1. Sightseeing
If you want a relaxed excursion, sightseeing is the most calm you can be when doing your arctic tours. You don't need to bring heavy equipment for cameras or other activities. You can be in the moment and commit the scenery to your memory. You'll also experience the tour the best when you're not fiddling with other things that can hinder you from appreciating your surroundings and living in the moment.
2. Photography
On the other hand, if you enjoy picture taking and preserving your experience through film, then there are also Arctic photography tours available. Many icescapes and high terrains are available in the Arctic that you can draw inspiration from. The beautiful fauna and flora and favorable lighting will help make your photographs stunning and relay the feelings you get when you're in the Arctic.
3. Kayaking
Be in complete solace as you stay in your boat, and watch Arctic birds fly above as you paddle. Arctic kayaking also lets you be close to ice floating on the sea, giving you a chance to observe wildlife and enjoy existing in this type of environment. This activity can be in your itinerary or not. It can be an extra expense, and the time you're paddling will differ depending on the excursion while your guide monitors you for safety.
4. See the Northern Lights
The Northern Lights you see on TV and movies don't give justice to how magnificent and stunning they truly are. You should include seeing them on your bucket list and experience them firsthand at least once in your life. Watch the aurora during winter, between the cold months of September and April, when the skies are dark enough for clear viewing.
5. Snowmobiling
Snowmobiles are perfect for the Arctic's terrain of snow and ice. It's one of the most popular activities in the Arctic, and as a tourist, all you'll need is your driver's license. Don't have one? You can still ride along as a passenger or even sled when permitted. The possibility of snowmobiling will depend on your route, the place you'll be staying at, and the time of the year you decide to take your tour.
6. Hiking
Unlike the usual trail hiking, climbing up the Arctic lets you see everything that's all around you. There are no trees or many boulders to obstruct your view. Your hiking will depend on you — you can choose short trails or those that let you go to the top and see all the Arctic has to offer. You don't need to be an experienced hiker to partake in this activity. You just need to be ready to walk on the uneven landscape.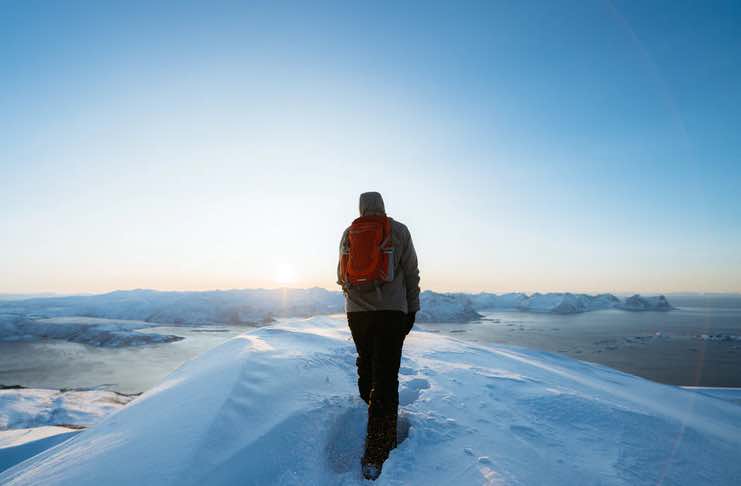 7. Sailing
Sail through cold seas and feel the wind on your face while exploring the Arctic. You'll also get to observe wildlife and learn the history of the continent from your guide. Open your mind to a new world of understanding the Arctic and its beautiful seas.
8. Polar Bears Viewing
We all know that the Arctic's most famous carnivores are the bears, and many tourists visit just to see them in real life. Polar bear hotspots include Svalbard, Spitsbergen, Northern Canada, Alaska, and Churchill and Wrangel Island. Although, keep in mind that seeing a polar bear is not guaranteed, as their population is not uniform over the Arctic.
When should you go if you definitely want to see polar bears? From May to August, there are more passages for expeditions to explore during summer since the eyes break apart. Polar bears at this time typically gather at the remaining ice near to hunting grounds. But the best time to see these carnivores is during autumn, between September and October, which is when they arrive and wait by the Hudson Bay for it to freeze again.
9. Whale Watching
See the humpback, fin, and minke whales, among others, as they return from their migration. You can also interact with the narwhal, beluga, and bowhead that stay in the Arctic. It is almost certain that any trip involving boats will let you encounter whales, especially in Disco Bay and Svalbard. If you want to see the whales properly, you should pick a boat with a large deck.
Pick Your Arctic Tour
Many more activities await you in the arctic. Depending on what you want to experience, there are many arctic tours available for you that you can choose from. Get the best of what the Arctic has in store!
Want to read more of our latest posts? Check our post about staying in the Hamptons.
Alex is a computer geek, programmer, who loves traveling. Not the usual mix, but Alex is always with his laptop – no matter how high the mountain he's hiking on. On every peak he reaches, he writes a story that captures it all.