This past summer, the city of brotherly love made a big effort to broaden its healthy association with cheese steaks, sports, and the founding fathers. In the Northern Liberties neighborhood, where the old Schmidt's Brewery once stood, one will now find a European piazza and a potpourri of new boutiques and restaurants—and that's really just the start of it.

Walnut Street Smarts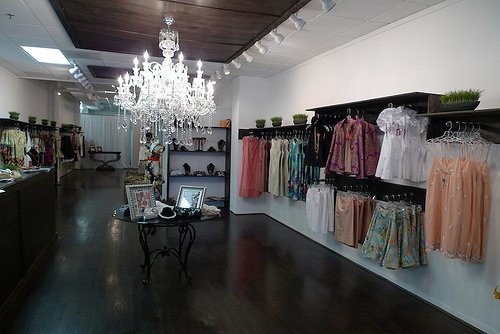 Walking down 5.5 mile Walnut Street is a wonderful way to pass an afternoon. With kitties in the windows, eclectic al fresco restaurants, and winsome old facades, there's more than enough eye candy to keep you on the boulevard, which is really best known for its array of funky and upscale shops. Zahra Saeed is one of the latest boutiques to open in the Rittenhouse Square neighborhood. Inside 1905 Walnut Street, the Pakistan-born designer lines the modestly priced walls with chic and timeless clothes: hand-woven tunics, silk one-shoulder tops, and bright colored-embroidered dresses that succeed in making any woman feel sexy and sophisticated.
Quick Pick-Me-Up

On the corner of 10th and Spruce in the Washington Square West district, this new open-air, checker-floored venue has pin-up girls on the ceiling and 20 seasonal microbrews on tap. Inspired by a pin-up photographer, Varga Bar is a laid back watering hole with some solid hits and very few misses—unless you count the scrumptious "miss" monthly cocktails. Just don't try to sit pretty while devouring a kobe chili-cheese dog topped with white cheddar and signature shaved pickles, and served with smoked paprika onion rings. Save that homemade ketchup left on your face for later.
Go Out On a Limb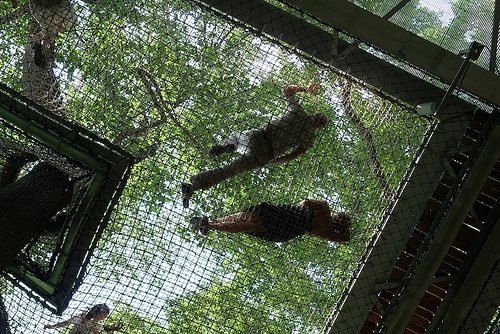 Take the Plymouth Meeting bus a half hour outside Philadelphia to the beautiful 92-acre Morris Arboretum. Opened in July, the arbo's Out on a Limb exhibit is suspended four stories above ground and offers visitors a unique peek into the life of canopy-dwelling creatures. The Tree Adventure consists of a 450-foot walkway, large nest, and hammock areas where you can stretch out, look up at the trees, and relax—assuming you're not afraid of heights.
Piazza Schmidts

If only every city had an 80,000-square-foot plaza like this one. A unique residential, retail, and entertainment space, the four month old Piazza Schmidts celebrates community and culture—every week, visitors can enjoy outdoor films, concerts, and of course, Phillies games in the "Living Room" at the north end of the square. The Comedy, Jazz, Wine, and Beer events are free and open to the public, so it is recommended that you first head to the Swift Half Pub to order a duck prosciutto & fig salad, then a muffaletta (and maybe a fudge board) before taking your seat under the stars. Whether you're in the market for a new tailor-made tote, a sexy tool belt, artisan apparel, or a terrarium, there's plenty of Piazza shopping to be had between the stores and weekend vendors.
Local Growth
While Reading Terminal dates back to the mid-1800s, one of its merchants is getting a new and much-needed upgrade. Fair Food Farmstead will inhabit a bigger space this fall on the 12th Street side of the market, where shoppers will have a wider selection of produce, and can more easily interact with the farmers about their humanely raised meats and fresh organic food.
Upcoming Events
This fall, there might actually be more going on in Philadelphia than New York City. The calendar is packed with special exhibits and first-time events like Philadelphia Fashion Week at the 23rd Street Armory on October 8-10, which will entail at least 15 runway shows, musical performances, and 12 pop-up shops. Beginning October 2 through December, Diana: A Celebration will explore the pre- and post-regal life and humanitarian pursuits of the princess of Wales with a 10,000-square-foot exhibit—that includes her tiara, wedding gown, and 28 dresses—at the National Constitution Center. The Pennsylvania Academy of the Fine Arts will showcase 57 works by Civil Rights-era artist Barkley Hendricks with Birth of the Cool on October 17 until January 3. DesignPhiladelphia will mark five years as the largest national celebration of all things design on October 7-13 with 450 designers and 110 events that span studio tours, workshops, a walking dinner tour, and the redevelopment of an urban lot into a community park. Jim Henson's Fantastic World, a neat peek inside the puppet master's mind, opened on September 12 and runs through November 29 at the James A. Michener Art Museum. Rub elbows with Miss Pennsylvania on the Celebrity Murals & Meals Tour that explores spectacular mural art in Center City and ends with lunch at the Amalfi Coast-inspired setting at Positano Coast restaurant in Old City.
How to get there: Consult the Philadelphia guide in the Transportation Advisor section of offManhattan.
Map of Featured Locations

View What's New in Philly in a larger map
The co-founder and editor-at-large at offMetro, Lauren is a sustainable travel specialist and freelance journalist with frequent bylines in National Geographic, Bicycling Magazine and Shape. Follow Lauren's adventures at @laurenmati.