As the Covid-19 pandemic continues to sweep across the country, it is causing widespread concern, fear, and anxiety. Lockdowns, isolation, and social distancing make it even more challenging. One of the best solutions to cope with this is a spiritual getaway where you can reconnect with nature, yourself, and others, practice meditation, yoga, and much more. In this article, we'll cover 5 of the most unique spiritual retreats in the U.S, which can definitely help restore your emotional well-being.
Here are 5 Spiritual Retreats in the US – That Can Change Your Life:
1. The Curveball – A Teal Swan Workshop
The Curveball is not a relaxation retreat. It's probably one of the deepest experiences you'll ever have. But before we delve into the Curveball, a little bit about the creator behind it, Teal Swan. This international speaker, creator of hundreds of frequency paintings, and best-selling author is a survivor of grave childhood abuse. Today, with unique techniques and workshops, Teal is inspiring millions of people around the world, bringing them closer to their own truth, happiness, and freedom.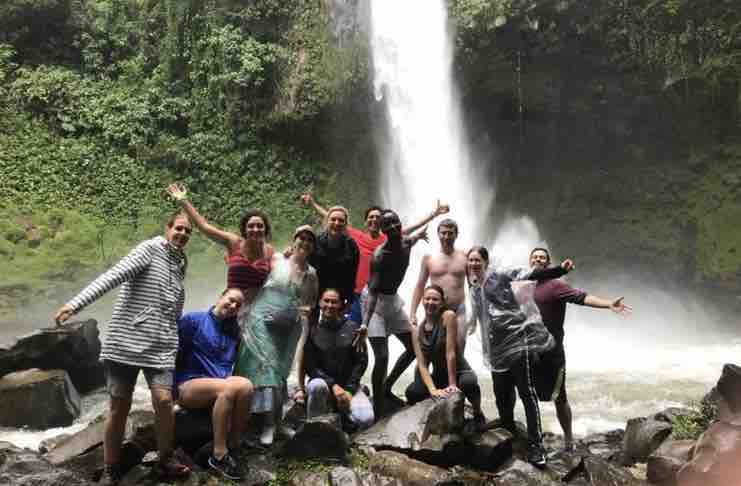 Teal Swan just released a new book called 'Hunger of the Pine', which aims to bring awareness to the extreme social challenges of homeless youth. Here's a short excerpt from the book: "Aria Abbott never had a home. Having drifted through the foster system and its Harrowing flaws, she decides to run away and finds herself dependent on the unforgiving city streets. Without hope for a better life, she boards a Greyhound bus for Los Angeles and never looks back. There she meets a collection of characters living out their lives on the streets, in the forgotten margins of the society."
Back to Teal's Curveball retreat, you can expect the same extreme energies. It's a unique spiritual retreat where Teal Swan takes you on a deep dive into your own shadows and potentially brings you out into the light. The Curveball will also have you participating in the transformation processes of other participants.
To sum up, this spiritual retreat consists of four workshop days and two days of excursion. It's an all-inclusive getaway where food (all meals are vegan!), accommodation, activities, and workshops are included in the price.
2. Insight Meditation Society in Barre, MA
This spectacular place is one of the first spiritual retreats in the Western world. Insight Meditation Society is a Forest Refuge and Retreat Center surrounded by 240 acres of secluded woods near the town of Barre in Worcester country, Massachusetts.
At this spiritual retreat center, you'll find meditation instructors that offer daily guidance on Buddhist meditation. There are programs for all levels, including for experienced mediators. You can choose between a weekend retreat and up to a three months spiritual getaway. As for accommodation, the Insight Meditation Society offers dorms with single rooms that include a closet, chair and sink, but the bathrooms are shared. And if you're worried about food – you'll get three vegetarian meals per day, included.
Check out this walk-through of IMS:

Details: 1230 Pleasant Street, Barre, Massachusetts 01005, Phone: 978-355-4378
3. The Omega Institute in Rhinebeck, NY
We love this place for many reasons, but mostly for how they serve and eat their meals. The delicious, organic, and mostly vegetarian food is served in the Dining Hall on communal tables, eaten as a community. It reminds us of an Israeli kibbutz.
Check out this Omega Institute video:

The Omega Institute is located in the beautiful town of Rhinebeck in Dutchess County, New York. It's actually an educational retreat center with fascinating surroundings, natural food, and of course – lots of workshops. Every day offers a multitude of open classes and workshops, from meditation, Tai Chi, movement, Yoga, and more. Moreover, the Omega Wellness Center offers workshops in life coaching, massage, shamanic healing, acupuncture, and many more.
If you get tired of all the workshops, you can stroll along the trails of the 250-acre campus, go for a swim at Long Pond Lake, or take a boat. In addition, you can relax in the Sauna, play tennis, watch a film at the cinema or enjoy a concert at night.
As for accommodations, you can select between rooms that share baths, shared cabins, or deluxe private cabins. Don't expect a TV or phone in your room, as the place is designed for you to relax and disconnect. However, Wifi is available throughout the campus.
Details: 150 Lake Drive, Rhinebeck, NY 12572, Phone: 877-944-2002
4. Kripalu Center for Yoga & Health in Berkshires, MA
This is probably one of the most yoga-focused spiritual retreats in the country. Kripalu Center for Yoga & Health is located in the scenic Berkshires. A stunning rural region in the mountains of western Massachusetts. Firstly, the Berkshires is a very popular holiday destination, known for outdoor activities, beautiful fall foliage scenes, great organic food, and thriving arts and culture institutions.
Kripalu stretches over 150 acres of holistic grounds, with beautiful walking trails, a labyrinth, hilltop views, and a lakefront beach. What else can you ask for? Well, their specialty is of course – Yoga, and the center offers yoga retreats as well as training classes.
Watch this video about Kripalu Center:
In addition, the center offers a wide array of programs and training that you can choose from, and not only yoga. You'll find Ayurveda, hiking and yoga, mindful eating, detoxing for healing and health, creating a resilient life, and more. Moreover, they offer some programs for visitors with cancer or Parkinson's.
Details: 57 Interlaken Road, Stockbridge, Massachusetts 01262, Phone: 866-200-5203
5. Kalani Oceanside Retreat in Hawaii
This is the largest retreat center in Hawaii, and surely one of the most beautiful spiritual retreats in the country. Surrounded by a tropical jungle, this place will definitely help you get away from everything in your life (if that's what you're looking for). Located in the natural and island environment of Hawaii, Kalani spans over 120 acres of a stunning campus, organic agriculture, and great facilities.
Similarly to the other places, also here you won't find a TV or phone in your room. As a substitute, you get top-notch classes and workshops in yoga (12 different styles!), Lauhala weaving, Hula, Tai Chi, dancing, bodywork, meditation, and much more. Consequently, you can enjoy the facilities which include a nice pool, a sauna, a whirlpool, a gym, massage rooms, and multiple activity spaces.
Watch this video about Kalani:

As for food, you won't be disappointed. Kalani offers buffet-style meals that include fresh tropical produce, including fish (from the ocean), veggies from the farms nearby, and more.
Details: 12-6860 Kalapana-Kapoho Road, Pahoa, Hawaii 96778, Phone: 800-800-6886
Conclusion: It's Time For a Spiritual Retreat
The Covid-19 pandemic, and life itself – is a challenge for all of us. The solution lies in how we manage and react to the stressful scenarios augmenting in our lives. One powerful way to cope with it is going on spiritual retreats. In short, for your next getaway, immerse yourself in a spiritual retreat, combine yoga, meditation, deep workshops, and other activities to boost your emotional well-being. You'll return home feeling stronger, happier, and healthier.
Karen works for a big hedge fund, she's awesome with numbers and loves what she does, but above all – she loves traveling. Whenever she's on the road, she tries to get into the gritty tiny details of every location she explores.