New York is all about the glitz and glam that people all across the world can only dream of. That's what makes it one of the most loved travel destinations. This American city is brimming with tourists throughout the year. Whosoever comes in here once can't resist visiting again.
So, you get the idea that New York City is loved globally. But does it ever occur to you that what is it that attracts everyone to New York?
Is it the beautiful monuments, or the shiny bars?
We will give you a hint. It has something to do with fish. If your guess was whole fish dishes, then you are probably right.
The scrumptious whole fish dishes are among the many things that invite people from all parts of the globe to New York. However, as a first-time traveler to the City, you might not know much about what dishes you will be able to find and which will satisfy your taste buds better.
Chef tips about whole fish dishes
Before we dive into the delicacies that New York has to offer to you, we would like to discuss some essential aspects of the process of making whole fish dishes, obviously collected from the experienced chefs.
The foremost aspect is filleting the fish. The perfect fillet can heat up the whole recipe. A fish fillet knife serves the purpose more conveniently. With the help of a fillet knife, one has to de-bone the fish along the backbone in such a prominent way that no edible parts are wasted. A wide array of sizes is available for filleting various fishes. So, choosing the perfect one needs an expert's help.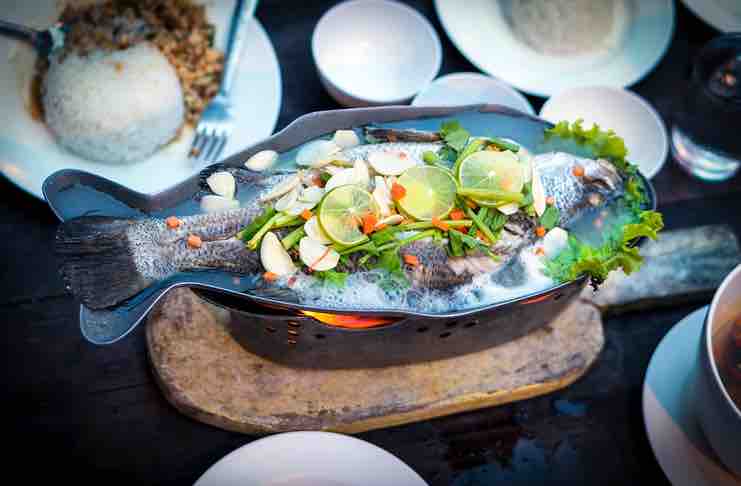 If you wonder which knife would be the best to use, just go and get some information from The Daring Kitchen. They provide the best information about the fish fillet knives to prepare the favorite fish.
Now follow some crucial suggestions from chefs for amateurs trying whole fish dishes. Have a sweet cocktail along with the fish. It enhances the entire flavor. Ask the restaurant which drink would be a better choice.
Here are 5 Whole Fish Restaurants in NYC That You Should Try:
1. The one at 21 Club
This is one of the old school whole fish restaurants, where you will find one of the tastiest fish dishes in New York. It is not a surprise or a secret because every person who has been to 21 Club can't keep calm about it. It is the New Zealand pink snapper, cooked a la plancha. It has a rich, buttery taste as it has been fried in butter. Some lemon caper butter is used to finish it. You can find some roasted and smashed fingerlings, as well as some leek fondue, alongside the fish.
Check out this video about Club 21:
2. The one at 212 Steakhouse
We know you pouted a little when you saw us suggesting you a steakhouse on our list of whole fish restaurants, but you have to trust us here. At 212 Steakhouse, you will find Chef Christos Kalamvokis, who is loved for sourcing his dorade and branzino from his birthplace in Greece. The best part about the much loved whole fish dish at this lovely restaurant is the price point. You can easily get a pound at $27. We think it is an excellent bargain when the amazing chef himself grills the fish and serves it without bones and with dill, lemon, and capers.
Check out this video about 212 Steakhouse (although it doesn't show its amazing whole fish dish):
3. The one at Khe-Yo
Did you know that Khe-Yo is Marc Forgione's restaurant, and it is a Laotian leaning one? The specialty of this place is that a whole Sea Bream is scored, dipped in flour, and is fried until the skin of the fish feels crisp. It is after that the fish is glazed using some caramel fish sauce. The fish is served with some well-made tamarind and peanut sauce and some crispy shallots. To top it off, the chef uses leaves of lettuce. The green lettuce leaves are also used to wrap the chunks of the fish.
Watch this video about Khe-Yo to learn what it looks like:
4. The one at Limani
If you are in the mood of going to a posh and glamorous restaurant to have some whole fish dishes in New York, Limani is the right place for you. You will have the lovely chef MJ Alam here, who catches the most pristine in the area. Then he goes forward to make the whole fish dish, the Greek way. The most popular ones you can find here are Dover sole and a pink for two. He serves varieties of fish. While you will get indulged in the delicious food here, the ambiance of this place is pretty great as well.
Watch this video to get a glimpse into Limani:
5. The one at The Sea Fire Grill
We can bet that every New Yorker has heard of this heartwarming diner at least once in his/her life. It grills a seemingly huge Mediterranean branzino using capers and some olive oil. You have to take our word for it when we tell you that anything that you have at this place is fresh and light. Those are the main factors you should be looking for while eating fish, especially a whole fish dish. Also, you will find this diner pretty cozy and pleasant in the colder months. This is because of the lovely fireplace that they have at the back of the restaurant.
And here's a glimpse into The Sea Fire Grill:

We get that this isn't the type of article that you might have expected. Usually, when we talk about listing dishes, we name them. Here, we have mentioned our top picks for the best whole fish restaurants in NYC. This is mainly because whole fish dishes are sold under different names at different restaurants. What this means is that you can't have the same dish at a separate diner using the same name. You will have to either ask them about the whole fish dishes they offer or tell them how you would like your whole fish dish.
Looking for more food tips in NY? Check out our other food articles.
Have a wonderful meal!