As we got closer to Rangeley, Maine, I felt a sense of stillness and quiet uncommon to most parts of the northeast United States. My partner, our two friends and I pulled into the driveway at the address given to us by Rheanna Sinnett, the owner, and mastermind behind Just Add Water Floating Camps. As she came out to greet us, I couldn't help but appreciate the landscape surrounding me.
The sleepy town of Rangeley doesn't have much to offer aside for a few small stores, an abandoned ski resort, and Rangeley Lake, but that lack of amenities might also be the area's strongest appeal. Visitors head to Rangeley year-round to recreate, fish, ski, hike, and boat amongst western Maine's natural beauty. And while I had been in the area before, I wanted to experience it from a new perspective — the water.
A Beautiful Floating Vacation Home 2.5 Hours from Portland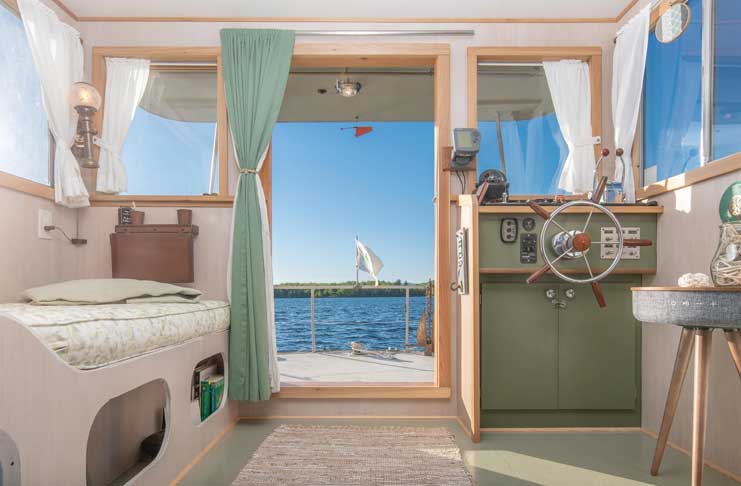 Just minutes after arriving and getting a quick tour of the Nomad — the houseboat rental which would be our home for the night — we were on our way to a secluded cove on the southeast side of Rangeley Lake. The sunlight illuminated the lake's surface as we cruised past docked boats, expanses of forest, and the surrounding mountains towards our destination.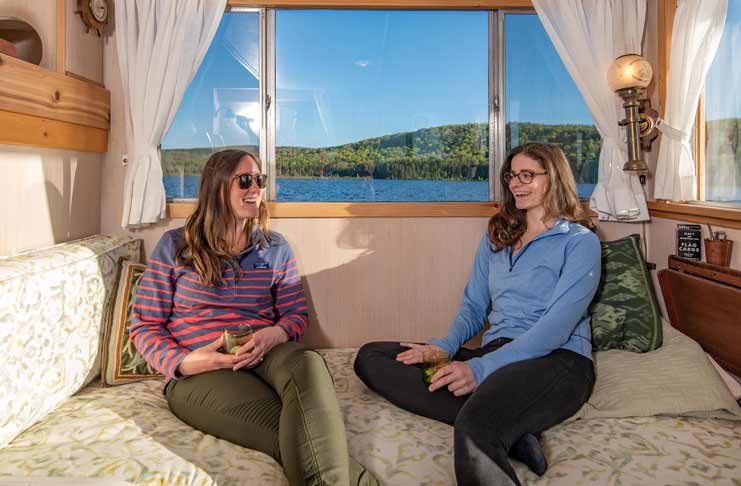 Sinnett, who purchased the 34-foot boat with the intention of starting a floating tiny home vacation rental in 2018, had been helping her parents run a rental and tour company on the lake since 2014. But with bigger goals in mind, it was time to put the next chapter into motion.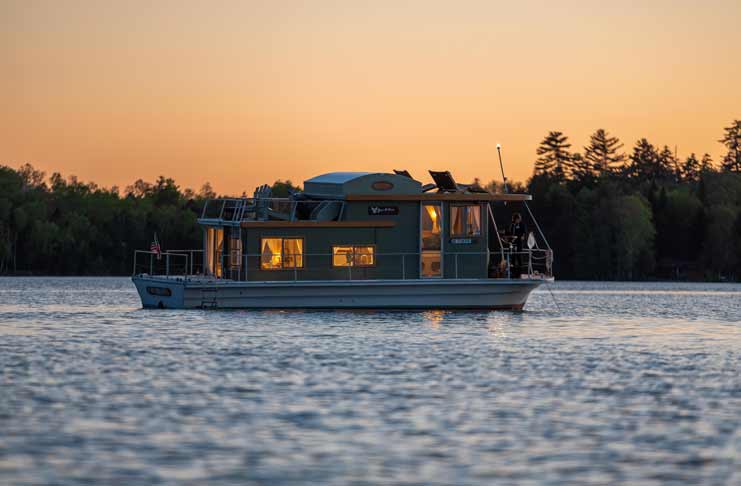 "I had just returned from a year-long deployment overseas in the winter of 2017-2018 and was looking for my next step," said Sinnett. "My plan was to build a small tiny house community and offer remote, eco-tour vacations in Maine.
But having a flare for going off the beaten path, [my dad and I] started shaping the idea of 'floating' tiny-houses. And I figured if it didn't work out as a business, I would have a super cool houseboat to live on various times throughout the year!"
Transforming a Thunderbird into a Houseboat for Vacation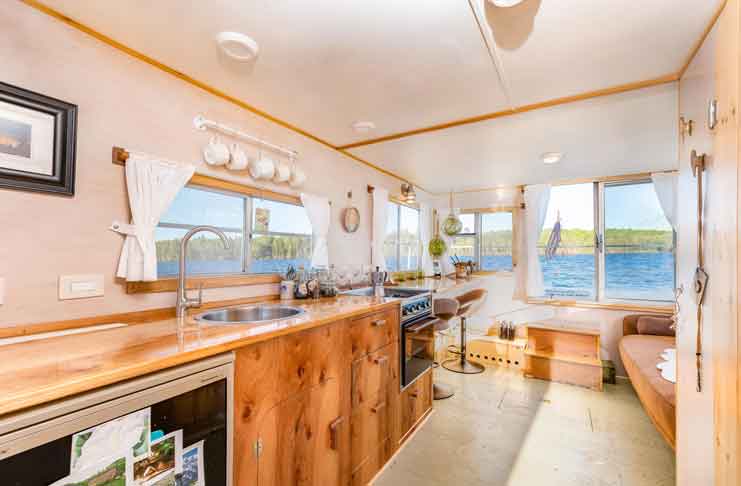 The 42-year-old Thunderbird Drift-R-Cruz vacation houseboat, which Sinnett purchased in 2018, began its transformation to a floating vacation rental with the help of Rick Keith — a Falmouth-based houseboat builder. Keith, who specializes in designing and building what he calls "EcoCat Power Catamaran OffGrid Amphibious Tiny Houseboats," worked side by side with Sinnett to help her vision become reality.
The Nomad retains its historic houseboat feel while incorporating a modern interior and appliances, an open-air layout (thanks largely in part to the pop-up hatch in the roof), and an outdoor deck with a grill and firepit. Since the Nomad's debut two years ago, Sinnett has added a second houseboat to the fleet — Roam.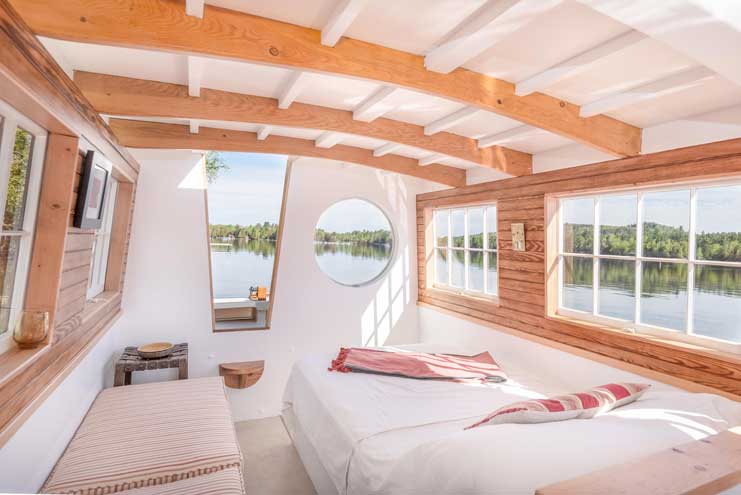 As we watched Sinnett disappear into the horizon on her jetski after anchoring our home for the night, we became truly immersed in the solitude we were after. We lounged on the boat's outdoor decks, listening to the call of loons, watching fish chase bugs on the water's surface, and admiring the surrounding landscape. We had been left with a canoe, which we decided to use to access some fishing waters we'd had our eyes on.
We spent the night around the propane fire pit, grilling freshly caught fish, sharing stories and laughs with one another, and admiring the millions of stars above. The experience, which some may consider "buoyant glamping," was a unique and relaxing way to truly disconnect from daily life in a way that renting a traditional Airbnb doesn't allow.
"I love simple 'tiny' space living concepts, I love the water and I love bringing other like-minded folks up to Rangeley for a unique experience," said Sinnett. "The movement of the boat, the views from the water, falling to sleep with loons calling — you're immersed in it.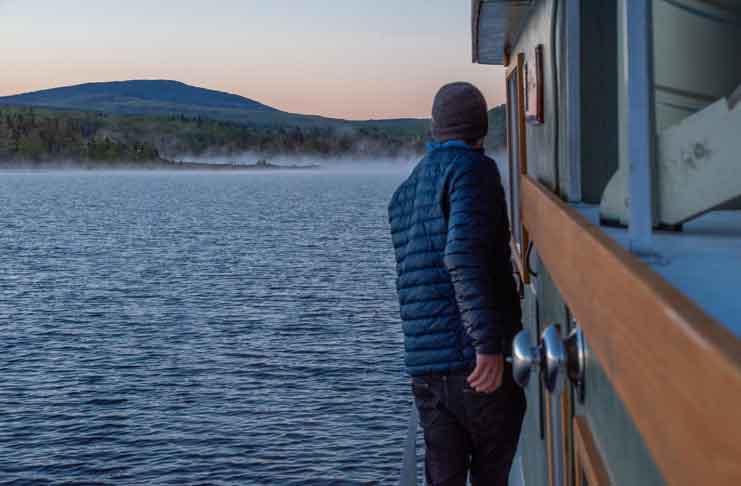 Rangeley Lake is truly a special place and spending time on the water is just an alternate space that facilitates a completely different way of being."
The Floating Vacation Rental Experience
While there are plenty of outdoor activities to do around Rangeley, spending time on the Nomad or Roam is an experience within itself. The days can be spent paddling around the lake by canoe, fishing or simply relaxing on the boat's deck, while stargazing, sitting by the fire or playing games is a great way to spend the evenings.
If you do choose to spend time exploring the surrounding area, hiking a nearby trail or heading into town, that can easily be arranged. The season usually lasts from May through October, depending on weather and lake conditions.
Getting There
Due to Rangeley's remote nature, there is no public or private transportation directly to the town. From New York City, your best bet is to take Amtrak or a Greyhound bus to Portland, Maine, and rent a car. Both options often require a transfer in Boston. From Portland, Rangeley is approximately a 2.5-hour drive.
Looking for more things to do while in Maine?
Check out our articles about things to do in Freeport, things to do in Rockland and some good reasons to visit Portland.
Have a great time!
Josh Laskin is a freelance travel writer and photographer based in the White Mountains of New Hampshire. When he is not at work or on the road, you can find him in the mountains snowboarding, climbing, hiking, fly fishing, mountain biking, and eating bagel bites.