Romantic Rhinebeck was thrust into the national spotlight by Chelsea Clinton's wedding in 2010. You too can make your own romantic memories in this Hudson Valley village: its historic boutique-lined streets are ideal for strolling hand-in-hand, and it has all the chocolatiers, spas and candlelit dining you need for a Valentine's celebration. And with a fireplace and soaking tub in every room, Rhinebeck's new Mirbeau Inn makes an ideal base for a romantic getaway. Hop aboard Amtrak at New York's Penn Station and three stops and less than two hours later, you're in Rhinecliff and the taxi service from there to Rhinebeck costs about $10. Here's a suggested itinerary for a Valentine's Day visit to Rhinebeck.
Start your Day with a Peaceful, Private Walk
Get away within your getaway on a nature walk. Five hundred or so feet to the west of the Mirbeau Inn on West Market Street is an entrance to one of the trails of Thompson-Mazzarella Community Park. They may not be super-scenic in winter since the surrounding fields and forest are fairly barren, but they don't have a lot of foot traffic this time of year either—so you and your valentine can enjoy some alone time in nature. Follow the trail as far as it goes (about half a mile) and you'll end up with a view of streams. If there's too much snow for such a walk, head over to American Legion Park on Mill Street, two blocks from the Market intersection. You need to take only a few steps into the park to reach an overlook on Crystal Lake reservoir and waterfall.
Shop for a Token of Your Affection
Of course it's the thought that counts…but it's still nice to buy each other something special for the holiday. And Rhinebeck has several stores specializing in unusual gifts and designer, artisanal or locally crafted items. Check out Workers and Dreamers, Paper Trail, Winter Sun & Summer Moon, and Rhinebeck Department Store. Oblong Books & Music even has a "For Your Valentine" display (sample titles: The Right Swipe by Alisha Rai, 100 Love Sonnets by Pablo Neruda).
Share Sweets with Your Sweetie
Ah, chocolate, that essential element of Valentine's Day. Choose from a large variety of shapes and fillings at Krause's, made (since 1929) in nearby Saugerties, or buy the treats right where they're made at organic, free-trade Oliver Kita Chocolates. Rhinebeck's confectionery cornucopia doesn't stop there: Samuel's Sweet Shop—owned by actors Paul Rudd and Jeffrey Dean Morgan—sells chocolates and candies by the pound for creating your own assortment, as well as packaged candies, both current and "retro" brands (Turkish Taffy, anyone?). It also features a coffee bar and fresh-baked goods.
Relax and Indulge
You've worked those leg muscles walking around town; now they—and your other body parts—deserve a rubdown. The Mirbeau Spa's "Honey and Me" Valentine's-month couples massage ($310)—specially designed to combat winter's effect on the skin, with enhancements like vitamin E- and vanilla-infused warm compresses and honey and sunflower butter lotion—includes champagne for two and a beauty-product gift to take home. Splurge even more on the "Art of Living" couples treatment ($490), where you will get champagne and chocolate-covered strawberries while you take an aromatic bath in an oversize tub, followed by an exfoliating back scrub and massage. Also spend some time in the spa's resting lounge, with its upholstered curved chaises around a fireplace, and outdoor Aqua Terrace, featuring a pool-size hot tub.
Table for Two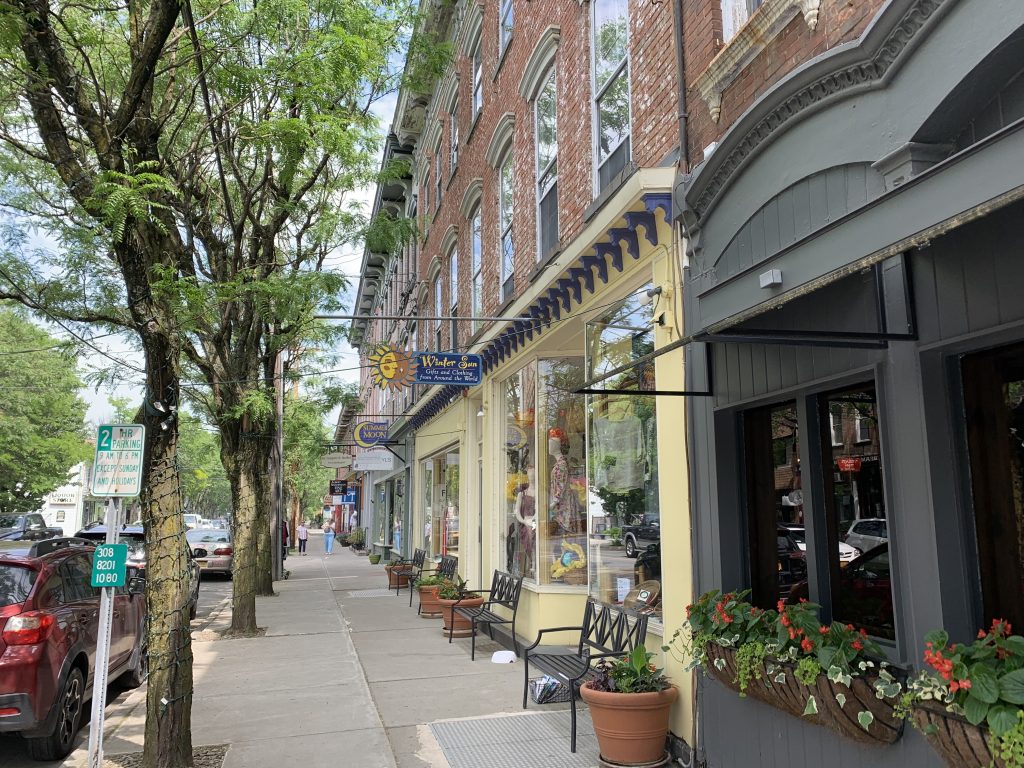 You can't beat Le Petit Bistro for romantic ambience: white-linen service, candle on every table, menu of French specialties like onion soup and escargot. If a burger or fish tacos are more your speed, it serves those, too, as well as New York strip, rack of lamb, daily fish specials, and more. Highly recommended: the fried oysters, which are tastily garnished with julienned cucumber salad and tobiko. The restaurant also has a popular raw bar and a fine selection of cocktails, wine and draft beers. Cap off your meal with the Dessert Trio; it's perfect for sharing, and you don't have to decide between Kit Kat Cake, crème brûlée and profiteroles—it has them all!
Theater Time
Going to the movies is the classic date, and in Rhinebeck history and philanthropy accompany the experience. The local cinema, Upstate Films, is run by a member-supported nonprofit organization that brings art-house fare to audiences outside of the big city. In addition to the latest mainstream movies, Upstate's programming includes indie, foreign and classic films, themed festivals and special screenings with guest speakers. The two-screen theater is located inside the Starr Institute, whose 1862 building originally housed a privately funded public library.
Photos courtesy of the author.