If you're looking for a warm pick-me-up as the cold wind blows through NYC, consider going for tea. Spend an afternoon sipping on Earl Grey from porcelain tea cups while nibbling on scones with clotted cream and egg sandwiches or curl up with a warm mug in a squishy armchair. There are dozens of tea shops in NYC to choose from for high tea or just a spot of tea with a bite to eat.
From afternoon high tea to tea salons to tea shops, here's where to get your fix in New York City:
102 West 73rd Street, New York, NY, Tel: (212) 799-3006
Inspired by Alice in Wonderland, this Upper West Side tea shop is charming, with whimsical, hand-decorated furniture, decorative butterflies and lines from the original book on the walls. Afternoon tea is served on three-tier platters, and dishes include savory crepes and Queen of Hearts Lemon Tarts. Their tea list includes oolongs, white tea, and house blend.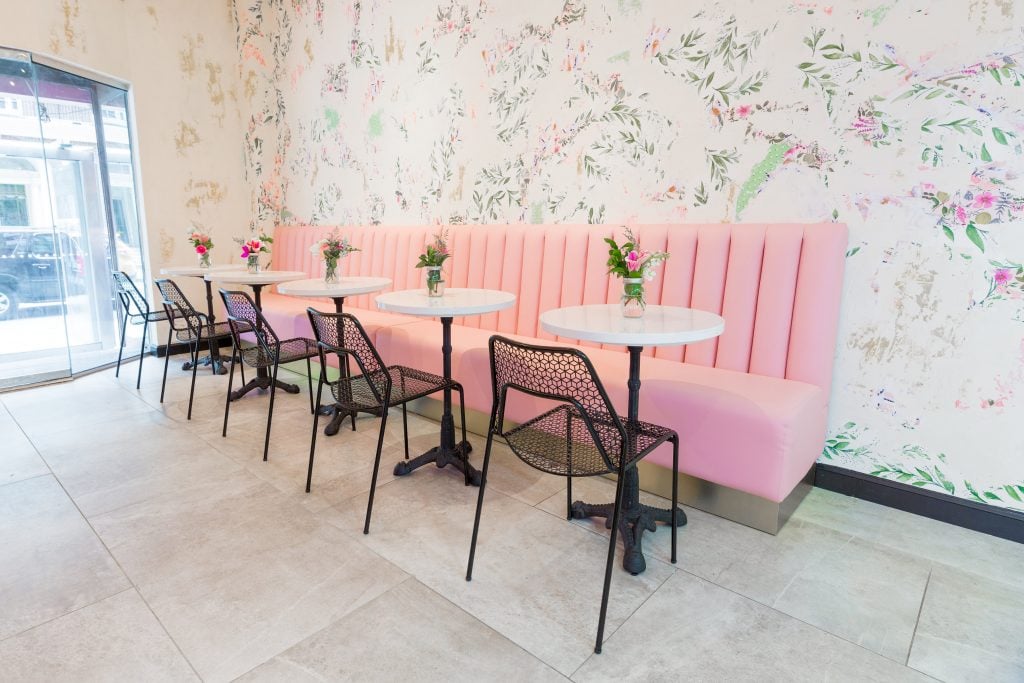 2. Brooklyn Kava
Brooklyn Kava cafe in NYC is an extraordinary gem for those seeking a unique and alternative beverage experience. Their speciality, kratom tea, stands out as a must-try. Made from high-quality kratom powder, this tea offers a distinctive herbal flavor and potential relaxation benefits. The cafe's inviting ambiance and friendly staff make it the perfect spot to explore this intriguing and trendy brew. Brooklyn Kava is a hidden treasure in the city's vibrant cafe scene, introducing patrons to the world of kratom tea in a delightful and cozy setting.
251 East 82nd Street, New York, NY, Tel: (212) 734-5490
King's Carriage House is another posh tea shop that can be found on the Upper East Side. Afternoon tea consists of savory finger sandwiches, scones with cream and jam, and sweets that include tarts, cream cakes, and shortbreads. The chandeliers, antiques and other trinkets add to an ambience of luxury.
56 Irving Place, New York, NY, Tel: (212) 533-4600
For a creative and colorful tea time, head to Lady Mendl's, nestled into a brownstone on Irving Place. Afternoon tea is an exquisite experience with an extensive tea list and five courses including a seasonal soup, finger sandwiches, a crepe cake, and petit fours of macarons and fruits. The space can also be rented out for private events.
108 Greenwich Avenue, New York, NY, Tel: (212) 989-9735
Down in the heart of the West Village sits Tea & Sympathy, a small, quaint tea shop that is as English as it gets. Their afternoon tea consists of a pot of steaming tea, finger sandwiches, scones with clotted cream and jam, and cake. Or you can dine there for lunch or dinner and have English staples such as Welsh rarebit, sticky toffee pudding, shepherd's pie, rhubarb crumble, and bangers and mash.
6. Radiance Tea House & Books
Radiance Tea House, situated in Midtown East, offers a serene retreat from the winter hustle and bustle. This elegant tea house not only serves a wide range of traditional Chinese teas but also boasts an impressive collection of books on Eastern philosophy and culture. Sip on a warm cup of tea while immersing yourself in a cozy, tranquil environment.
7. Harney & Sons
Located in SoHo, Harney & Sons is a renowned tea company with a beautiful tea shop and tasting room. Here, you can explore a vast selection of teas sourced from across the globe. The shop's warm and inviting atmosphere, complete with knowledgeable staff, makes it an excellent place to discover new tea flavors or enjoy old favorites.
8. Podunk Tea Room
Tucked away in the East Village, Podunk Tea Room offers a cozy and rustic atmosphere perfect for winter warmth. This charming tea shop specializes in artisanal teas sourced from small-batch producers. Whether you're in the mood for a classic black tea or an exotic herbal infusion, Podunk's welcoming ambiance and friendly staff will make your visit truly delightful.
9. Physical GraffiTea
Located in the heart of the East Village, Physical GraffiTea is a unique tea shop known for its artistic vibe and extensive tea selection. Housed in a historic building adorned with a famous graffiti mural, it's a cozy spot to enjoy a hot cup of tea. Their menu features everything from traditional teas to creative blends, making it a must-visit for tea enthusiasts seeking warmth and ambiance during the winter months.
Holly Rosen Fink is a marketing consultant and culture and travel writer living in Larchmont, New York