If you're looking for a warm pick-me-up as the cold wind blows through NYC, consider going for tea. Spend an afternoon sipping on Earl Grey from porcelain tea cups while nibbling on scones with clotted cream and egg sandwiches or curl up with a warm mug in a squishy armchair. There are dozens of tea shops in NYC to choose from for high tea or just a spot of tea with a bite to eat.
From afternoon high tea to tea salons to tea shops, here's where to get your fix in New York City:
102 West 73rd Street, New York, NY, Tel: (212) 799-3006
Inspired by Alice in Wonderland, this Upper West Side tea shop is charming, with whimsical, hand-decorated furniture, decorative butterflies and lines from the original book on the walls. Afternoon tea is served on three-tier platters, and dishes include savory crepes and Queen of Hearts Lemon Tarts. Their tea list includes oolongs, white tea, and house blend.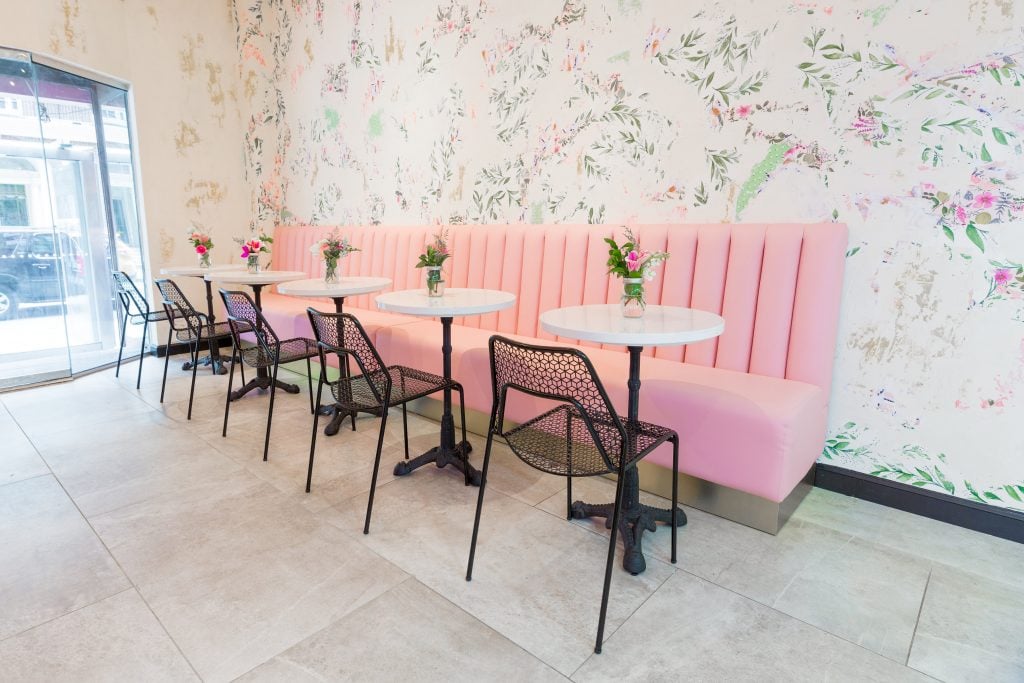 121 Madison Avenue, New York, NY, Tel: (646) 707-0256
Blank State Tea is a modern tea shop with affordable afternoon teas and healthy dining options, including avocado toast and a matcha yogurt bowl. They also serve tea lattes, matcha, kombucha, and fresh ice tea. The tea shop's decor is dolled up in pink and gold to match their pink hummus toast and blueberry lavender waffles.
3. Brooklyn Kava
Brooklyn Kava cafe in NYC is an extraordinary gem for those seeking a unique and alternative beverage experience. Their speciality, kratom tea, stands out as a must-try. Made from high-quality kratom powder, this tea offers a distinctive herbal flavor and potential relaxation benefits. The cafe's inviting ambiance and friendly staff make it the perfect spot to explore this intriguing and trendy brew. Brooklyn Kava is a hidden treasure in the city's vibrant cafe scene, introducing patrons to the world of kratom tea in a delightful and cozy setting.
10 Columbus Circle, New York, NY, Tel: (347) 682-2100
Bluebird London's NYC location may be near Central Park but the experience is drawn from it's founding home: England. It's a vibrant and lively restaurant that offers a traditional high tea served on beautiful dishes, with a selection of teas, scones, finger sandwiches, and sweets. You'll also enjoy overlooking Columbus Circle, as the views are tremendous.
506 LaGuardia Pl, New York, NY, Tel: (212)-352-9900
The West Village's Bosie tea shop models classic French tearooms and is small and inviting. Afternoon tea service includes a pot of scones, tea sandwiches, madeleines, mini cookies, and macarons. Bosie also offers over eighty different types of teas by l'Âge de Thé, their in-house tea line.
251 East 82nd Street, New York, NY, Tel: (212) 734-5490
King's Carriage House is another posh tea shop that can be found on the Upper East Side. Afternoon tea consists of savory finger sandwiches, scones with cream and jam, and sweets that include tarts, cream cakes, and shortbreads. The chandeliers, antiques and other trinkets add to an ambience of luxury.
56 Irving Place, New York, NY, Tel: (212) 533-4600
For a creative and colorful tea time, head to Lady Mendl's, nestled into a brownstone on Irving Place. Afternoon tea is an exquisite experience with an extensive tea list and five courses including a seasonal soup, finger sandwiches, a crepe cake, and petit fours of macarons and fruits. The space can also be rented out for private events.
108 Greenwich Avenue, New York, NY, Tel: (212) 989-9735
Down in the heart of the West Village sits Tea & Sympathy, a small, quaint tea shop that is as English as it gets. Their afternoon tea consists of a pot of steaming tea, finger sandwiches, scones with clotted cream and jam, and cake. Or you can dine there for lunch or dinner and have English staples such as Welsh rarebit, sticky toffee pudding, shepherd's pie, rhubarb crumble, and bangers and mash.
123 East 7th Street, New York, NY, Tel: (212) 573-9936
Tea Drunk is a tea salon in the East Village with a Chinese influence. Enjoy full pots of tea, tea-tasting flights or even purchase loose leaf teas to bring home. Make a reservation as the space is very small (and cozy to boot). You can expect the server to fully explain the brewing process and subtle tastes of each tea. It's a very zen experience, complete with soft music while you sip and relax.
Holly Rosen Fink is a marketing consultant and culture and travel writer living in Larchmont, New York