Thanks to its location at the confluence of the White and Connecticut Rivers, Vermont's first railroad tracks were laid in White River. Over time, the town grew into a significant hub, seeing as many as 50 passenger trains in a single day. But when the Interstate Highway System increased in importance in the 1960s, the railroad became obsolete, turning White River Junction into another sleepy Vermont town.

But White River Junction has been making a comeback during recent years. Over the last two decades, a revitalization effort has been taking place, transforming the town into an up-and-coming New England hot spot. Artists display their work in galleries throughout the town, and students choose from a number of curriculums — including art, graphic design and literature — at the Center for Cartoon Studies. Budding small businesses made up of young entrepreneurs fill historic warehouse spaces that sat vacant for years. And in a way, the village's rich heritage and significance as a "railroad community" has been preserved, with Amtrak's Vermonter offering daily service to the now-bustling downtown.

What to do in White River Junction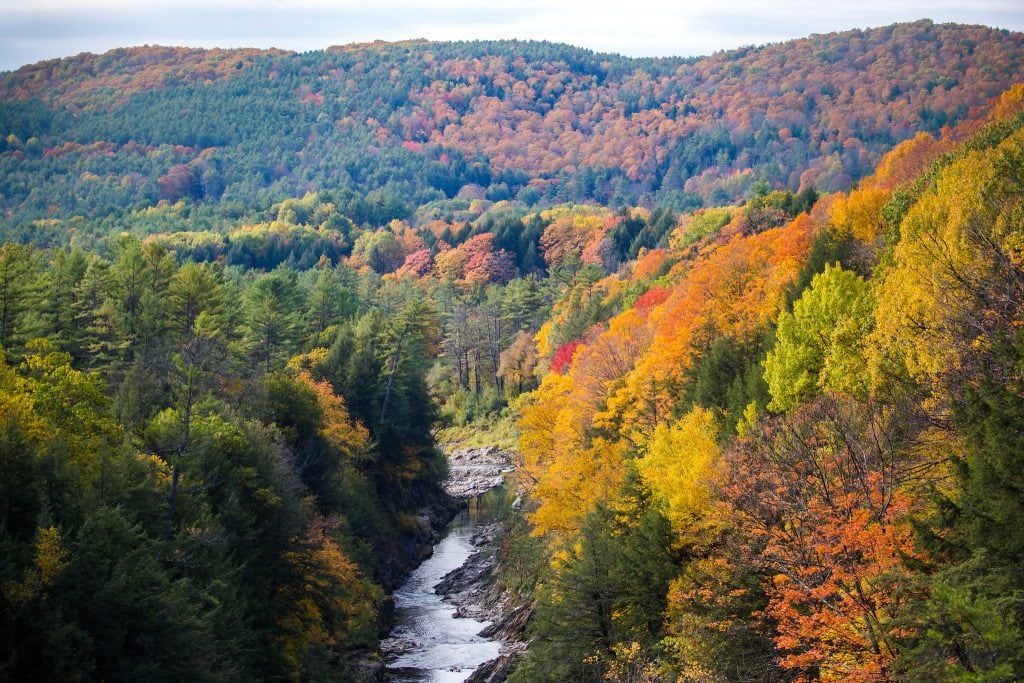 White River Junction's walkable streets are brimming with museums, shops, restaurants and a variety of attractions.
The Schulz Library at the Center for Cartoon Studies, which is located in the historic post office, is filled with a unique collection of comics, zines, contemporary graphic novels and classic newspaper clippings. During the summer, the Center for Cartoon Studies offers a number of cartoon-related workshops, often led by award-winning cartoonists.

Beer connoisseurs are familiar with Vermont's craft brewery scene, and White River Junction is no exception. Stop by the River Roost Brewery, which was established in 2016 by Mark Babson, a former brewer. The brewery largely focuses on IPA's, although they also often offer a few other varieties, like a brown ale, milk stout and lager.

And being in Vermont, it's no surprise that there is a plethora of outdoor activities to take part in close to town. The Quechee Gorge, which is often referred to as "Vermont's Little Grand Canyon," is located just minutes from White River Junction. Hiking and walking trails boast stunning views along the mile-long gorge. In addition to local taxi services and shuttles that can be arranged with local inns, Uber began offering service to the region in 2017, making access to the Gorge and other area destinations seamless.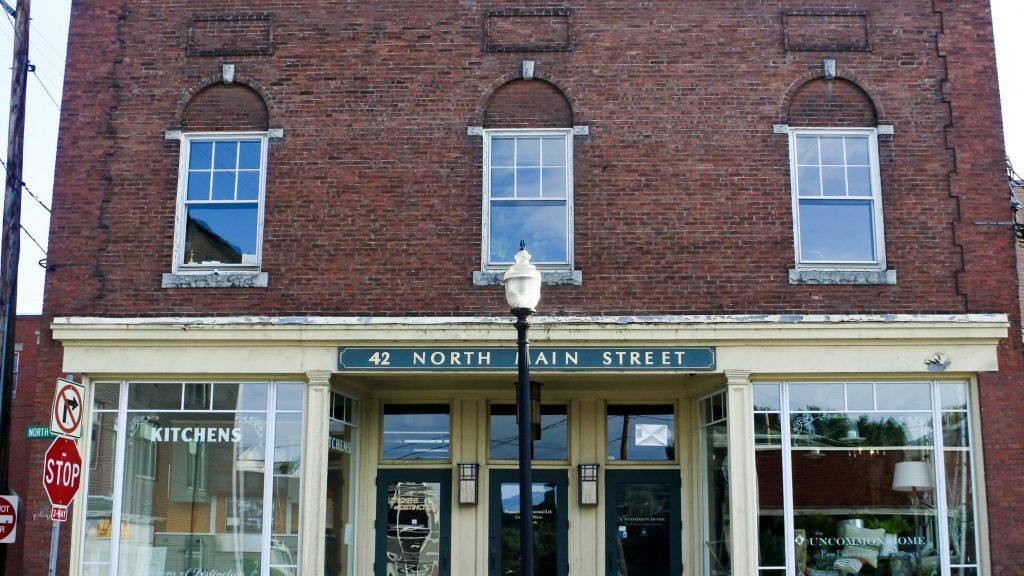 While there is no shortage of specific attractions in White River Junction, it is also worth simply wandering the historic downtown, checking out the local boutiques, theaters, shops and cafes along the way. During your foot-powered travels, be sure to stop by the Main Street Museum, which is located in an old firehouse and houses a collection of journals and historical documents, a display of "Flora, Fauna and Items of Regional Historic Value" and more.

It may also be worth timing your visit around one of the town's monthly and annual events. During the first Friday of each month, the streets are filled with music, food and art. Local galleries open their doors to the public, and Big Fatty's BBQ hosts an open mic night. Annual events in town include the White River Indie Film Festival, the Glory Days of the Railroad festival and the "Gory Daze" Halloween Parade and Ball.

Where to eat in White River Junction
Once known as the Tip Top Cafe, which was a popular spot in town for years, Thyme focuses on locally-sourced ingredients in a contemporary setting. The rotating menu changes based on seasonal availability, and offers dishes like a marinated portobello mushroom and duck confit.

The Tuckerbox Cafe, which is conveniently located on Main Street, is a great place to grab a cup of coffee or espresso in the morning, or later in the day for authentic Turkish and Meditteranean food. Cafe Renee is another lively spot, perfect for fulfilling your caffeine fix in the morning.

For an elevated dinner experience, head to Elixir Restaurant, which offers contemporary American dishes. Its location in an old freight house offers a unique setting and ambiance, and fits perfectly into the downtown's revitalized, yet historic feel.

Where to stay
Located within walking distance of many of the town's restaurants and attractions (including Cafe Renee, which is in the same building), Hotel Coolidge is listed on the National Register of Historic Places. The quiet inn features 30 guestrooms, and is directly next to the Briggs Opera House — meaning you won't have to travel far from your room to find live entertainment!

The White River Inn and Suites, located just one mile from the train station, is another conveniently-located lodging option. While it is a more modern accommodation than Hotel Coolidge, they do offer a variety of rooms and suites.

Take the Vermonter from NYC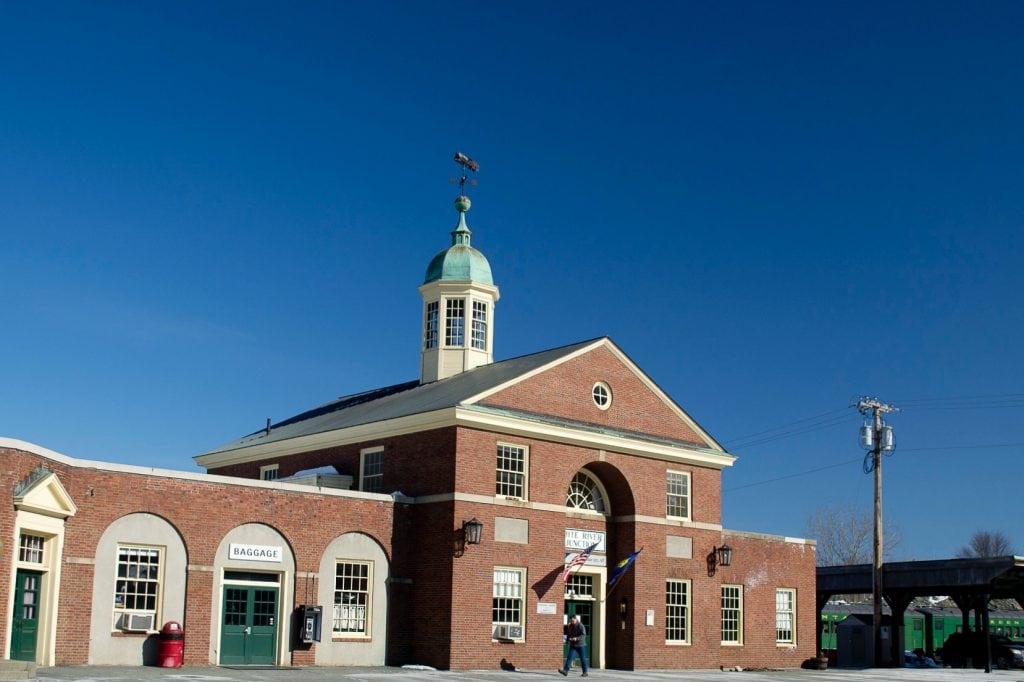 The Amtrak Vermonter offers direct service from Penn Station to downtown White River Junction.
For more ideas on where to stay and what to do, head to VermontVacation.com.
Additional Credits: Josh Graciano, Carlos Felipe Grano

Josh Laskin is a freelance travel writer and photographer based in the White Mountains of New Hampshire. When he is not at work or on the road, you can find him in the mountains snowboarding, climbing, hiking, fly fishing, mountain biking, and eating bagel bites.