Upscale yet down-to-earth, Bay Head shares a zip code—and a location at the north end of the Barnegat Peninsula—with the well known shores of Point Pleasant Beach. But the two places can seem a world apart: Whereas Point Pleasant Beach is full of motels, bungalows and boardwalk amusements, Bay Head exudes more of a yacht-club vibe.
Indeed, the Bay Head Yacht Club (est. 1888) has been a center of the town's social and recreational life for generations. Yet the ambience in this undiscovered spot on the Jersey Shore is tranquil and gracious rather than snobbish.
And at under three-quarters of a square mile in size, Bay Head is compact enough to visit without a car.
DIY Exploring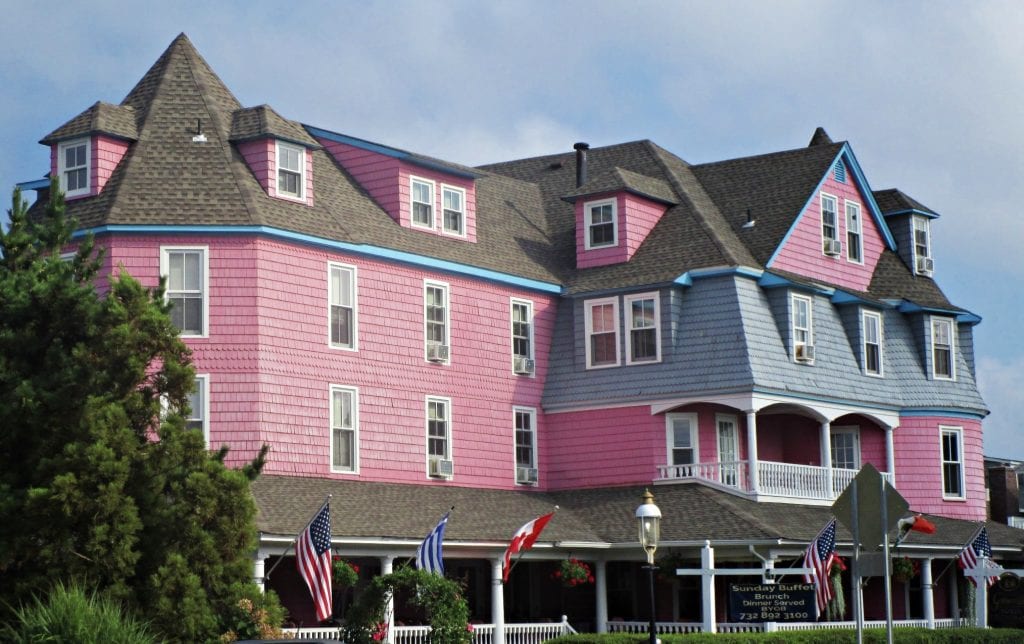 Bay Head was designated a national historic district for its wealth of homes in the Shingle, Queen Anne and Stick styles built primarily between 1880 and 1920. The landscaping and flowers at most residences are worthy of their own recognition.
Perhaps the most distinctive building is the Grenville, a bubblegum-pink Victorian hotel (opened in 1890) with broad conical turrets, scallop shingles and multiple gables. Download a walking tour guide from the Bay Head Historical Society that highlights some of the older residential and commercial buildings as well as notable architectural elements and places of community significance over the years.
Even more properties and details are included in the National Register of Historic Places' document on Bay Head, also available at the historical society's website. A map with four different walk routes can be found on the Bay Head government's website.
Museums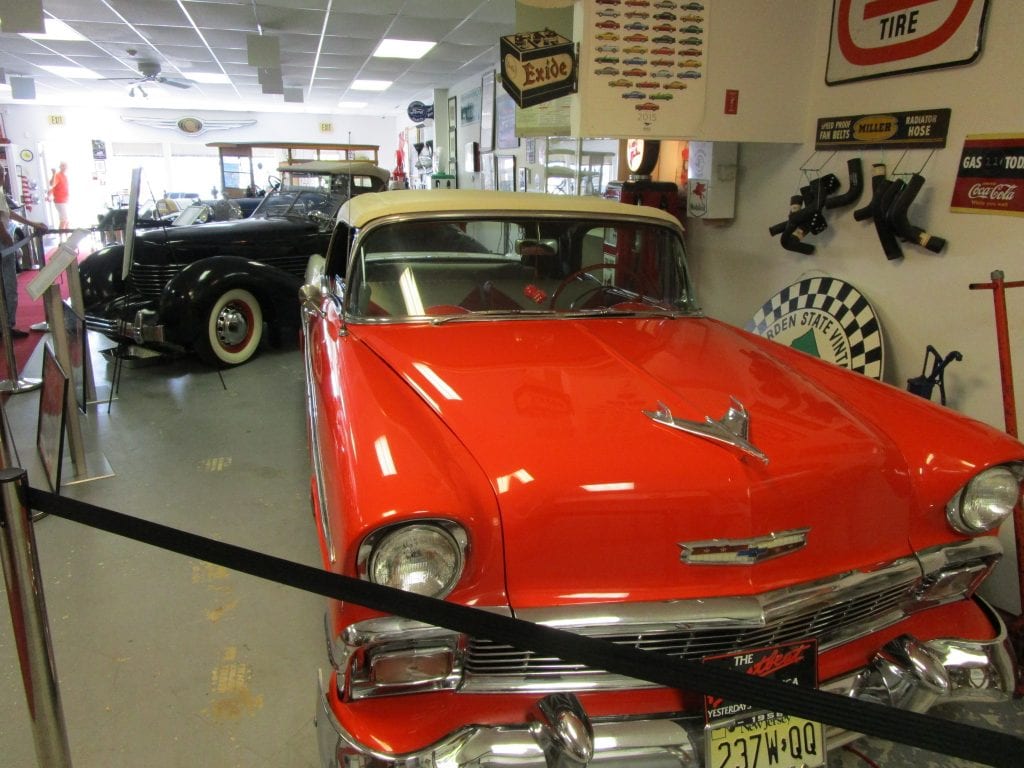 A single hangar on the grounds of Bay Head's Johnson Brothers Boat Works contains the Vintage Automobile Museum of New Jersey and the New Jersey Museum of Boating, both crammed with exhibits and artifacts. The latter covers everything boating-related, from Barnegat Bay sailers, outboard motors and iceboats to shipwrecks, World War II, lifesaving stations and more.
The Automobile Museum, meanwhile, displays about eight vehicles at any given time from its collection of hundreds from all eras, along with toy models, books, accessories and memorabilia. A short distance from these museums is Loveland Homestead, a 19th-century house where the Bay Head Historical Society showcases facets of local history and lore.
And Bay Head has an unofficial fourth museum, inside the house at 666 East Avenue—where L. Ron Hubbard wrote Dianetics, the book that laid the foundation for Scientology, while a tenant in 1949-50. The house is owned by Scientologists, and upstairs they've restored his rooms and set up a retrospective exhibit; knock (or they'll just come to the door) if you're interested in visiting.
Where to Eat
Bay Head has two fine-dining restaurants, Charlie's and Theresa's South. Charlie's serves various Angus steak cuts and elegant fish dishes but is also popular for cocktails, burgers and raw bar and has outdoor seating on a deck overlooking Twilight Lake.
Theresa's offers both creative and classic takes on Italian specialties, as well as fish, seafood and beef dishes. Dune Grass Cafe is a casual spot for breakfast, lunch and ice cream. You can also dine in the restaurant at the Grenville, which features a brunch buffet on Sunday. Be sure to pay a visit to Mueller's Bakery, a local legend that's been around for ages.
Best known for crumb cake (they even sells bags of the "crumbs"), Mueller's makes a vast assortment of cookies, cakes, doughnuts, cupcakes, breads and—what I think they do best—fruit-filled pastries.
Where to Stay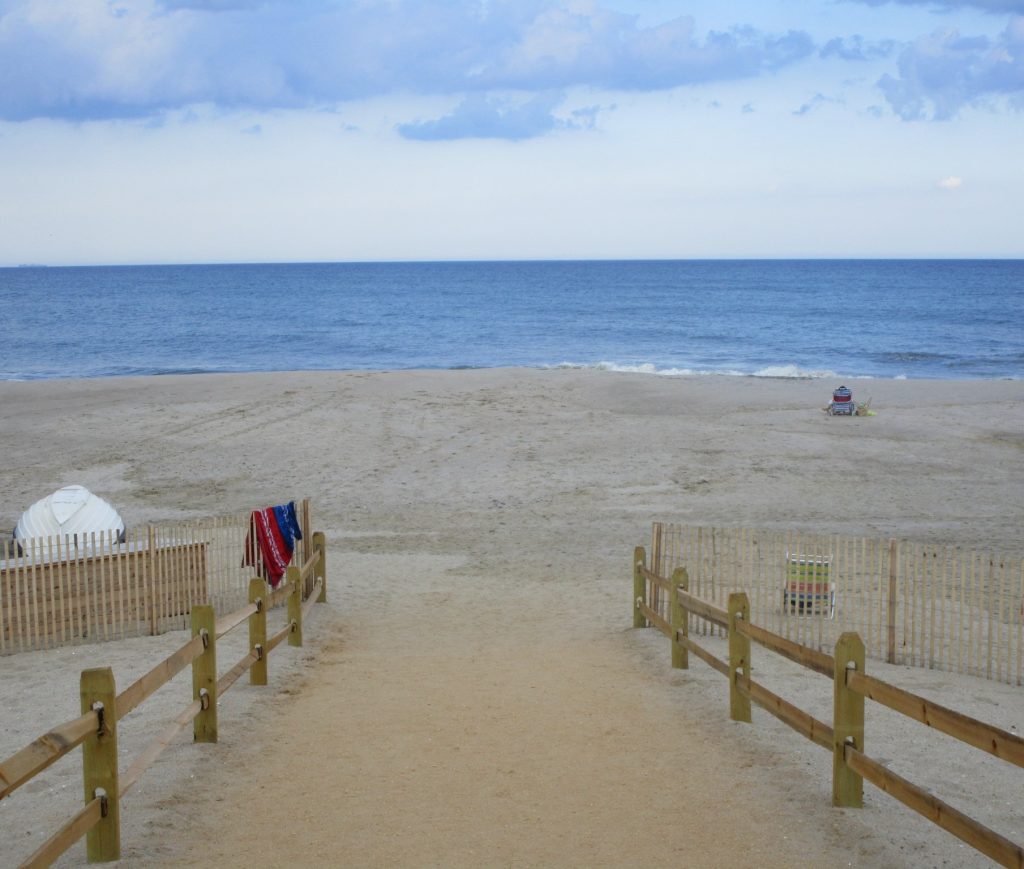 The Bentley Inn B&B features 21 rooms decorated in inviting color schemes, with country quilts on the beds. About half the rooms have private baths and some are smallish, but there are ample common areas, including a wraparound porch on the second floor, a front porch and a comfy living room.
Convenient amenities provided for guests include beach towels, outdoor showers, clothesline for wet swimsuits, a communal refrigerator and round-the-clock coffee and tea. At breakfast, you get waitress service and a menu offering five choices ranging from eggs to waffles.
The Bentley is a block and a half from the beach; the only place not within easy walking distance is the train station, about a mile away at the other end of town. Regular rates run $255-$345 a night in summer, dropping to $135-$195 after Labor Day (check Groupon for off season deals).
Insider Tip
As might be expected of an affluent community, Bay Head has several gourmet grocers and boutiques. A special shop is ReFind, which sells artwork by local artists (including the owner) plus jewelry, clothing, housewares and furnishings.
Much of the merchandise is handcrafted, and some items are made from found and recycled materials—hence the store name. ReFind also hosts workshops and sponsors arts-related public events.
Getting There & Getting Around
NJ Transit trains run hourly (for the most part) from New York Penn Station to Bay Head, with a transfer at Long Branch; total travel time, about 2½ hours. Roundtrip fare is $33.50. Take your bicycle with you, or rent from Ready to Roll—though you can walk pretty much everywhere. People don't bother locking their bikes in Bay Head.
Featured image courtesy of Sarah Knapp
All additional photos courtesy of the author