Say goodbye to summer in style when you head to nearby Connecticut for one these six seasonal festivals. Eat fresh seafood, drink local spirits, listen to live music and enjoy the pretty scenery before you catch the train home. It's an easy way celebrate the end of the summer and the start of fall.
Connecticut Maritime Heritage Festival
Where: New London
When: September 12-15, 2019
Why: The annual Connecticut Maritime Heritage Festival celebrates New London's maritime heritage. Tour a historic schooner, see a U.S. Coast Guard search & rescue demo and watch patriotic costumed re-enactors burn Benedict Arnold.
Kids have their own fishing tournament while foodies should enjoy Saturday's Chowder Challenge where $10 buys you 12 tastes of briny New England bliss.
Get here: Ride Amtrak from Penn Station to New London in 3 hours.
The 2019 Norwalk Oyster Festival
Where: Veterans Memorial Park on Seaview Ave. in Norwalk
When: September 7-9, 2019
Why:  The Norwalk Oyster Festival features live music from dozens of bands on multiple stages, magic shows and a carnival games for kids, a 65-foot Ferris wheel are just a few of the dozens of options. When hunger strikes, head to the International Food Court to sample everything from oysters fresh off the boat to authentic New England lobster rolls. Hop heads should enjoy sipping and sampling over 40 brews at the beer tent.
The festival is sponsored by the Norwalk Seaport Association, a non-profit dedicated to the preservation, education and public awareness of Norwalk's maritime environment and heritage.
Get here: Metro-North is offering a discount package with free shuttle service from the train station to the Oyster Festival.
Connecticut Folk Fest & Green Expo
Where: Edgerton Park, New Haven
When: September 7
Why: In addition to showcasing music from across the region, the Connecticut Folk Fest & Green Expo emphasizes sustainability and earth-friendly practices. The "Green Expo" features over 75 green living exhibitors. Eclectic food and kids activity zone with a green theme are perks. The festival takes pride in its zero waste plan and water fill stations.
Get here: Take the Metro-North to New Haven Line to New Haven.

The Bruce Museum's Outdoor Art Festival
Where: The Bruce Museum Festival Grounds, Greenwich
When: October 5-6, 2019
Why: Attracting over 80 artists from around the country, this festival is a great way to see contemporary fine art, meet and chat with incredible artists and of course, shop. Expect to find everything from photography to sculptures to oil paintings. Afterwards, explore the museum (admission included with your $8 festival ticket) or follow our Frugal Finds Guide for a day of activities around Greenwich.
Get here: Take the Metro-North New Haven Line to Greenwich.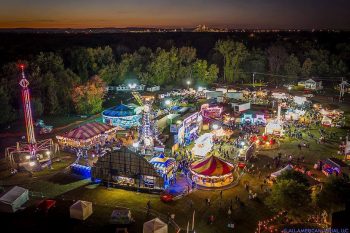 Where: Riverfront Park, Glastonbury
When: October 18-20, 2019
Why A great day trip or weekend away for families, this $5 festival offers everything from delicious apple themed goods to craft vendors and amusement rides. The festival's three stages with over a dozen bands performing throughout the weekend offer folk, bluegrass and Americana for all ages. On Sunday, lace up your running shoes for the festival's annual 5K run. This year's race is not only on a flat course but sponsored by Angry Orchard, meaning 21+ participants get a pint glass and a pint of cider after finishing.
Get here: Take Amtrak, Greyhound or Peter Pan from New York City to Hartford. From there it's an easy 20 minute bus ride on the Ct Transit 904 – Glastonbury-South to Riverfront Park. 
For more information on planning your next Connecticut getaway, go to www.ctvisit.com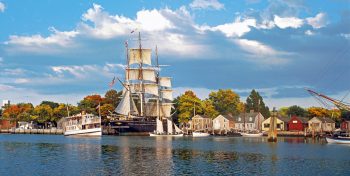 Mystic Eats
Where: Cottrell Street, Downtown Mystic
When: Cancelled for 2019 due to permit issues
Why: Sample tasty treats from over 25 of Mystic's top eateries at Mystic Eats. Live music, entertainment for the kids and Mystic River views. A portion of ticket sales will benefit Denison Pequotsepos Nature Center's Giving Garden at Coogan Farm.
While you're in Mystic, it would be a shame to not visit Mystic Seaport Museum. It's the country's leading maritime history museum. If you're a boat fanatic, you've hit the jackpot. Climb aboard one of the historic seaworthy vessels or rent a rowboat, pedal-powered boat or sailboat and explore the Mystic River.
History buffs will enjoy the recreated 19th-century coastal village made up of maritime trades from woodcarvers to riggers. It's very interactive and a must for families.
Get here: Ride Amtrak from Penn Station to Mystic in 3 hours.
Images courtesy of Connecticut Office of Tourism, the Norwalk Oyster Festival, Mystic Seaport Museum, Glastonbury Harvest Festival