Back in New York, a week after bubbling brooks, grass-fed cows, and cozy dinners with strangers around a long wooden table, there was a distinct difference in the way we worked, ate, and shopped for food. It wasn't just how we read the labels to make sure chemical ingredients weren't the first three listed, it was the pace at which we feasted, the tension that no longer lingered around the shoulders, the brattle of city sounds that we could better embrace because of where we had been off Route 100A at Good Commons in Vermont.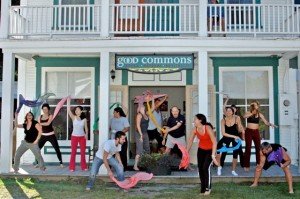 "[It's about] not getting caught up in the histrionics of our lives," said Chef Matthew Wexler, as the vegetable oil-powered Good Bus drove away from Green Mountain. On day two of the "Northeastern Adventure" retreat to Good Commons in Plymouth, the group of 14 had taken a yoga class, eaten egg casseroles, and hiked for two hours, after which a jacuzzi, cold brewski, and gourmet dinner were on most people's minds.
Tesha "Tish" Buss, the creator of Good Commons, grew up on a mid-western farm and has been involved in theater most of her life. In June 2008, she opened the doors to her rural sanctuary (a house that was once a general store visited by President Coolidge) where she could share her passion for food and community living with others. "This place has been blessed by many lovely, artistic people," said Buss, who has plans for a Good Commons-esque cookbook as well as a greenhouse and farm where visitors could get hands-on. "There's a magic th
at happens here," she continued, "when guests take the opportunity to open up and share their stories with those they don't know and might not continue knowing." Chef Matthew, preparing the Southwestern style barbecue in the kitchen, chimed in, "It's also about experiencing a greater space and letting yourself be in the present."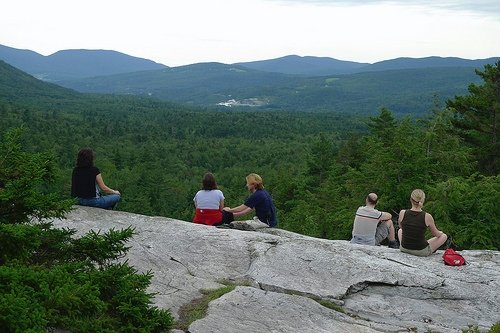 While the health and wellness center welcomes folks from across the map, the duo decided to target a Manhattan audience that might best respond to promises of "revitalization, peace, and rebirth." And indeed, from Thu
rsday to Sunday, the signs were clear: from the initial finger pointing on the bus at the "vivid and amazing" expansive open skies and hilly vistas, to the ritual four minutes of satiated silence during the beginning of each meal—punctuated only by moans of elation—to the collective sentiment that people could actually "reboot," it appeared that Good Commons had successfully answered the call of New Yorkers needing a special, spiritual kind of vacation.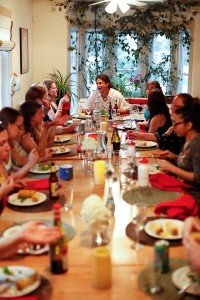 "I feel so much better than when I walked in here," said Sasha Ginnetti, senior manager of education at the Food Bank for New York. "And this gluten-free muffin is the best muffin I've ever had!" Although each weekend has a different theme, the one constant is the deliciously fresh, locally sourced menu. When you've met the dairy farm owner (and bonded with her baby cows), visited the cheese maker, and shopped at a market brimming with food from farms all within 50 miles, the colorful, aromatic plates take on a whole new meaning. And when guests gather around the buffet and listen to Chef Matthew tell the story behind his dishes, the farm to table to mouth journey feels complete and truly inspiring.
How to get there:  Take Amtrak to Rutland (RUD) and a taxi for 20 minutes to the center. Alternatively, for select retreats, the Good Bus picks guests up in midtown Manhattan (usually around 45th and 9th) and takes you in four hours directly to Good Commons, where Tesha, Matthew, and dog Wilbur will eagerly be waiting. Retreats start at $400 per person for four days, all meals and lodging are included. (Good Commons, 4771 Route 100A, Plymouth, VT, 802.672.1859, goodcommons.com)
The co-founder and editor-at-large at offMetro, Lauren is a sustainable travel specialist and freelance journalist with frequent bylines in National Geographic, Bicycling Magazine and Shape. Follow Lauren's adventures at @laurenmati.