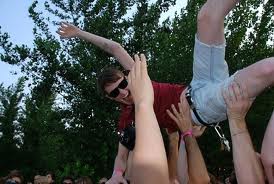 What: Impose Magazine's Party With Tables

When: Saturday, Aug 29th, 1p.m.

Where: BKLYN Yard, 388-400 Carroll St.
Why: Impose Magazine is plugged in to the best up and coming music in the world of all things independent and underground. Through their print magazine, website, record label, and events, they are dedicated to the pulse of new music.

On Saturday, Impose Magazine presents Party with Tables, which will showcase some of the best bands between Brooklyn and Baltimore (with New Brunswick in between). The good folks at Impose hand-picked a collection of vendors for you to browse through as you hang out at Brooklyn Yard catching some tunes and some rays (start doing a sun dance). These vendors specialize in records, designer t-shirts, literature, art, and more.
At night, Cinema 16 will feature Julianna Barwick performing to projections of Joel Schlemowitz' 1734 and Francis Thompson's NY NY. Highlights include Psychic Ills, Screaming Females, Zs, Silver Summit, Sharon Van Etten, Future Islands, Air Waves, Boogie Boarder, and many more.
Cost: $10 for the bands, $5 for the film screening, $12 for both. A portion of the proceeds will go to the children's charity, 826NY.
How to get there: F and G Trains to Carroll St. Walk in the direction of traffic down Carroll Street 2.5 blocks between Bond and Nevins streets. For more details on the event, visit imposemagazine.com.