Lake Placid, a village located in the heart of the Adirondack Mountains, is home to both history and adventure for every season. Not only is Lake Placid the only city to have hosted the Winter Olympics twice, once in 1932 and again in 1980, Lake Placid is a destination for everything you crave in the winter: skiing, snowshoeing, skating, and of course warming up by the fire with a hot toddy. This is the type of town which will make you forget your winter blues.
Skiing and Snowshoeing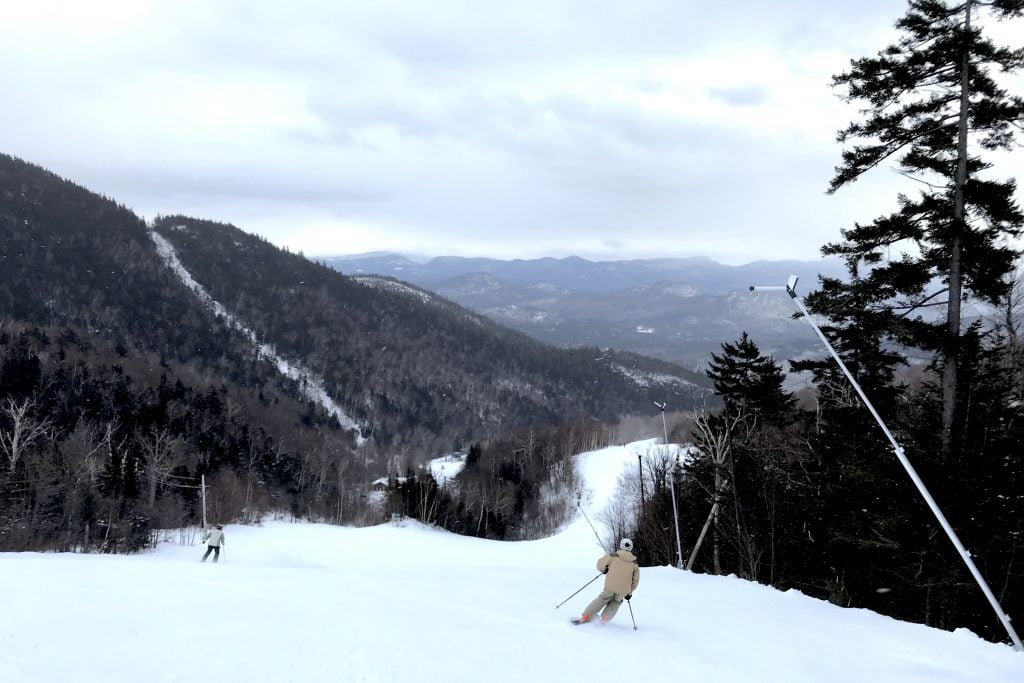 Lake Placid is just down the road from the venerable Whiteface Mountain, known for having the most vertical of any ski resort in the Northeast. Though Whiteface has the reputation for being an expert mountain, they have plenty of green and blue groomed trails for beginners as well. Plus, there's a gondola that goes to the second-highest peak on the mountain for days when the temperatures are too low for a chairlift.
Find Hotels in the area of Lake Placid:
Luckily, a free bus stops at hotels throughout town on the way to and from the mountain every day, making it easy for car-free travelers to add skiing into their getaway.
For an even closer winter rental, walk to High Peaks Mountain Guides to rent snowshoes or cross country skis and take them out on Mirror Lake. You won't be alone out there, as locals walk their dogs, ski and skate on the lake regularly.
Food + Drink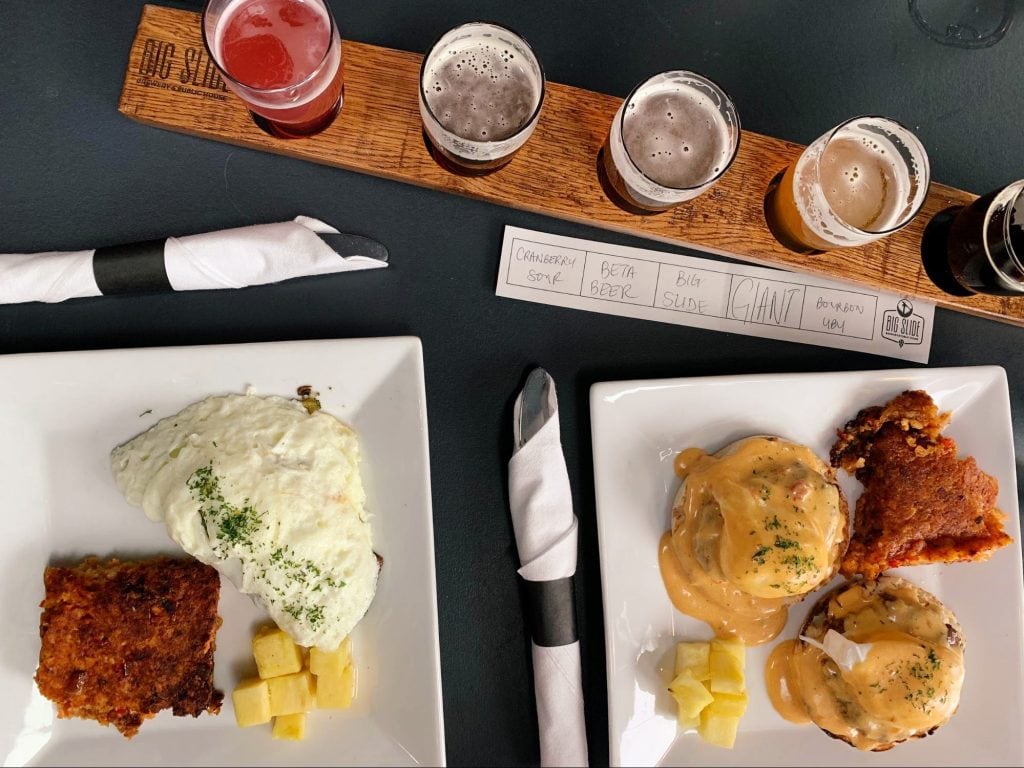 Now, to help you adjust to the slightly cooler temperature in Lake Placid, a short stroll down Main Street will lead you to Top of the Park. This 4 year old bar is known for small, speciality plates, and craft cocktails. Sit inside or outside, even in the Winter, as Top of the Park's deck is transformed into an enclosed, fireside nook, complete with blankets.
Order a seasonal hot beverage such as the Campfire Hot Toddy, which isn't your average hot toddy. With ingredients that include hibiscus dust and poached pear reduction, this cocktail will warm you right up. As far as plates go, you can't visit Top of the Park without trying the Confit Chicken Wings. The outrageously good flavor of these wings can only be achieved by marinating the wings in brine, slowly poaching them in duck fat, and serving them with chipotle aioli sauce.
Now who doesn't crave some barbeque, especially after a day on the slopes? Smoke Signals on Main Street is the hot spot in town for all things barbeque. Be sure to book your table in advance, as this restaurant's tasty menu is no secret. Start off your meal with the Korean BBQ Mini Tacos, the Signature Rib Nachos, or a basket of Smoke Signals' award winning wings. When you can't decide on an entree and want a taste of everything, you can't go wrong with the Signals Sampler which includes: ribs, brisket and pulled pork.
On your way out of town, brunch at the Big Slide Brewery and Public House, just a few minutes drive from Main Street, is a must. This brewpub, which opened in June 2016, brews their tasty beer right onsite, some of which have won awards within New York State! With 10 beers on tap, there is bound to be a draft for everyone, such as the Giant IPA, a double IPA voted #1 in New York State, or the Hot Pepper Pale Ale which is brewed with poblano and jalapeno peppers. The Sunday Brunch menu will energize you for a trip back to the big apple with 6 different brunch pizzas and farm to table brunch plates to choose from.
Where to Stay in Lake Placid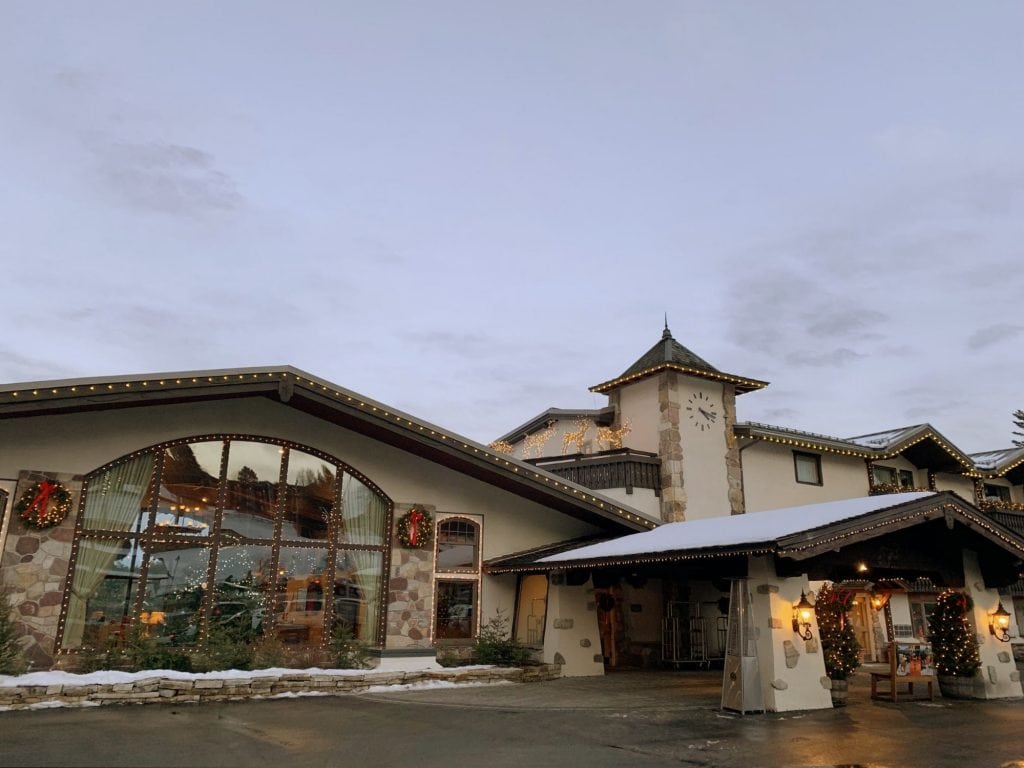 Staying on Main Street in downtown Lake Placid, will help you make the most of your time in this winter wonderland, which makes The Golden Arrow the perfect, cozy spot to rest your head. The Golden Arrow sits right on Mirror Lake, and is steps away from the downtown bars, restaurants, shops, and the Lake Placid Olympic Museum. The Golden Arrow is the ideal location for a romantic getaway for two, where you can fall asleep in front of the fireplace, and wake up with a fresh cup of coffee while enjoying the views of skaters on Mirror Lake.
Get there:
Take a bus from Port Authority directly to Lake Placid on Trailways ($75 each way). Alternatively, take Amtrak to Saratoga Springs and Switch to the 8629 Thruway Bus to Placid from there for a shorter bus ride.
Regina Baker is an active long distance running and outdoor adventure enthusiast based in the Adirondack Mountains of Upstate New York. When she is not running, Regina spends her time making the most of what the great outdoors has to offer, whether it be open water swimming, cycling, skiing, hiking, skating, or kayaking.