As summer approaches, New Yorkers are turning their sights North towards the Catskills. No longer just a vacation spot for comedians like Jerry Seinfeld and Mel Brooks, this easy to get to destination remains a popular weekend getaway.
Each year, local businesses team up to show off the best of the Catskills by curating the 
Catskills Trout Tales
 itineraries. From guided hikes to fishing expeditions to sampling local food and drink, the trout tales offer the perfect mix of activities and fine hospitality.
Last weekend, I took a trip up to the Catskills to try out one of the itineraries. Here's the inside scoop:
Spillian: An Elegant Catskills Lodge
Catskills Trout Tales was co-founded by Leigh Melander, who also co-owns Spillian: A Place to Revel, a lodging venue and events and retreat center in village of Fleischmanns.
Spillian is a Victorian-era property that was once the summer home for the Fleischmann family (known for the baker's yeast produced by the company of the same name). Built before the turn of the century, the woodland estate was part of a 160-acre compound with a spring house for drawing and processing stream water, an ice house, tennis courts and accommodations for various Fleischmann relatives.
The Fleischmann family sold the estate sometime in the mid-1910s. The property was a hotel for many years and a Japanese meditation center. Sitting vacant for almost two decades, the home was purchased by Melander and her husband, Mark Somerfield, in 2012. The couple invested their time and money in bringing the home back to its original splendor before opening in 2013.
Today, the couple operates the estate as a retreat. Each guest bedroom is decorated with a theme correlating to the 18th-century (the Jules Verne Room features a telescope). In keeping much of its past in the present, the upstairs bedrooms are adjoined by shared bathrooms (as they did in those days) yet connect to modern comforts like Wi-Fi.
Local Food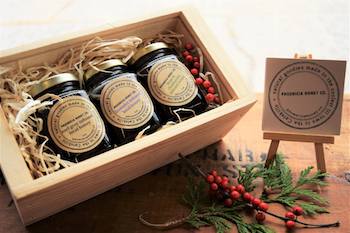 During my weekend stay, my meals featured the bounty of the Catskills. Offerings included vegan, plant-based cheeses by Wendy's Vegetarian Kitchen in Phoenicia, soft chevre-style goat cheese from Dirty Girl Goat Farm in Andes; raw or infused honey from Phoenicia Honey Co., also in Phoenicia; English-style farmstead cheeses from Harpersfield Cheese in Harpersfield; smoked trout from Lenny Bee Productions in Woodstock; and flavored maple syrups from Tree Juice Maple Syrup in Arkville. We also tried microbrewed beers from Catskill Brewery in Livingston Manor; hard apple cider from Awestuck Ciders in Sydney and locally sourced and crafted vodka,  Catskills Mountain Maple Spirit.
Hiking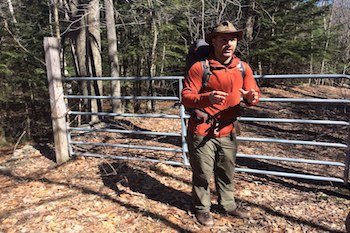 On our first full day here, we ventured out on a hike led by Will Soter, co-founder and lead guide at Upstate Adventure Guides, LLC.
"Today the Catskills have 287,500 acres of forever wild land within the 700,000 acre Catskill Park,. With 98 peaks over 3000', 350 miles of trails, and world famous trout streams, there are plenty of ways to enjoy the outdoors," Soter notes.
Our group went along a section of land known as the Emory Brook Parcel, off of Route 28 along the Catskill Mountains Scenic Byway and a short drive from Spillian. The Emory Brook Parcel is adorned with an impressive creek, waterfalls, moss-covered banks, and hemlock groves.
As a true outdoorsman, Soter is also knowledgeable in the topography and history of the Catskills. While guiding us along Emory Brook, Soter shared what he learned about this parcel from time spent with local long-timers who fish or hike on the property.
Prior to the arrival of the railroad in the 1870s, old roads here carried stripped bark to tanneries (hemlocks produce tannin, which was used by factories in treating animal hides into leather: the Catskills' industry contributed greatly in providing boots for Union soldiers during the Civil War) as a link to aligning farms and communities. While the Fleischmanns chose to settle here in the summer, this particular area was also a popular summer getaway for decades until the rise of automobile travel led people to go farther from the area.
Fly Fishing
On Sunday morning, I switched over from hiking boots to waders and fishing poles as our group had a quick lesson on fly fishing. The Catskills are credited as the birthplace of American fly fishing, so it's the appropriate location to give this sport a try. Mark Loete, a licensed fishing guide who runs Catskill Mountain Angler, and Lenny Millen, a fellow guide, gave us a brief history on this angling method and the three types of trout found here: rainbow, brown and brook.
The fisherman took us to Esopus Creek, a scenic tributary, where we got into our wadders and watched as they gave us a short 101 on "lures" attached to weighted lines and how to properly cast.
Get to the Catskills from NYC
The Trailways bus from Port Authority to Fleischmanns takes around 2 hours. Spillian can pick you up at the bus stop.
For more information the Catskills, visit www.iloveny.com.
Featured image: Mark Loete
Additional images: The author and Phoenicia Honey Co.
Michele Herrmann writes about food, travel, culture and overall living for a number of companies and media outlets. She likes getting around by foot and still appreciates train travel, even if it's part of her regular commute.