Montreal is a foodie's dream that's also an easy trip from NYC via Amtrak. There's truly something for every taste bud under the sun in Montreal. The city's French influence adds to its culinary desirability. From crepes to chocolate croissants and fondue, you can go from breakfast to lunch into dinner with French food as your guide, or you can deviate from the menu and experience other types of food. Here's our list of where to go on your 24-hour gourmet getaway.
Breakfast: Beauty's Luncheonette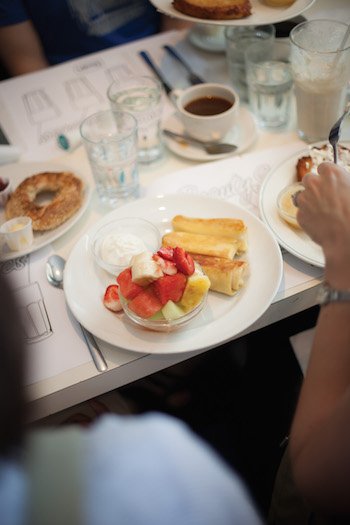 Located in a retro space with old-fashioned booths, Beauty's Luncheonette has stayed true to its 1940s origins when its founder, Hymie and Freda Sckolnick, opened up the establishment. Rumor is that the city fell in love with brunch at Beauty's. Sckolnick recently passed away, but the popular cafe remains in the family. The menu offers up delicious options such as the Beauty's Special, a toasted Montreal bagel with a nice portion of smoked salmon and cream cheese, and the Mish-Mash omelet, which is scrambled eggs with chunks of hot dog, salami, pepper, and onions. Beauty's also offers waffles, challah French toast, sandwiches, salads, and their well-known smoothies.
This farmer's market lies just north of Little Italy. You will find fresh fruit and vegetables, flowers, cheese, and baked goods for sale, as well as cafes and restaurants. Head to Creperie du Marche, right in the market, for buckwheat or wheat-free sweet or savory crepe options such eggs and ham, raclette cheese or chestnut cream.
Venture about a block away to El Rey del Taco for authentic Mexican food. They make their own tortilla chips and a hot bowl of spicy soup that will keep you toasty in the coldest of temperatures.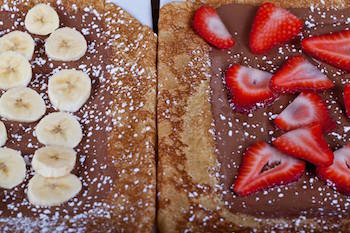 For excellent chocolate fondue, head to Juliette & Chocolat, which has several locations in town. It's the real thing, served with a large plate full of various fruits such as strawberries and bananas, marshmallows, soft brownies, and pieces of sweet waffles. Along with milk or dark chocolate, you can order a sublime white chocolate fondue.
If you are in the old part of town, head to Creperie Chez Suzette on 3 Rue Saint Paul E for their fondue. Try cheese if you've already had chocolate, opt for a crepe or simply defrost with a cup of cocoa.
L'Express is perfect for dinner. This trendy establishment's mirrored dining room has a European vibe. The menu offers the Francophile a wide selection of options including bone marrow with coarse salt, warm goat cheese salad, or duck foie gras as a starter. For the main course, try the quiche, cold roast beef, beef stew, steak tartare, or shrimp risotto. For dessert, the rum baba, house truffle, or a lemon or chocolate tart are sure things.
Getting to Montreal from NYC
Amtrak's Adirondack whisks you through the Hudson Valley before hugging the shoreline of Lake Champlain, providing passengers with some of the most dramatic scenery in the Northeast. The journey to Montreal takes just under eleven hours.
Image credits: Tourism Montreal
For additional trip planning information, go to Tourism Montreal
Holly Rosen Fink is a marketing consultant and culture and travel writer living in Larchmont, New York