After a five-minute meander downhill from the train, past a wine bar, art gallery, and latin bistro, you will discover that Park Slope has been hiding something delicious, unpretentious, and homemade.
In January 2005, husband and wife entrepreneurs and Park Slope residents Naomi Josepher and Jon Payson opened The Chocolate Room, which Zagat has named the #1 Dessert Café in New York. The boutique on Fifth Avenue is a cozy, intimate place, with French fixtures on brick walls, chocolate wood furniture, and a display case of Fritz Kripschildt's artisanal bonbons in the foyer to ensure guests leave with more than just lingering flavors. The open kitchen in the back emits aromas reminiscent of the hypnotic, exotic concoctions in the film Chocolat. C'est dangeruex!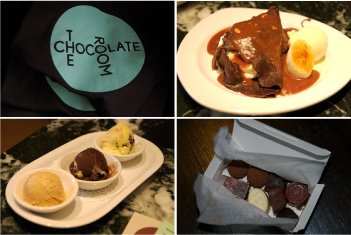 No dessert is artificially made, and the products are fair-trade and single-origin República del Cacao in support of local farmers in Ecuador and Madagascar. The ice cream—Naomi's favorite thing on the menu—is often organic and created fresh every day. Try three small scoops: the Burnt Orange, (Real) Mint Chip, and Chocolate Sorbet. The complimentary pre-dessert might be, if you're lucky, a chocolate chip almond cube with chocolate sauce. Hot chocolates come with a homemade marshmallow, and the special caramel glazed banana chocolate crepe with vanilla ice cream will make you melt into your seat in between bites. Oprah Magazine's favorite triple dark chocolate layer cake is the most popular indulgence, and should be shared with port, prosecco, or wine; suggested pairings are listed on the menu.
The Chocolate Room's Park Slope shop is located at 269 Court Street, and offers larger seating area and production space to accommodate the high number of special orders. Catering, venue hosting, proposals, and chocolate tastings are available.
The Chocolate Room might not be a secret anymore, but it's far from being overrun by tourists.
How to get there: Take the F or G train to Bergen Street or the 2, 3 train to Court.
The co-founder and editor-at-large at offMetro, Lauren is a sustainable travel specialist and freelance journalist with frequent bylines in National Geographic, Bicycling Magazine and Shape. Follow Lauren's adventures at @laurenmati.