When it comes to finding great places to eat and drink on a quick getaway, we've often left things to chance, happening upon a hidden gem from the seat of a bike or while walking into town from the train station. Although it's fun to experience something so unexpectedly delicious and off the beaten path, more than a few times we've returned home wondering, "What did we miss?"
In the midst of planning a trip to Montreal on an empty stomach, we called on food maven Megg Sorensen of PopArtichoke to learn where the locals go for poutine, picnic fixings, Sunday brunch, a budget-friendly meal, dumplings, smoked meat and much more.
Best Poutine | La Banquise | 994 Rue Rachel Est

This was a hard pick, as I've never met a poutine I didn't like, but Banquise is the perfect place to start. Around since 1968, their menu now has over 28 poutine varieties to choose from. They even offer a 100% vegetarian poutine, so no one is left out of this Montreal tradition. The vibrant restaurant is often packed with students, but the end result is definitely worth the wait. Plus, they're open 24 hours; perfect for a late-night poutine run. labanquise.com
Best New Restaurant | Blackstrap BBQ | 4436 Rue Wellington
Nestled away in Verdun, this newcomer to the Montreal food scene should not be missed. This place has authentic Memphis-style BBQ from ribs to chicken to sandwiches, along with classic Southern sides. Their meat is wood-smoked for up to 16 hours, and made daily, so make sure to get there before they run out. Try to save room for their brisket burnt ends poutine, which is absolutely to die for. blackstrapbbq.ca
Best Smoked Meat Sandwich | Lester's Deli | 1053A Rue Bernard
Like poutine, smoked meat is a big deal in this town. Schwartz's gets a lot of press (and a lot of tourists), but if you want to avoid the crowds and get a better sandwich, head to Lester's. The place is full of history and has lots of menu options; I keep going back for spiced, succulent smoked meat with a pickle and some fries. lestersdeli.com
Best Place for Coffee, Doughnuts, and Free Wifi | Chez Boris | 5151 Avenue Du Parc

I didn't like doughnuts until I went to Chez Boris. Here they serve up all natural Russian-style doughnuts, and man, these things are delicious. They're not greasy or too sweet. They're light, flavorful, and made fresh to order. Grab a few with some coffee and soak up the free wifi. The interior is perfect for lounging with a laptop and an outdoor table is a great place to relax. Chez Boris have lunch options too, including beignewiches, sandwiches that use unsweetened doughnuts as the bread. I was skeptical, but one bite in and I was hooked. chezboris.ca
Best Sunday Brunch | Sparrow | 5322 Boulevard Saint-Laurent
There's no shortage of good brunch spots in Montreal, but I'm partial to Sparrow. Their ever-changing menu is always full of fresh, well-crafted options for meat-eaters and vegetarians alike. Whether it's brunch, lunch or dinner, this is a popular joint, so it's best to arrive early or make a reservation. Sparrow is currently cash only, but they have an ATM upstairs. facebook.com/TheSparrowBar
Best Burger and Diner Food on a Budget | Nouveau Palais | 281 Rue Bernard Ouest
The décor at Nouveau Palais is neither new, or worthy of a palace, yet is nothing short of wonderful. Its staff is friendly and informed. Drinks here are cheap and the food always hits the spot. You can get Montreal's best burger with bacon or cheese, but I never do, because on it's own it is simple perfection. From the juicy patty to the buttery bun, to the amazing skin-on fries that come mounded beside it, this burger is tops. Oh yeah, and the whole thing is only $10. If you're in the Mile End neighborhood, do yourself a favor and stop by this little place—you won't be disappointed. nouveaupalais.com
Best Old-school Drinks and Eats | Dominion Square Tavern | 1243 Rue Metcalfe
This restaurant is full of vintage charm and downright delicious offerings. The cocktail list has many classics, and I highly recommend a gin and house-made tonic for flavors that will astound you. Grab a pepperette (also made in house) to snack on while you drink. Their meal options are hearty, comforting dishes with flair. Come on a Sunday to get their roast beef, complete with veggies and Yorkshire pudding. tavernedominion.com.
Best Pizza and Oysters | Pizzaria Magpie | 16 Rue Maguire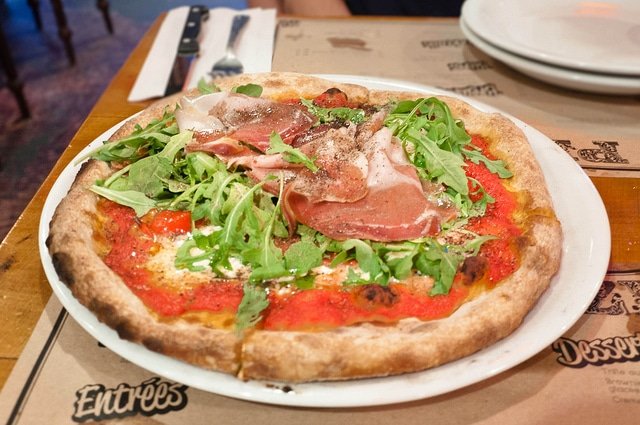 Owned by the same people who run Sparrow, this is not your average pizza place. The atmosphere is warm and inviting, even when it's packed (which is not uncommon, so reservations are recommended). If you like oysters, order up a fresh plate of 'em and enjoy. They have about 10 pizzas to choose from, including vegetarian fare, and they're all made in their handsome wood-burning oven. The crust is thin and crisp around the edges, and all the toppings are fresh and flavorful. They've also got some nice appetizers to choose from, as well as dessert, if you're still hungry after all that. pizzeriamagpie.com
Best Dumplings | Mai Xiang Yuan | 1084 Boulevard Saint-Laurent
If you're like me and love dumplings, head down to Chinatown and find Mai Xiang Yuan. It's a little place that's easy to pass by, but once you find it, you won't forget it. The menu has a few salads and other dishes, but the highlight here are the dumplings, which you can watch being made in the kitchen. There's a huge list to choose from, and every kind I've tasted has been excellent. yelp.com
Best Grocery Shop | Jean Talon | 7070 Avenue Henri Julien; Atwater | 138 Avenue Atwater
When I first went to Jean Talon market I was just astounded. I perused row after row of fresh, often local produce for really affordable prices. More little shops and restaurants surround it, so you can easily make a whole afternoon trip out of it. On the other side of town lies Atwater, another fantastic, historic market. Both go indoors for the winter, so you can shop and eat year round. marchespublics-mtl.com
For more ideas on things to do while in town, read Exploring Montreal on Two Wheels. Hungry right now for poutine? Read Where to Get Canada's Poutine in NYC.

How to get there: Amtrak's Adirondack from Penn Station to Montreal provides you with some lovely landscape views for much of the 10-hour ride. Around $63/one way.

View Montreal Food Guide in a larger map
Post by Megg Sorensen, an artist-turned-cook who started PopArtichoke in 2010. Since then, she's been focused on creative, healthy recipes and enjoying the eats in her hometown of Chicago. Last year she moved to Montreal, Canada, and has been exploring the rich culinary culture of her new home. 
Photos for Montreal Food Guide:Allison, Megg Sorensen