A dream living situation, in my opinion, would be a quiet home, off the beaten path, maybe somewhere in the countryside. Ideally there'd be a brewer  right next door with some of the best craft beer for miles. Perhaps even a comfy bed, breakfast served in the morning, and miles of spectacular trails right around the corner. Oh, and of course, a swimming hole right at the foot of the driveway.
Well, I might not live in this idyllic place, but it sure does exist, and I recently spent a lovely weekend there. Tucked away in scenic Brandon, Vermont is a magic combination of the Inn at Neshobe River, Foley Brothers Brewing, and Neshobe River Winery. This bed- breakfast-brewery-winery offers a place where you can relax for the weekend, sip on a draft, or a glass of wine, mere steps away from where the beer was fermented, and the grapes were grown.
The History
Built in 1786 and owned by Robert and Rhonda Foley, the Inn at Neshobe River, is aptly named as it sits on the peaceful Neshobe River. There are four distinct rooms for guests at the Inn, all with their own touch of country charm at very reasonable rates ($109-$169 depending on room and season). I stayed in the Trillium Room which has its own little porch attached, the perfect nook for enjoying a good book and the views of the 6-acre property.
There are more than a few features that make this property special and unique, but the most notable is the fact that there is both a winery and brewery on premises. The beer and wine are both Foley made, and conveniently served out of the same Tasting Room directly adjacent to the Inn. Robert is the winemaker, and his sons, Patrick and Dan, are the brewmasters.
The Beer
Foley Brothers Brewing, which opened in 2012, is a destination alone with a score of 98/100 on RateBeer.com. The brewery is the first stop on the Vermont Brewery Challenge – Passport Program out of New York for many, and tasty enough to be the last or, in my case, the feature of a full weekend away. Craft beer enthusiasts travel from all over the country to taste the signature Foley brews. Mutiny (IPA), Fair Maiden Double IPA, Citrennial (IPA), Muddled Magic (Imperial Stout), Prospect (Imperial IPA), are just a few of the signature beers that keep beer enthusiasts coming back time and time again.
The Wine
The Neshobe River Winery opened in 2006, and is among approximately 21 registered wineries in the state. Inspiration has been drawn from all over the globe for the winery as Robert's sons traveled to California, New Zealand, and South Africa to study winemaking. Take the "Rasta" for example, a white wine with hints of grapefruit and pear, fermented with carefully selected South African yeast. Though winter can be bitter, wineries in Vermont use the frigid temperatures to their advantage with "Ice Wines," made from grapes that freeze on the vines and are among the the best in the country.
What to do around Brandon, VT
It's not easy to drag yourself out of the Tasting Room, but you can't return home without a walk in the woods. Uponrequest, a lift can be provided to a nearby trail in the Green Mountain National Forest along with lunches for the day. I recommend requesting a lift to the Silver Lake Trail, a moderate trail which follows an old carriage road past the Falls of Lana, up to Silver Lake which is only accessible by foot. Take a dip in this serene lake and then unwrap your trail lunch at one of the designated picnic areas for a meal with a view.
Avid golfer? Have a tee time requested at the Neshobe Golf Club, which was voted as a Top 100 Public Golf Course in New England, and favorably located directly next to the Inn.
Downtown Brandon is only about a mile walk from the property, and a great place to venture to for a delightful dining experience at Café Provence, the French bistro-style restaurant. The downtown area is also ideal for a casual bike ride tour of Brandon history, where you'll pass by many homes that are listed on the National Register of Historic Places. And don't forget the music! Between Brandon Music and Compass Music and Arts Center, there is art to see or hear every weekend in the Summer.
"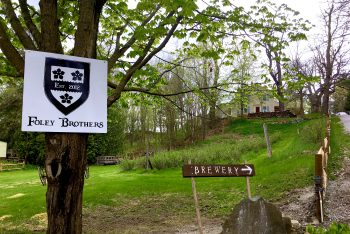 Unhurried, Unspoiled, Unforgettable" is how the town of Brandon is described, and couldn't be more accurate. A weekend in Brandon as a guest at the Inn at Neshobe River is the getaway I didn't know I needed. Lush in scenery, thirst-quenching in beverages, and oh so comfortable in amenities, your summer needs this. Book your stay today, and tell Robert Foley that offMetro sent you.
Take the Train from NYC
Take Amtrak from Penn Station to Rutland, VT, a 5 hour and 30 minute train ride. From there, request a cab to the Inn, which is about a 30 minute car ride.
Additional Resources:  Brandon Area Chamber of Commerce, Inn at Neshobe River, Neshobe River Winery, Foley Brothers
Regina Baker is an active long distance running and outdoor adventure enthusiast based in the Adirondack Mountains of Upstate New York. When she is not running, Regina spends her time making the most of what the great outdoors has to offer, whether it be open water swimming, cycling, skiing, hiking, skating, or kayaking.