Providence, Rhode Island enjoys an imaginative art scene that has earned it the nickname the Creative Capital. See for yourself what the artistic buzz is all about at the fourth annual PVDFest on Thursday, June 6 through Sunday, June 9. The city's largest and most colorful event, PVDFest showcases live music, dance and installations from around the world. Performances, parades and interactive exhibitions will take over the city's public spaces and offer something for all ages.
Performance Highlights: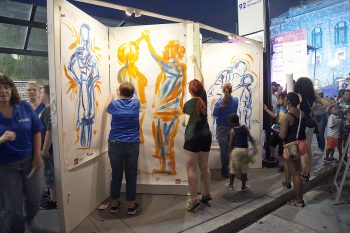 International vertical dance troupe BANDALOOP will fly, float and turn cartwheels and backflips in midair across the Providence skyline on the evenings of Friday, June 2 and Saturday, June 3.
Award-winning slam poet Christopher Johnson will be performing as part of #PVDPublicCanvas. Johnson's work explores the issues of race, incarceration and mental illness.
Haitian born, Harlem-based composer and violinist Daniel Bernard Roumain (aka DBR) has composed a large scale composition called En Masse, which he will perform as part of a 500+ musician collective alongside some of Rhode Island's most celebrated musicians and marching bands.
Las Cafeteras, a young East Los Angeles band, combines the rhythms of Mexican folk music and Afro-Caribbean urban beats to create a distinct sound. Troker, a six-piece band from Guadalajara, Mexico, delights with a combination of mariachi horns, funk rhythms, Latin grooves, metal riffs and hip-hop DJ scratching. The event's first ever Maker Faire will attract engineers, artists, scientists and crafters. Expect demonstrations and experiments in a family-friendly showcase of invention and resourcefulness.
Stay: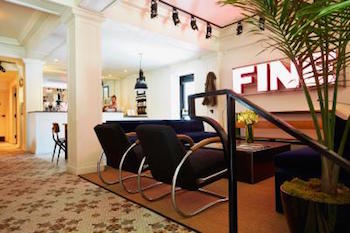 Book a room at The Dean, a dashing 52-room boutique hotel with a design-forward edge. Spend some time savoring the hotel's functional pieces, created by talented local artisans. Step outside and you'll be immersed in festival happenings. On Friday June 2, a Quarter Moon Market with 30+ RI-based movers, shakers and makers takes over the lot adjacent to the Dean. At night, vendors, small bites, and libations layer on the festive flair. Saturday, get set for an all-day block party.
Eat:
The city's noted food culture draws inspiration from its proximity to the sea. Tying into the seafood theme is the delicious news that the Ocean State Oyster Festival will host a one-off version of their anticipated annual September event. The event highlights the state's extraordinary assortment of edible crustaceans and the importance of sustaining Rhode Island's aquaculture.
Get to Providence from NYC
Amtrak from Penn Station to Providence takes three hours. Megabus or Peter Pan bus lines from Port Authority are budget alternatives. See our Providence Transportation Guide.
For additional information visit www.pvdfest.com and goprovidence.com
Photo credits: Erin Smithers, Scott Laphan, The Dean Hotel
Allison is a native New Yorker, who has lived in Rome, Tuscany, Melbourne, Toronto and Los Angeles. She frequently contributes travel pieces to Family Travel Forum, using her own children as guinea pigs as they travel the globe. She is fluent in Italian and Spanish and laughably adequate in French. Her background as an Early Childhood Educator gives her an added understanding of what it takes to travel with kids in tow. She firmly believes that the most important part of education takes place outside of the classroom, on the road, around the world. She never misses a chance to sample local delicacies, as her love for travel goes hand-in-hand with her love for food and wine. Follow Allison at @gourmetrav.