Earth Day has come and gone, but at offMetro, we make a year-round effort to infuse a healthy dose of green into every getaway. A trip to Wells, Maine is a naturalist's paradise that is easy to get to without a car. A seasonal trolley traverses the southern Maine coastline making explorations and beachcombing a breeze.
The Wells Reserve at Laudholm, a model for resource stewardship and land and water conservation, offers a window into the scenic beauty of the region. This National Estuarine Research Reserve is open to the public every day, protecting more than 2,000 acres for science, education and enjoyment. More than 25,000 people visit the Wells Reserve each year to learn about Maine's seascapes and feel inspired.
Walk the Trails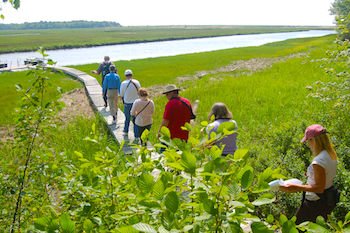 Miles of unspoiled walking trails and a pristine beach are the traditional big draws. This year, the Wells Reserve will hold its Summer of Art & Science program, a season of integrated exhibitions and programs exploring nature through the complementary lenses of art and science.
The Summer of Art & Science initiative offers an array of special events. Get your hops and barley fix at the Art & Science of Craft Beer workshop on April 29; stimulate your intellect at a book reading and signing on June 21 or consider a barn concert on July 13 and August 3. The celebration culminates in the 30thannual Laudholm Nature Crafts Festival on September 9 and 10.
Art in Nature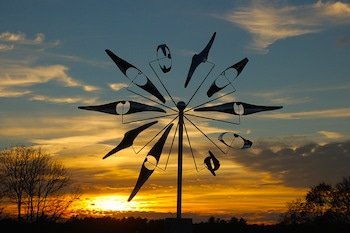 A highlight is certain to be Power of Place, an outdoor sculpture exhibition and sale featuring more than 40 works by New England artists. Acclaimed Maine art curator June LaCombe will install the show, positioning pieces across the historic campus and along the reserve's most popular walking trail.
"Sculpture invites us to more fully engage with our environment," LaCombe explained. "It helps focus our attention on nature's materials and forms. As we interact with sculpture, our senses are heightened and we become more acutely aware of the intricate beauty of place."
Power of Place opens in June, alongside the Kennebunkport Festival and continues through Columbus Day.
Get here:
Take Amtrak's Downeaster from Boston's North Station to Wells. The Shoreline Explorer Seashore Line B will take you from the Wells Transit Center to the Wells Reserve entrance. This is a seasonal service, running from June 24-Sept. 24.
Allison is a native New Yorker, who has lived in Rome, Tuscany, Melbourne, Toronto and Los Angeles. She frequently contributes travel pieces to Family Travel Forum, using her own children as guinea pigs as they travel the globe. She is fluent in Italian and Spanish and laughably adequate in French. Her background as an Early Childhood Educator gives her an added understanding of what it takes to travel with kids in tow. She firmly believes that the most important part of education takes place outside of the classroom, on the road, around the world. She never misses a chance to sample local delicacies, as her love for travel goes hand-in-hand with her love for food and wine. Follow Allison at @gourmetrav.