oM readers are already familiar with Pocono Mountain getaways such as Shawnee Mountain and the pampering spa at Woodloch. Just a two-hour bus ride from New York City, we're convinced Camelback Mountain in Tannersville offers the perfect blend of adventure, creature comforts, and accessibility for an action-packed winter weekend. It's family-friendly so pack the kids.
Stay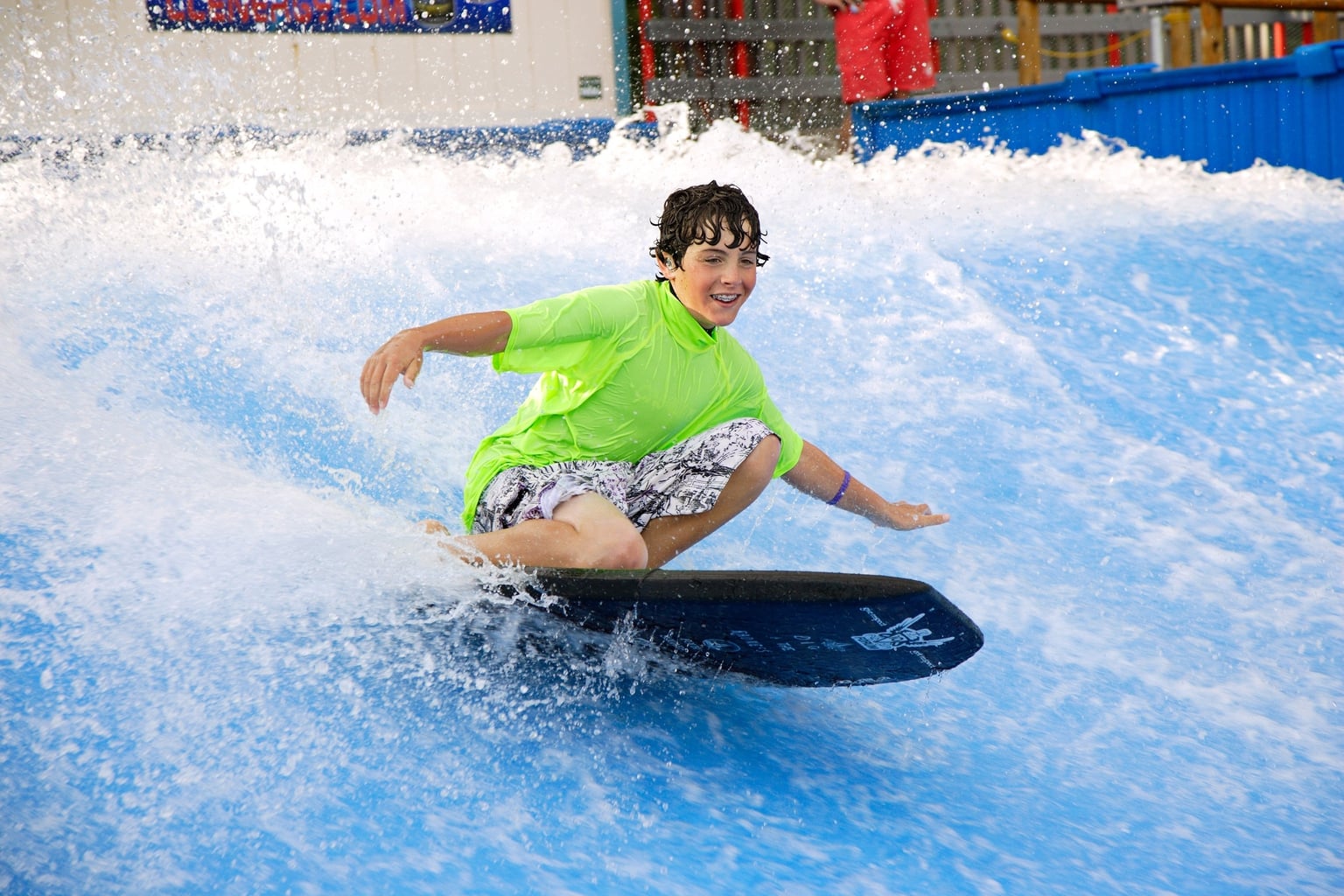 Kids of all ages will light up when they step inside Camelback Lodge and see the climbing wall, ropes course, and Disney-esque decor. Guests get full access to Aquatopia, the largest indoor water park in the Northeast, complete with simulated surfing, a pool bar, and 13 waterslides. With six in-house dining options, plus the most epic breakfast buffet you could imagine, you can easily recharge between activities. Rooms include free lift or tubing tickets.
Find Hotels near Camelback Mountain:
Cambelback Lodge offers a shuttle to the base of Camelback Mountain, where you can pick up lift tickets. It's worth splurging on lessons at Camelback, where they use a unique Terrain Based Learning program that will get even the newest of skiers up and working on their "pizza," and maybe even "French fries" technique. After a quick break in the lodge, put your gear back on and head out for galactic snow-tubing. The largest snow-tubing park in the U.S.A. has an impressive LED light show starting at 5pm every night.
Eat + Drink
You can't go wrong with the hearty cheese-topped chili at the Trails End pub at Camelback Lodge. If you wander off campus, the Barley Creek Brewing Company is a favorite local spot for burgers and wings. Adults can catch a tour of the brewery every day at 12:30pm. Zack's Taco Shack is a new eatery just down the road from Camelback – crunch into their signature hard shell + soft shell combo taco. We recommend the garlic steak taco (145 Camelback Rd, Tannersville). On your way out of town, grab lunch for the road at The Village Deli, a classic local eatery that serves up fresh sandwiches so hefty you might even share (1818 Sullivan Trail, Tannersville, Pennsylvania).
Insider Tips
The Poconos have tons of kid-friendly festivals.
On February 9-10, 2019, visitors are welcome to be a part of the annual Wally Ice Fest on Lake Wallenpaupack. It's a day of ice sculptures, curling contests, and ice hockey, capped off with a polar plunge.
On January 26-27, 2019, Blue Mountain Resort is hosting their free annual Winter Fest, an introduction to snowshoeing, ice luging, dog sledding, and ice carving.
Get There + Around
From Port Authority take the Martz Trailways Line to either Mt. Pocono or Mt. Airy Casino. Take a taxi to the resort. Mountain Taxi is a local cab company (570) ­839­-2222. The Pocono Pony is a local bus option that has fixed routes around the Pocono Mountains.
For more information, go to the Pocono Mountains Visitors Bureau
Photo credits: Camelback Mountain and the author
Annie is a travel writer, environmentalist, and surfer based in Venice, CA. She heads up our West Coast team, keeps our grammatical errors in check, and makes sure our California writers always have a plan for their next adventure. Follow Annie's travels @annelisemcb.