The Pocono Mountains in Pennsylvania are just a two-hour bus ride from New York City but will still give you that "world away" feeling. The area is replete with cold weather activities – by day you can hit the slopes or go for a winter hike. By night you can tuck into a rustic restaurant, dig into a bowl of chili and sip a locally crafted brew.
There are six ski mountains to explore (the most well known is probably Camelback), but Shawnee Mountain offers a good mix of adventure, creature comforts, and accessibility for a memorable weekend.
Get Outdoors in the Poconos 
Shawnee Mountain is a great place to learn to ski. The mild terrain (plenty of blues and greens) makes it very approachable for new skiers and snowboarders. Weekend lift tickets are around $62 for adults, $42 for kids, and rentals are $35. The Beginner Package is a steal at $97, and includes a lesson, rentals, and lift ticket.
Stay at the Shawnee Inn
The Shawnee Inn and Golf Resort, located on the edge of the Delaware River is still charming considering its 105-year-old bones. It might have something to do with the very friendly staff and the smell of freshly baked cookies (daily in the lobby café). At $130 a night you can't beat the price, plus the hayride, bonfire, and s'mores offered nightly make the deal sweeter. After a buffet breakfast, stretch out with a guided morning hike or hop on the complimentary shuttle to nearby Shawnee Mountain. Catch a flick at the Pocono Independent Cinema, originally opened in 1884.
Eat + Drink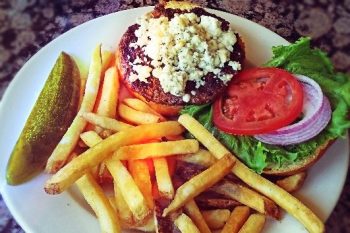 If beer and pizza is all you desire after a day in the snow, then the Shawnee Craft Brewery, right next door to the Shawnee Inn, is where you ought to head. There's live music on Friday and Saturday nights, and brewery tours are offered daily. Also on the property, the Gem & Keystone serves up casual comfort foods like a soft pretzel with warm cheddar ale spread, and local brews like their top-selling Harvest Saison. At the Shawnee General Store, a quick walk from the Shawnee Inn, you can find a little bit of everything – penny candy, fishing supplies, handmade soaps, and a small sandwich shop serving breakfast and lunch (542 River Rd, Smithfield Towneship, PA 18356). The Deer Head Inn, the oldest continuously running jazz club in the country, is a local gem and frequented by Appalachian Trail hikers passing through.
Get to Shawnee Mountain Without a Car
From Port Authority take the Martz Trailways Line to Stroudsburg/Delaware Water Gap. Once you know your arrival time, call the Shawnee Inn between 8am and 8pm to arrange a pickup (570.424.4050 x.1289). Shawnee Inn has a shuttle available upon request, which can bring you to and from the mountain. Mountain Taxi, Pocono Cab Co., and Uber are all options. The Pocono Pony is a local bus option that has fixed routes around the Pocono Mountains.
 For more information, go to Pocono Mountains Visitors Bureau
Photo credits: The Shawnee Inn and Golf Resort and Reece Pacheco
Annie is a travel writer, environmentalist, and surfer based in Venice, CA. She heads up our West Coast team, keeps our grammatical errors in check, and makes sure our California writers always have a plan for their next adventure. Follow Annie's travels @annelisemcb.