Saranac Lake is located in the Adirondack Park, just west of Lake Placid, with a vibe parallel to that of Woodstock, NY: think history-meets art-meets-outdoor adventure. Widely known as the first place to treat tuberculosis, Saranac Lake is filled with what are known as "cure cottages." These homes were originally why city folk came to Saranac Lake. The fresh air of the Adirondack region improved the health of those that had fallen ill, and in turn the construction of cure cottages filled the Saranac Lake area.
Saranac Lake is a special place, and you'll notice this within five minutes of walking down Main Street. If you're a native, you can't walk down the street without seeing someone you know. Even if you're only visiting, you'll be greeted as if you're a local. This is a close-knit community that pulls for each other. Every local business roots for the rest, and all of the residents come together for the love of their hometown, even if that means volunteering on a weekend to stack massive ice blocks to build an ice palace for the upcoming Winter Carnival.
The annual Saranac Lake Winter Carnival, which takes place January 31 to February 11 is reason alone to plan a trip. Witness the creation of an ice palace, enjoy live music and  try your hand at everything from ice skating to curling to a fry pan toss.
Get Outdoors
Try your hand at something you might not have access to easily in the city, and head over to Dewey Mountain, a snowshoe and cross country ski destination with 13 km of ski trails and 4 km of snowshoe trails. It's a small but friendly mountain, perfect for all ages and experience levels, with low priced rentals and a day pass for only $5. If your mood calls for more of a Zen setting, reserve a spot at Earthshine Yoga for the Round Robin class on Sunday morning.
Stay
If a little character is important to you in a lodging choice, The Porcupine Inn is exactly what you need. This luxurious bed and breakfast situated in the historic Highland Park neighborhood is a little slice of magic. Poet Thomas Bailey Aldrich had this home built for his son, Charles, who had fallen ill with tuberculosis. If you're lucky, you'll stay in Charles' room with the "cure porch" that he slept in to let the fresh air work its wonders.
Insider Tip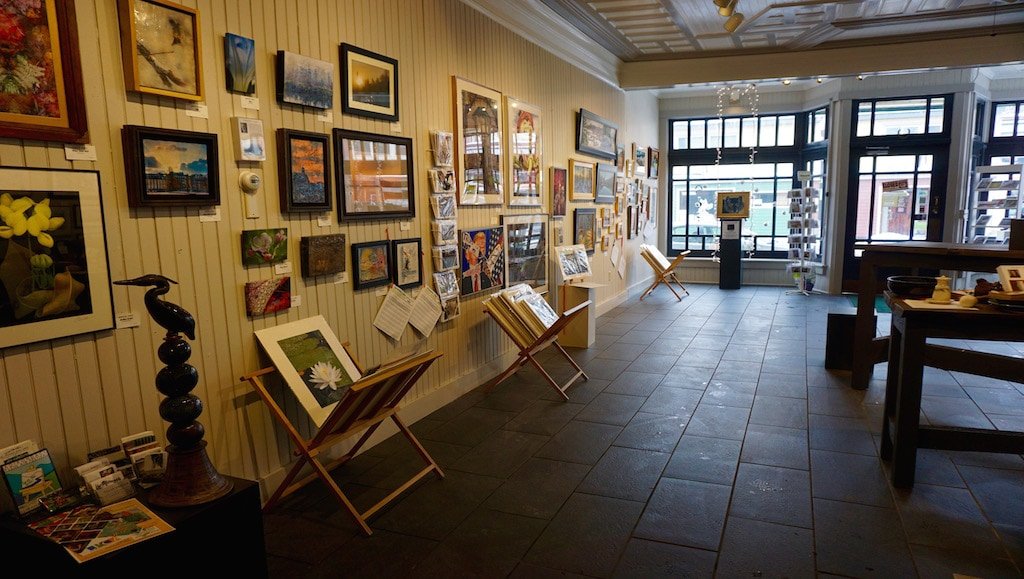 There has been a big push to keep the arts at the forefront of life in Saranac Lake, and just by strolling through downtown, you can't help but notice how much of it there truly is. A self-guided art gallery tour is just what you need to soak in the talent of the area. Start at the Adirondack Artists Guild which features art from 14 different local contributors. From there, print out the Saranac Lake ArtWorks Brochure and follow the art trail at your leisure.
Eats+Drinks
For a little Adirondack town, there are quite a few options, all of which are quite fantastic. Blue Moon Cafe, a popular gathering spot for locals, will satisfy your afternoon cravings with savory sandwiches, hearty salads, and even a late breakfast menu. A newcomer to the neighborhood, Bitters & Bones offers a fresh take on Adirondack cuisine with menu items that include vegan and vegetarian options, and cocktails that are just as well crafted as the rustic interior. Grab a late brunch at Left Bank Cafe, with a French inspired menu including tartines and crepes. Don't forget to stop at the Left Bank Cafe Patisserie next door to grab a coffee and fresh croissant for the road.
Take the Trailways Bus from NYC
Catch an Adirondack Trailways bus to Saranac Lake from Port Authority and you'll be there in 8 hours.
For more information on the Adirondacks, visit saranaclake.com and www.lakeplacid.com
Photo credits: The author, Blue Moon Cafe and Regional Office of Sustainable Tourism
Regina Baker is an active long distance running and outdoor adventure enthusiast based in the Adirondack Mountains of Upstate New York. When she is not running, Regina spends her time making the most of what the great outdoors has to offer, whether it be open water swimming, cycling, skiing, hiking, skating, or kayaking.