Nestled in the Northern section of Pennsylvania's Appalachian Mountains, the small town of Wellsboro offers historic charm surrounded by ample outdoor adventure opportunities. In the early 20th century, the town was a regional waypoint for those heading to Chicago and even boasted a direct bus from the Waldorf Astoria leading to a litany of acclaimed guests. Though its posh years may have passed, Wellsboro now hosts a warmth that radiates from the gaslit main street to the welcoming locals.
Get Outside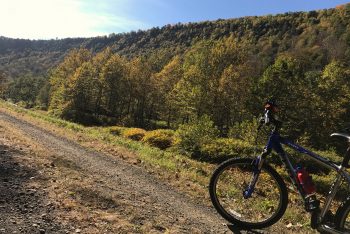 Enjoy stunning views by biking through the "Grand Canyon of Pennsylvania" on the relaxing and mostly flat Pine Creek Trail. Pedal down this former rail bed surrounded by trees overflowing with crisp autumn leaves and you'll glimpse the occasional wildlife sighting, including bald eagles. The trail is well maintained and provides wonderful river views, as well as outposts along the way where you can buy coffee and ice cream to keep you fueled. Bring your own bike or rent from Pine Creek Outfitters who also offer shuttle pick-up along the trails and transportation from downtown hotels.
Food & Drink
Discover the hidden gems of Wellsboro through specialty food options sprinkled throughout the area. Start off in the center of town at The Main Street Olive Oil Co. where you can sample eclectic flavors from blood orange to the seasonal pumpkin balsamic vinaigrette. If you're lucky enough to be visiting in the fall, head over to the historic Mansfield Cider Mill, which pumps out delicious and smooth unpasteurized cider exclusively during apple season. Satisfy your sweet tooth at Highland Chocolates where you'll find incredible tastes from classic truffles to their new Tree Stump creation (peanut butter, caramel, pretzels, and dark chocolate). Visitors are welcome to take a tour of  the back room where all of the chocolate is produced and packaged. Highland Chocolates is a non-profit committed to employing those with special needs.
The Digs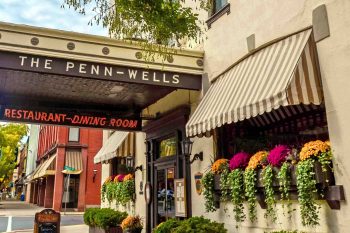 The Penn Wells Hotel is a unique vestige of Wellsboro's 20th century fame, with historic photos of illustrious visitors from Joan Crawford to Groucho Marx lining the walls and mahogany doors that open to a regal lobby. The hotel's creaky floors, crackling fireplace and classy vibrations add a charm that keeps the establishment from feeling stuffy.
Art & Culture
Stroll to the town's central plaza town to find the statue of Wynken, Blynken and Nod, the pubescent protagonists of the Dutch Lullaby by poet Eugene Field. The original poem sits on a plaque in front of the statue, one of only two ever created to commemorate the poem. For a more modern foray into culture, head over the Pop's Culture Shoppe, a small, high energy store that packs hundreds of games into its small corner storefront. Stop in to peruse everything from puzzles to board games to trading cards or come ready to play in their backroom, which has sample games for all to try and enjoy.
Insider Tip
For over 30 years, Wellsboro has been home to the annual "Dickens of a Christmas Celebration" where participants dress in Victorian costume and the downtown is cordoned off to cars and transformed into a 19th century market. Martz Trailways even runs a direct bus there from Scranton and hotels in the area are often sold out months in advance.  
How to get to Wellsboro PA from NYC
Take the Martz Trailways to Scranton and rent a hybrid car at the Hertz down the street from the bus depot. Alternatively, check out our guide to renting hybrid cars in Manhattan.
For even more information, directions, and tips, check out the Visitors Bureau website.
Lead photo: fishhawk
Sarah Knapp is a Brooklyn -based entrepreneur whose love for the outdoors and community building led her to the October 2013 creation of OutdoorFest. She has a BA in History, is a Wilderness First Responder and a NY state hiking, camp and boating guide. Her proudest achievement to date is reading the Aeneid in Latin.