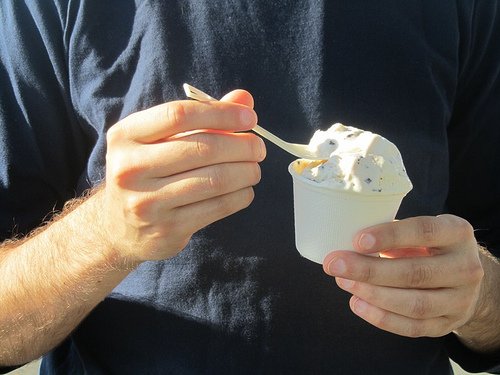 What: Blue Marble Ice Cream Social & Rwanda Drumming Benefit

When: Sunday July 26th 6-11 p.m.

Where: House of the Lord Church, 415 Atlantic Avenue

Why: There's a sweet tooth blazing a trail from South Brooklyn's Boerum Hill all the way to Butare in the South Province of Rwanda. Just one year ago, an exquisite exchange occurred between Jennie, co-proprietress of Blue Marble Ice Cream and Odile Gakire Katese a.k.a. Kiki, a local Rwandan pioneer behind Ingoma Nshya, the provinces' first ever all women's drumming group.
"Ingoma Nshya means new drum, new reign. I was proposing a new way, a new era from the division and hatred of our past to an era of love and faith in our country," said Kiki.

At a theater workshop at Sundance last summer, Jennie became acquainted with Kiki's mission and work in Butare, a region with minimal resources and economic opportunities yet known as the intellectual capital of its country. From hearing about Brooklyn's Blue Marble, Kiki envisioned bringing Butare its very own local ice cream shop, which eventually led to the idea for Sweet Dreams, Rwanda.
Now, through an apprenticeship on behalf of the non-profit venture, Blue Marble Dreams, women between the ages of 19 and 44 are learning how to make ice cream, something many Butare natives only tasted for the first time six months ago. "Ice cream is a gift we offer ourselves," said Kiki. "In Rwanda it is a luxury. Because of the history here, people know how to fight against but not fight for. And, sometimes people are not used to happiness. They don't enjoy it because they don't know how. We must learn how to enjoy things. This shop will be a rendez-vous to provide a basic need for the soul of a people."
This Sunday at 6:00 p.m., come and enjoy an ice cream social and silent auction where you can purchase items donated by many local Brooklyn shops. At 7:30 p.m., stomp your feet to a live drumming performance by Ingoma Nshya and other special music guests. A VIP reception at Blue Marble Ice Cream will follow, where guests can mingle with local artists and entrepreneurs.
"Sustainability is key. We believed in the power of saying Yes. We went to the community and they said Yes. So here we have six women from the 127-member drumming group with the community's support," said Alexis Miesen, co-proprietress of Blue Marble. "Our goal is to help Sweet Dreams set up as an official cooperative in Rwanda entirely owned by them."
Cost: Social & Performance, Adults, $25, Kids, $25, VIP, $200
How to get there: Take the B to Dekalb. Exit at Flatbush and Dekalb.Head West on Dekalb towards Flatbush Ave Ext. Make a left on Bond. Left on Atlantic to 415 Atlantic Avenue, House of the Lord Church.
All donations and proceeds from the benefit and to Blue Marble Dreams will be allocated 100% to the making of Sweet Dreams, Rwanda. For further details, tickets or to visit bluemarbledreams.org.