For city folk without alternative residency in the Hamptons, taking a break during any season can often just mean riding the red line to Brooklyn Heights for a stroll on the promenade. Peaceful and scenic as an outer borough may be, come Monday morning in Manhattan, you'll still be wishing you'd answered that inner need-to-relax call a bit better.
Perched in the Poconos, a tad over two hours west of New York City, there is a place completely deserving of the label "hidden gem." First opened in the late 1920s as a gentlemen's golf club, Skytop Lodge is a National Trust Historic Hotel and 5,500-acre camp for both adults (women too) and children. While escaping to a resort in these mountainous Pennsylvania parts is no secret vacation idea, slipping into the easy tempo of Skytop will set your watch to a "Time. Out." you've never experienced before.
"We first came here for a romantic getaway. Later on we brought our girls, and this weekend we're doing both," said Debbie, who's been visiting Skytop with her husband Ted for 20 years. "It's a casual setting and we can do so many different kinds of activities, whether that's with our now grown up daughters hiking and playing tennis or without them while we relax by the pool and they entertain themselves in the billiards room or the spa."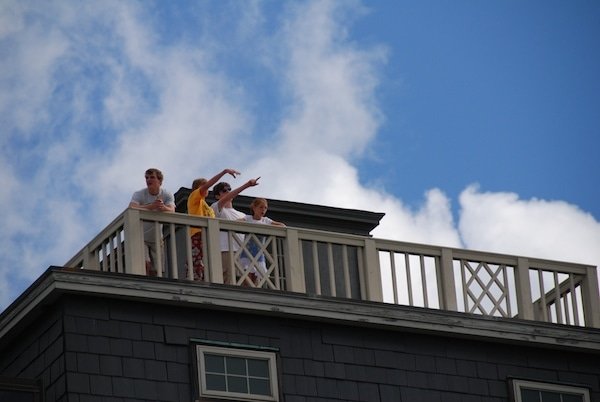 Friday, 7:00 pm | Bird's Eye View
One of the property's five dining options is the English-Style pub located downstairs in the Main Lodge. Swing by the Tap Room for a preprandial libation—to go. At the Skyview Lookout, drink your lemon drop cocktail or Yuengling and enjoy panoramic sunset views that stretch for miles out across the Poconos. Bring a camera to this highest point on the estate, so you won't need to purchase a postcard in the Tulip Tree Gift Shop.
Staying in the Main Lodge, grab a corner table in the Windsor Dining Room, where an elegant formal vibe and a grilled Mojito swordfish steak hit the spot after a long week. (Jackets are required.) You'll be happy with your decision to tuck into bed early ahead of a full (albeit rejuvenating) plate of activities on Saturday.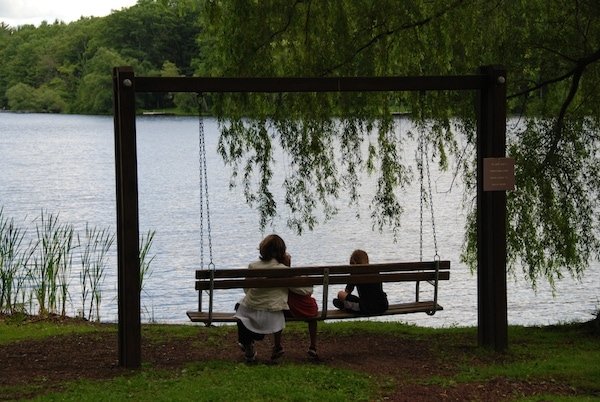 Saturday, 9:00 am | Ah, Yes, Nature
One of the bonuses of a resort like Skytop, is that everything is within a nice walking distance of home base. If you're not one to dilly-dally at daybreak, order breakfast at the Tea Room, a 1950s-style luncheonette stocked with magazines, candy, and adventure paraphernalia, where a bacon, egg, and cheese sandwich is a quick, delicious way to start the morning.
If you're in the mood for something other than lawn bowling or biking the scenic forest trails, there is always a geocaching or wilderness survival class (think edible plants and build-your-own emergency shelter) to make your trip truly memorable.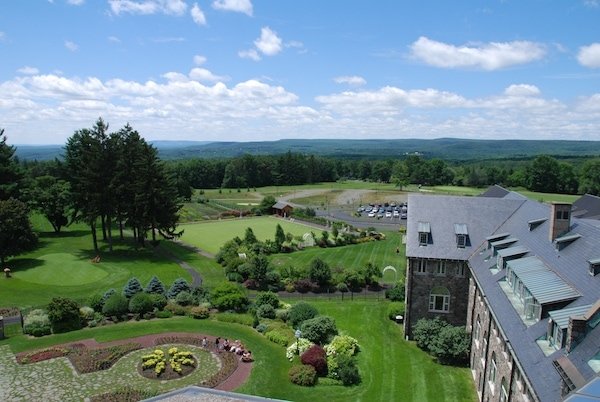 Saturday, Noon | Far from Central Park
If you're not yet ready to look clean and presentable in the dining room, the 5,500 acres surrounding the resort are a perfect place to enjoy wonderful winter activities and create a getaway within a getaway. After picking up lunch at the Golf Deli, choose from a variety of adventures, like downhill and cross-country skiing, ice skating, snow-shoeing, sledding, tobogganing, dog sledding, and even paddle tennis on heated courts. At Skytop, it's unlikely you'll find too many people with the same idea at the same time. If you're curious to know what else is happening, be it a yoga class or movie, stop by the activities desk in the lobby.

Saturday, 5:00 pm | Take a Relaxing Dip
Take a quick dip in the indoor or outdoor pool, then indulge in a refreshing tropical drink at the bar before dinner. "This weekend, we're here alone without the rest of the family. Just to be quiet and smell the pollution-free air," said Elaine and Roger, residents of New Jersey and repeat visitors to Skytop. "We don't have to cook food, there are no dishes, no distractions, no drama."
Saturday, 7:00 pm | A Heavenly Feast
The 140-seat Lake View restaurant at the Inn at Skytop is a lovely option for families and couples and is slightly more casual and intimate than Windsor. Ask for a table by the window, which offers views of the golf course and lake. After sharing an antipasto plate of mortadella, Genoa salami, sopressatta, fresh mozzarella, and kalamata olives, cut into a charbroiled New York strip streak or the ricotta cheese ravioli, and top it off with a chocolate torte. The restaurant is a short shuttle ride or seven-minute stroll from the main lodge.
Saturday, 9:00 pm | Stars in Your Eyes
Stargazing with astronomer Rich Grebb is an occasion not to be missed. While the kids play ping-pong in the recreation room, explore the Pocono trails and learn about constellations, something we New Yorkers rarely get to see. Meet at the South Lawn Gazebo.
Sunday, 9:00 am |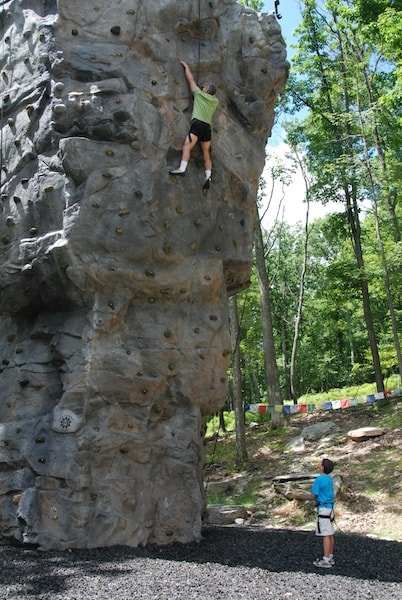 An Al Fresco High
Before your 1:00 pm checkout time, try to get in a little more outdoor exercise. In a warmer climate, choose from a slew of sports like tennis, rock climbing, kayaking, skeet shooting, fishing, paintball, and the 18-hole championship golf course, which continues to draw golf enthusiasts from around the world. If you're no pro, try your hand at a three hour lesson at $175 per person, or visit Skytop's site for details on the new, well-priced Double Eagle package. No matter the season, you'll want to sneak in a hike to stunning Leavitt Falls.
The weekend will be harder than usual to let go of, so make sure to take a last deep breath of mountain fresh air, which will leave you feeling energized and ready for the office Monday morning.
How to get there: Consult our guide to renting Hybrids or take the Martz Trailways bus from Port Authority to the Mount Pocono stop, where a Skytop Lodge shuttle will be waiting for you; make sure to call in advance of your arrival. See the website below to review upcoming Skytop events and information on fabulous deals. Rates start at $230/night per couple, Monday through Thursday; breakfast is included. (Skytop Lodge address: One Skytop, Skytop, PA, 800.345.7759, skytop.com)
The co-founder and editor-at-large at offMetro, Lauren is a sustainable travel specialist and freelance journalist with frequent bylines in National Geographic, Bicycling Magazine and Shape. Follow Lauren's adventures at @laurenmati.