No need to travel far to discover the gems of stewardship and conservation at our National Parks. Several of the over 400 parks and historic sites are practically in our backyard.
Valley Forge National Historical Park is located just outside of Philadelphia and is a snap to reach without a car. A trinity of history buffs, bikers and hikers all peacefully co-exist within its expansive boundaries. If you're a nature lover, the meandering woods, wildlife and rolling river are golden. If you've got kids, they'll be having so much fun they won't even realize how much history they're absorbing.
History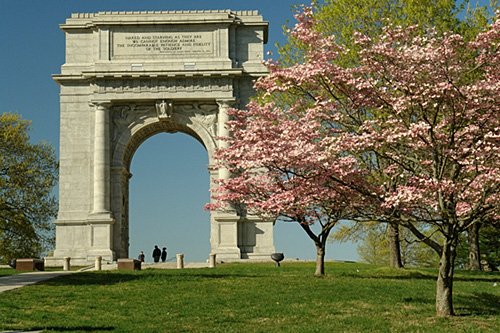 Start at the Visitor Center where you'll view a brief introductory film. You'll learn that although Valley Forge was not a Revolutionary War battlefield, it was a site of decisive historical significance.
In late 1777, the British occupied the patriot capital of Philadelphia. General George Washington decided to fortify and recoup his troops at Valley Forge, just a day's march from Philly. The troops spent six months encamped at Valley Forge, not fighting the enemy but rather a logistical battle against disease and the elements. Concentrating the soldiers in one vast camp made sense strategically, as they could protect the countryside and better resist a British attack. But the price to pay for consolidating the troops was rampant disease, such as typhoid and influenza, which spread through the camp like wildfire.
Despite the thousands of lives lost to illness, Washington refined his military strategy at Valley Forge, taking his troops from rebel to mature. But daily life was anything but easy: time spent at Valley Forge gives a deep sense of the perseverance, strength and sacrifice these soldiers made.
A Snapshot of Daily Life

Valley Forge presents a snapshot of what daily life might have been like for Washington's troops. The varied exhibits are rich in personal artifacts that illuminate the wartime experience and transport you to Revolutionary times.
Stroll the rolling pastures and step inside the reconstructed log huts that served as the soldier's quarters. Walk through the stately stone house where George Washington lived and designed military strategy. The most recognizable symbol is the National Memorial Arch, honoring the soldier's bravery.
Weekends bring throngs of re-enactors of all ages accurately dressed just as residents of the military camp would have been.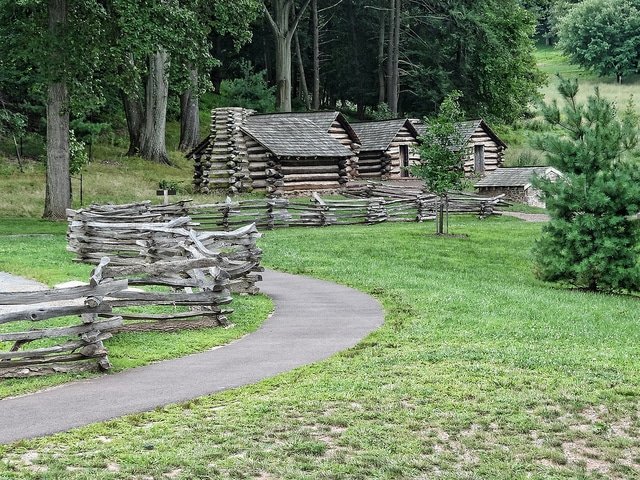 Bikers and Hikers

Miles of well-maintained trails attract cyclists and hikers. The 6.6-mile paved Joseph Plumb Martin Trail weaves together the park's historic sites. You may rent a bike at the Visitor Center, including child-size bikes and helmets.
Getting Around
Take the informative guided trolley tour from April-October ($17.50 for adults, $9 for kids), or pedal or walk the trail on your own. Do-it-yourselfers can get information on the free cell phone tour at the Visitor Center. There are complimentary guided walks and bike tours on select Saturdays.
Dining


Snacks are available for purchase at several locations in the park and there are plenty of shady spots to picnic. If you're ambitious, bike a brisk three miles to Black Powder Tavern in nearby Wayne. The tavern was a covert rendezvous point for George Washington and other leaders of the American Revolution. Today, the historic eatery honors its tradition by serving period dishes such as chicken potpie with a lighter-than-air crust. More modern fare with regional flair, like a juicy burger on a freshly baked pretzel roll, won't disappoint.
Getting to Valley Forge

To get to Philly, see our Philadelphia Transportation Guide. From 30t Street Station, catch SEPTA's bus #125, which stops at the gigantic King of Prussia Mall before continuing on to the park. The ride from Philly takes approximately 75 minutes in light traffic.
For additional information, go to ValleyForge.org.
Photo credits: Garen Meguerian, Thomas, Terrence Faircloth, Marc Goebel
Allison is a native New Yorker, who has lived in Rome, Tuscany, Melbourne, Toronto and Los Angeles. She frequently contributes travel pieces to Family Travel Forum, using her own children as guinea pigs as they travel the globe. She is fluent in Italian and Spanish and laughably adequate in French. Her background as an Early Childhood Educator gives her an added understanding of what it takes to travel with kids in tow. She firmly believes that the most important part of education takes place outside of the classroom, on the road, around the world. She never misses a chance to sample local delicacies, as her love for travel goes hand-in-hand with her love for food and wine. Follow Allison at @gourmetrav.