When you're looking to slow things down (let's say by ambling through a secret "pleasure garden," dining on delicious dishes at the farm table, or unwinding in a grand historic hotel), head for these tiny oh-so-pretty towns just a quick trip away from the train station in Philly.
Chestnut Hill
The Directions
From Center City, Philadelphia, the quaint streets of Chestnut Hill are just a short SEPTA ride away. In mere minutes (around 40 to be precise), you will arrive at Chestnut Hill West Station, a well-manicured, wealthy neighborhood, still technically within Philadelphia's city limits, but a world away.
The Must Do's
Wander into the Woodmere Art Museum for the collection of local art that spans decades. The 19th century Victorian mansion also transforms into a venue, hosting musical performances and events throughout the year.
The Digs
To fully experience small town living, you're going to want to cozy up right on Main St., in this case, Germantown Ave. The Chestnut Hill Hotel is nestled into an ideal corner for an efficient jumping off point to a small town weekend.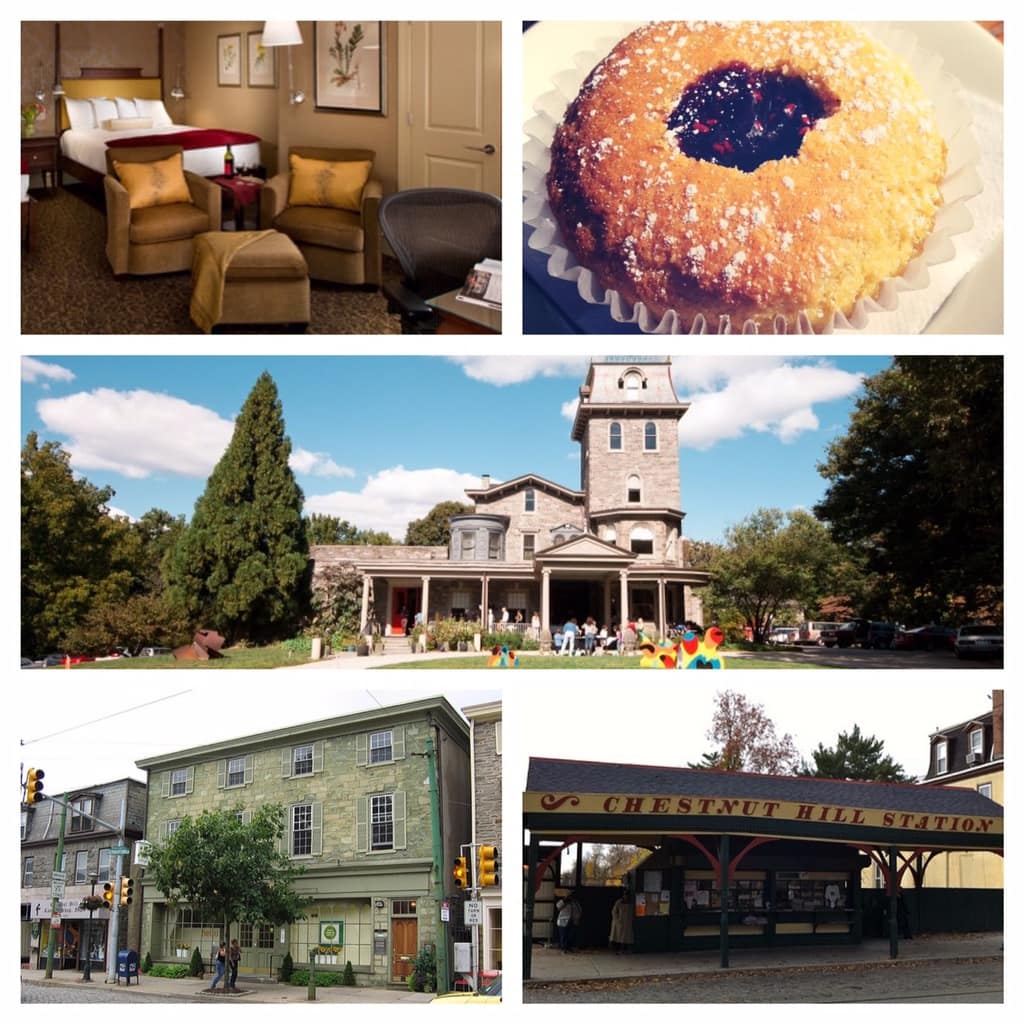 The Eats
For a wondrously bright and airy meal, visit Cake bakery and bistro, housed in a former greenhouse. The glass structure creates a lovely atmosphere. Expect a classic menu for breakfast and lunch, and note their sweets and treats, which make a fine dessert or midnight snack for later.
The Local Tip
Exploring the neighborhood mustn't be missed. The Colonial Revival homes in the area are pristine and sprawling. Starting in Kingston at the fork of Broadway and Delaware Ave., take an hour-long, meandering walk to East Chestnut, Livingston, and Stuyvesant Streets, and to the end of West Chestnut.
Wayne
The Directions
Another jaunt on the SEPTA from 30th St. Station in Philly, is the small town of Wayne (the train stop is of the same name and steps away from Wayne Hotel.) One of the country's first planned communities, it retains old world charm in spades, but it's a manageable size for a couple days of exploration by foot and a few quick rides.
The Must Do's
Visit the gardens at Chanticleer, worthy of an entire day of sniffing and strolling. Initially intended as a summer escape in 1913, its loveliness won over the Rosengarten family who turned Chanticleer into their permanent home and left it behind as the still enchanting estate that us common folk can enjoy today.
The Digs
At over one hundred years old, Wayne Hotel is looking very, very good for its age (the most recent reno was in 2011.) It feels like home here, especially since Innkeeper David Brennan makes it his personal mission to keep you comfortable, offering guests rides to nearby Chanticleer, and being of service in every possible way. Anticipate chic but functional decor that might have you sticking closer to "home" than you might expect.
The Eats
The on-premise restaurant, Paramour, at Wayne Hotel happens to be exquisite—there's a self-serve Bloody Mary Bar, crab mac 'n' cheese, strawberry rhubarb pie, a beautiful veranda—we did mention that you might not want to leave.
The Local Tip
Have an adorable date night and live like a local by visiting the vintage gem Anthony Wayne Theater, which originally opened in 1928. Can't promise anything life-altering will be playing, but the entrance can really take you time traveling.
Kennett Square
The Directions
And another town?…you may be thinking… But this author saved the best for last. Kennett Square is positioned well for maximizing the attractions in the countryside, but also has the most enticing offerings in its immediate streets. However, you may find this trip is best suited cruising in a rental car, so grab one once you arrive by Amtrak in Philadelphia.
The Must Do's
The Brandywine Museum is a spectacular sight to behold. Upon entering, take a look out the picturesque floor-to-ceiling windows that curve to form the backside of the building. The view? A lazy river that in the summertime plays host to the occasional tube rider, kayaker or floating swimmer. Once you've taken in the natural sights, wander through the dim galleries that highlight the careers of famous Brandywine artistic clan, the Wyeths. Trace the talent from generation to generation, and call ahead to visit the nearby studios of N.C. and Andrew Wyeth.
The Digs
Tuck into the dreamy Inn at Whitewing Farm, which offers a 10% "Procrastination" discount to spontaneous travelers planning a visit within 24 hours. Book the English Garden Suite (from $245) for the king bed, fireplace and private garden. The inn is a 10-minute drive or 25-minute bike ride from the center of town.
The Eats
Step into a neighborhood favorite that combines an upscale grocery with farm-sourced goodies. Talula's Table is bustling at midday, but better known for its evening feast at the chef's table. The cozy dining space is perfect for a large family meal and the food is fresh and filling.
The Local Tip
Lose yourself (but actually, hold on to small loved ones) in massive Longwood Gardens. Boasting a series of awe-inducing gardens, including an aristocratic Italian Water Garden, a refined but kooky Topiary Garden, and the recently opened, sprawling Meadow—this is what you've been waiting for.
For more information on things to do near the City of Brotherly Love, check out visitphilly.com/towns, then hop on the next train to Philly! (But first, consult our Public Transportation Advisor for Manhattan to Philadelphia.)

[mappress mapid="10″]
Photos: dearedward, simon, respective establishments
Carly Pifer is a freelance writer who has been known to follow whims inspired by romantic movie scenes or colorful street style shots to India, Japan, Tunisia and Argentina. After stints living in Seoul, Boston, Paris and Los Angeles, writing and searching for something intangible, she landed somewhat steadily in Brooklyn and has begun to find inspiration in her more immediate surroundings (and also the permanence of her bookshelf). She writes about fashion for Refinery29 and has been known to pack an outfit per day on backpacking trips. Please visit her website to read her travel diaries and other writing on the web at www.carlypifer.com or follow her on instagram .