Stepping off the train into the salty fresh air, you just want to linger in that moment of arrival where work and stress have vanished, and all you can think about is getting to the ocean and eating whatever local catch it has to offer.
I am not a newcomer to Long Island. I have sipped my way through the North Fork, ferried in and out of Shelter Island, and have pedaled through the Hamptons and to the end at Montauk Point Lighthouse enough times to think the fog horn is welcoming me back on each ride.
On this particular weekend, I wanted to see what I'd been missing by taking the usual routes. I did get on a bike at some point, but I did other things, like pause after dinner at West Lake Clam & Chowder House to look at dock records—Captain Doug Davidson of the Flying Dutchman caught a 300 pound bluefin tuna!—and go outside my room at the beautifully renovated Montauk Blue Hotel (currently offering rates from $80/night) to let my feet warm on the sun deck while the waves crashed and boomed.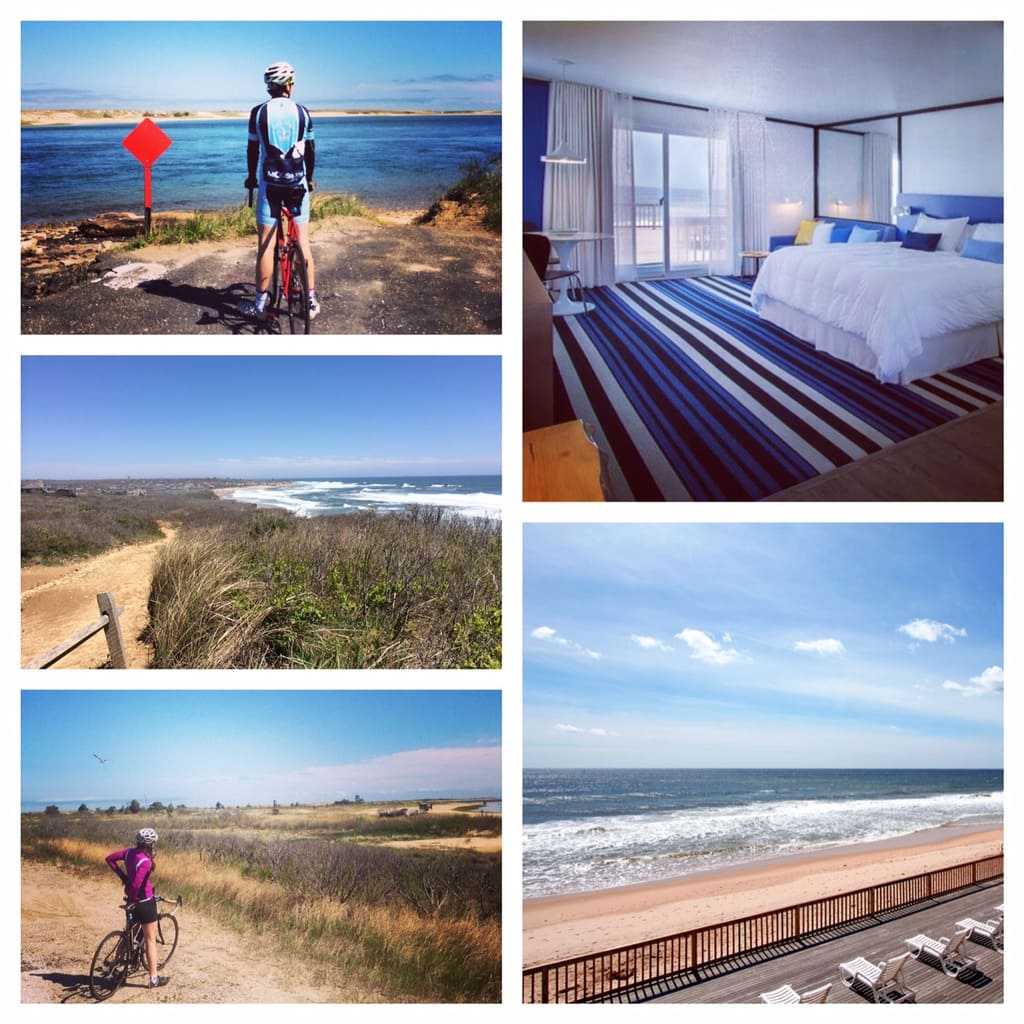 I shed the rushed instinct where I feel like I always have to be somewhere, but I did revel in the hotel's locale, right on Atlantic Beach and yet walkable to Joni's for a breakfast wrap, the Sunset Surf Shack for board rentals, and Montauk Brewing Company for the tasting and free beer glass. And though there will always be a new place to check out (Candied Anchor, Ciao by the Beach, Montauk Juice Factory), it's what hasn't changed since the Montaukett Tribe lived here that makes it worth bypassing every other village on Long Island.
Take a hike in Shadmoor State Park, where you might bring a Bliss Kitchen picnic on top of the rugged bluffs before continuing to follow the trail along the water down to Ditch Plains to watch the surfers wax poetic on the waves. Bike to Lazy Point in Amagansett for untold surprises or cruise out on to Old Montauk Highway, past Gurney's Inn, Hither Hills State Park, the Clam Bar, and beyond to the footprint-less beaches near striking modern homes on Marine Blvd. Whether you're on two wheels or two feet, Montauk has so many natural hideaways, it's impossible not to get away from it all.
How to get there: The Long Island Railroad ($19.75/one way) offers daily trains to Montauk from Penn Station. From the train stop, it's a 30-minute walk or an eight-minute bike ride to the center of town. Check out mta.info/lirr for a full schedule and remember to bring your $5 lifetime bike permit on board. The Hampton Jitney ($28/one way), which has a drop-off right in town, offers daily service to the east end and departs from various locations in Manhattan and Brooklyn. Check out hamptonjitney.com for a full schedule and be sure to make a reservation ahead of time.
For more things to do without a car in the area, read Four Montauk Bike Rides. 
The co-founder and editor-at-large at offMetro, Lauren is a sustainable travel specialist and freelance journalist with frequent bylines in National Geographic, Bicycling Magazine and Shape. Follow Lauren's adventures at @laurenmati.