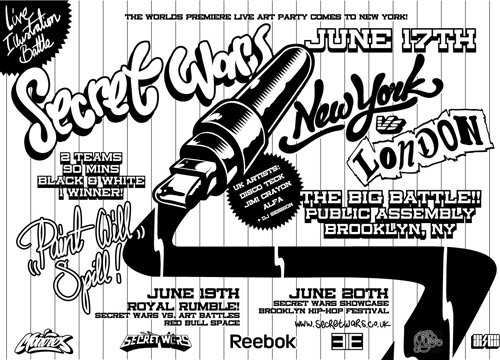 What: Secret Wars Goes Stateside! USA vs. UK, NYC Mini Tour
Where: Various "local heats" in NYC
When: Saturday, June 13th-June 22nd
Why: While the word "graffiti" conjures up controversy—It's art! No, it's vandalism!—one cultural street art movement in the United Kingdom is making creative waves around Europe and Australia, and is coming stateside for a 10 day New York tour starting this weekend. A live art battle, Street Wars is a self-described Fight Club, only their weapons are ink and spray paint. "It seemed logical to come here next as we've been getting lots of people and press in the states calling out for us to visit. So here we are, fingers crossed!" said Terry Guy of design collective Monorex and the brain behind Secret Wars.
While a giant white board tends to be their choice of canvas, in NYC, Secret Wars will be customizing Reebok shoes, in addition to battling at 50 Cent's studio, Public Assembly (USA vs. England), and the Brooklyn Hip Hop Festival on June 20.
How to get there: Check the calendar on the Secret War site for specific locations and listings. Use the Hopstop link beloew for directions to Public Assembly. (secretwars.co.uk)
Image: Courtesy of Monorex
The co-founder and editor-at-large at offMetro, Lauren is a sustainable travel specialist and freelance journalist with frequent bylines in National Geographic, Bicycling Magazine and Shape. Follow Lauren's adventures at @laurenmati.