If you know where to look, a whiskey bar or distillery can offer much more than what goes in your glass. Thomas and Ellie, the founders of NYCWhisky.com (spelled the Scottish way, no e), are our city's whiskey wunderkinds.
Whether you like Ginger Ale Highballs, on the rocks, or paired with food, this gargantuan guide is all about savoring the setting and the good stuff, sip by sip. If you want to learn about the fascinating history of this hooch, buy newly released Drink More Whiskey by Daniel Yaffe. If you're interested in having a whiskey adventure tonight, read on.
How did NYCWhisky.com get started?
Thomas: I was killing some time one evening in the East Village before meeting friends, and saw a bunch of people in Union Square Wines, so I went to see what was being poured, assuming it was a wine tasting. It turned out to be a big whisky tasting with over 20 different Scottish whiskies being poured. I grew up in Scotland, but had never really experienced whisky in this way; it was the first time I'd tried whiskies of different ages from the same distillery, and the first time I'd tried different styles of whisky side-by-side. It really opened me up to the differences. After that I was hooked, I wanted to learn more about whisky. I searched around to find more tastings and classes, and came across things listed on the websites of liquor stores and bars, but there was no central resource. I'm a web developer by day, so I built NYCWhisky.com, and started posting the events that I found.
Just days after I launched the site, I got an email from Ellie telling me about a bunch of events that I'd not come across. She knew so many that I assumed she worked in the industry, but it turned out that she's just a massive whisky nerd. We quickly became friends and she joined me in running NYCWhisky.com
What's your whiskey collection like at home? Any favorite whiskeys?
Thomas: I've got a decent collection, it would take me a few years to get through it all. My favorite whiskey is Caol Ila, a salty, peaty Scottish whisky from the island of Islay. I have one bottle from the year I was born that I'm saving, but I also love their 12 year old—it's great value and delicious.
Ellie: I'm lucky to have amassed a decent whiskey collection at home, but one favorite whiskey? That's a tough question. Different whiskies will suit different moods. But I owe my whiskey obsession to a trip to Scotland where I discovered the dynamic and complex Springbank 15. Simply put, life changing.
What whiskey spots would you recommend for the following interests:
Doing multiple tastings: St Andrew's and the Brandy Library
Pairing with food: For Scottish whiskey food pairing, St Andrew's. For BBQ & Bourbon, try Fette Sau in Williamsburg. North End Grill has a great menu and nice selection of Scotch. Keen's Steakhouse has an old boy's club charm, good steaks and a good whiskey selection. Highlands is a bit loud but has great updated Scottish classics with a good whiskey selection.
Rare whiskeys: St Andrews, Brandy Library, Flatiron Room.
Enjoying a hidden gem: Angel's Share. They have some Japanese whiskies that aren't available anywhere else in the US.
Staying out late: I think most of the places listed offer days that they are open until 4am. Pegu Club, Swift, and St. Andrews are open until 3am Friday and Saturday. But I believe Ward III is the only place that is open until 4am every day.
After work drink: Flatiron Room for cocktails, jazz, whiskies from around the world, and tasty snacks. Ward III for cocktails, relaxed atmosphere, nice selection of whiskey. Idle Hands is a dive bar with a great whiskey selection and craft beers. St Andrews for scotch and seriously good sticky toffee pudding. Swift and Black Swan are relaxing spots with a nice selection of whiskey.
Romantic date night: Angel's Share. No groups larger than four make this a very good place for quiet conversations. Beekman Bar and Books has quiet nooks and James Bond movies playing non-stop. Vintry Wine & Whiskey has wines, whiskey, cocktails, and good share plates. What Pegu Club lacks in a large whiskey selection they make up for with great cocktails and the right whiskey for whatever mood I'm in.
Beginner whiskey drinkers: Ward III or Noorman's Kil (also just named one of the best places to get a grilled cheese by Gothamist).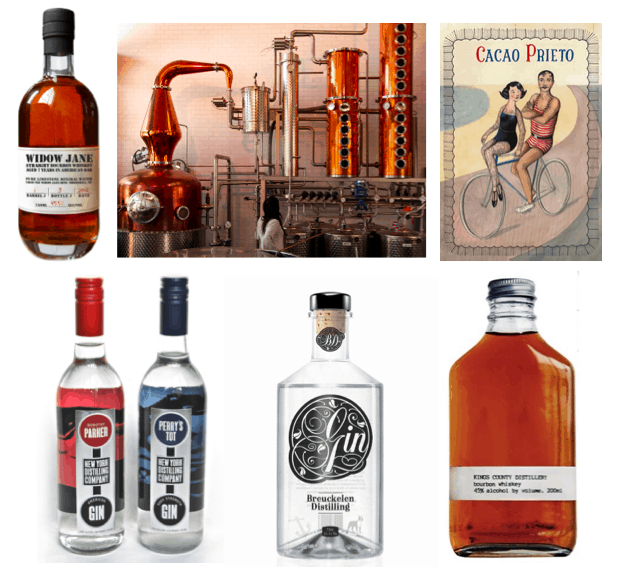 Going to the source: There are 14 distilleries in NYC now, many of them making whiskey, and most offering free tours and tastings. Kings County Bourbon in the Brooklyn Navy Yard. New York Distilling Company in Williamsburg, with an attached cocktail bar (mostly gin for now, but rye is aging in their warehouse). Breuckelen Distilling in Sunset Park, distilling a delicious rye, as well as gin. Widow Jane Bourbon at the Cacao Prieto distillery in Red Hook.
What are a few travel-worthy whiskey spots outside NYC?
Tuthilltown Distillery is New York State's first whiskey distillery since prohibition, the place that kicked off the recent boom in local spirits. It was started by a father-son team who'd originally moved to the New Paltz area for the rock climbing, but found themselves with an old mill and some land. Remember to reserve a tour in advance. You can take a taxi from New Paltz, which is reachable by Trailways bus from NYC.
I think all distilleries are interesting to visit. Here are some of the ones I've visited in the US: Finger Lakes Distillery (Burdett, NY) is right in the middle of Finger Lakes wine country. A fantastic trip traipsing from winery to distillery to winery. Smooth Ambler Distillery (Maxwelton, WV) is a nice distillery in the middle of Greenbrier County. Nothing better than spending the day hiking the trail and ending with a tour and tasting at Smooth Ambler. A. Smith Bowman Distillery (Fredericksburg, Virginia) is a huge warehouse which includes their visitor's center, distillery, rickhouse and "bottling plant," which is one person sitting at a folding table filling one bottle at a time!
I think you should hit all of the distilleries on the The Kentucky Bourbon trail & Kentucky Bourbon Trail Craft Tour, but if I had to pick just a few of them: Woodford Reserve (quintessential Kentucky, nestled within horse farms), Four Roses Bourbon (big factory tour), Willett Distillery (you can see a family business' history and future development) and Corsair Artisan Distillery (Nashville, TN), where you can bring your beer from their bar to your whiskey tour and then go to their tasting room to have whiskey.
At Stone Barn Brandy Works on Portland's Distillery Row, there's a husband and wife team making some amazing spirits, including a whiskey called Hoppin' Eights Aged Whiskey, which is made of Rye, Wheat and Spelt.
For up-to-the-minute news on whiskey happenings around town, visit nycwhisky.com.
[mappress mapid="1″]
The co-founder and editor-at-large at offMetro, Lauren is a sustainable travel specialist and freelance journalist with frequent bylines in National Geographic, Bicycling Magazine and Shape. Follow Lauren's adventures at @laurenmati.