If you step outside your neighborhood, you can get an experience so different from your daily life that it's almost like being in a foreign land, or another time, or, if you're lucky, both. That's the great thing about living in New York. When was the last time you explored a different part of town on two wheels?
Connected to the rest of the city by only the G Train and the East River Ferry, Greenpoint has retained a very unique feel over the years. Tucked away and mostly surrounded by water, this northern nook of Brooklyn has a strong farming, industrial, and since the 1960s, Polish population. It's a great place for a biking adventure because there isn't a lot of traffic, the bike lanes are nice, and the roads are relatively well-kept. The tree-lined streets, waterfront, parks, and historic architecture make for scenic riding, and if you don't bike, you'll have to walk—and we've all been there, done that.
Here are some of Get Up and Ride's favorite places to see in Greenpoint, strategically placed on a loop emanating out of the Greenpoint Ave G Train stop (or the Greenpoint ferry stop, whichever you prefer). So get out there, and get up and ride Greenpoint.
1. Ovenly is the most delicious-smelling place in America. Smell that? That's love. And a potent combination of sugar-fat-salt that will leave you defenseless. I recommend the coffee shortbread, or the whole wheat banana bread, or the peanut butter cookie, or…
2. If you are in the mood to do a bit of second hand "shopping," (read: digging) venture into THE THING. The owner of this mostly used vinyl shop once said to me, "You can't come in here when you want something. It really needs to just be an impulse buy.

3. McGolrick Park is my second favorite park in all of Brooklyn. Check out the statues, fighting squirrels, adorable old Polish couples, and sleepy hipsters (and more in this Foux  Du FaFa video). If it is Sunday, visit the Down to Earth farmer's market and buy some Sohha yogurt and Barry's tempeh, which make up two of the food groups in my food pyramid.
4. Take a yoga class at Awakening NY, or have a juice of their homemade turmeric tonic, or both! Yes, both!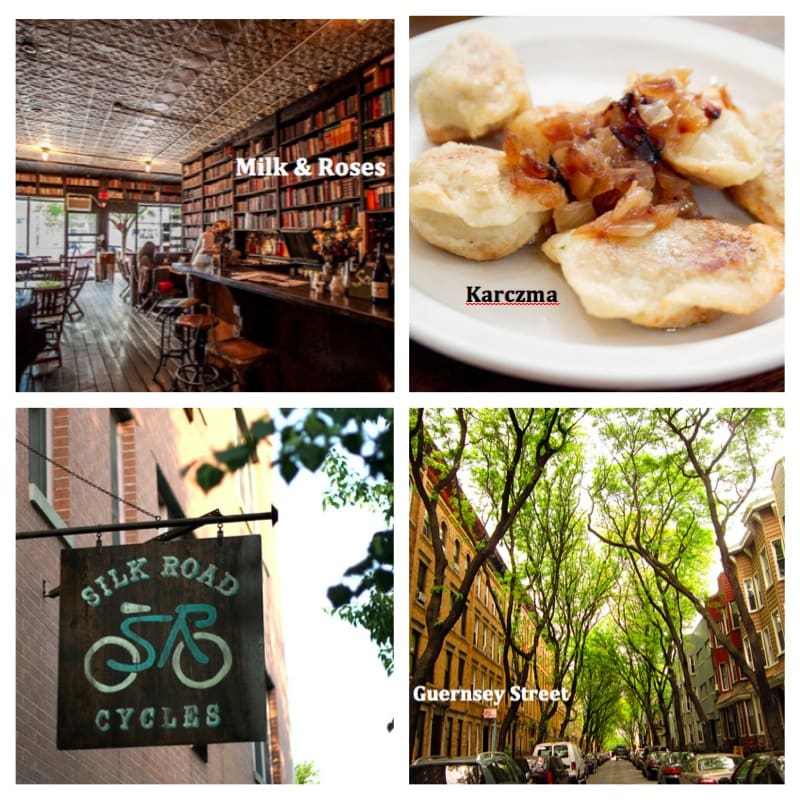 7. Do you know what Polish food is? If you answered "yes" or "no" make haste to Karczma, and be amazed at the charming Polish servers in embroidered dirndls, the wooden medieval-looking well, the enormous selection of obscure Eastern European liquors, and the cheap, fatty, comforting, salty, epic cuisine of that oft misunderstood nation, Poland.
8. If you are feeling a bit "less Polish," I also recommend romantic, book-lined Milk and Roses for lighter Italian fare and great wine. Or Five Leaves, home of an epic kale salad, awesome ambiance, and the ghost of Heath Ledger.
9. What if you get a flat tire?! Or just want to look at awesome NY-made wooden bike accessories from Surname Cycling Goods? Silk Road Cycles of course. That was easy.
10. As you'll have discovered by now, Greenpoint means riding through warehouses, along the rezoned waterfront of the East River and Newtown Creek, the historic storefronts on Franklin Ave, the quiet residential homes on the oddly named and aligned streets (check out Guernsey, one of the most beautiful streets in North Brooklyn) and through the little parks. You will feel transported, refreshed, and probably jealous that I get to live in such a charming place. Don't worry, those are all totally normal feelings.
Click on this map to plot your bike route. Read oM's guide to Greenpoint for more activity ideas. To enjoy one of Get Up and Ride's great Brooklyn tours, visit getupandride.com.

Bike Tour of Brooklyn Photos: *Bitch Cakes*, roboppy, Ovenly, Spina, Milk & Roses, Get Up and Ride