New York City has a restaurant scene par excellence. But the following three out-of-town dining destinations present settings and meals so special, they are worth leaving the five boroughs for. Located roughly two hours from midtown, they are all are a snap to reach without a car. Two are in hotels, for weekend getaways that ensconce the most demanding foodie with round-the-clock palate stimulation. One is in Philly, where the robust chef-driven culinary scene will have your taste buds in overdrive. Whether you venture to the country, city or sea, these eco-friendly restaurants near NYC are worth the trip.
The Delmonico Room at the Hotel Fauchère | Milford, PA
In a world where farm-to-table has become a catchword, welcome to the real deal. The Delmonico Room's very own one-acre garden serves as a constant fountain of chef inspiration.
The daily six-course tasting menu is based on what is at the momentary peak of freshness, so surrender to Chef's capable hands. The close connection to what is grown is evident in each bite. Hyper-local produce is the star of the show, while meat, fish and fowl are supporting players.  Presentation is key, each plate a precisely composed work of art. You never know what will appear on the constantly changing ultra-seasonal menu, but think delicate garden herb salad with edible flowers and a smattering of persimmon-infused vinaigrette. Traditional root vegetables are innovatively combined with decorative and delicious accents of salty trout roe, crunchy pistachios and sweet apricots, creating a treasure trove of textures and flavors.
The menu may be attuned to the modern palate, but the décor is a distinct homage to the classic. A fabulous collection of vintage 1920's menus from great European restaurants is on display. The historic undertone is fitting, as patrons of the Delmonico Room have included luminaries such as Theodore Roosevelt, Charlie Chaplin and John F. Kennedy.
Dinner is served Thursday-Sunday evening. The optional wine pairing offers impressive and surprising sips from around the globe, with nearby Lehigh Valley wines featured when appropriate. The pairings are carefully considered, and you will instantly understand why the Delmonico Room is a darling of Wine Spectator Magazine.
The dining experience lasts at least three hours, but four is more like it. Staying overnight at the boutique Hotel Fauchère allows you to continue consuming delicacies in the morning, as continental breakfast is included in the room rate. House-made vanilla bean yogurt, divine granola, warm grapefruit brûlé, and a lavish basket of freshly baked pastries start the morning off right.
How to get here: The Short Line bus has multiple daily departures from Port Authority. You'll be in Milford in two hours. For more travel tips, read oM's guide to The Best Things to Do in Milford.
Talula's Garden | Philadelphia, PA
Philadelphia's dynamic culinary-scape is thriving, thanks to a wealth of passionate and enterprising chefs. Two of its galvanizing forces, Stephen Starr and Aimee Olexy, have proven to be a winning team with their collaboration, Talula's Garden. Starr is one of the most prolific entrepreneurs on the Philly food scene, with a hand in several dozen eateries. But the heart and soul of Talula's Garden is Aimee Olexy. A meal here displays her many talents, which include her ability to create epicurean experiences and her delightful personality. Aimee also owns Talula's Table in suburban Kennett Square, Pa. A mere 12 lucky diners feast there nightly, and reservations must be made an entire year in advance.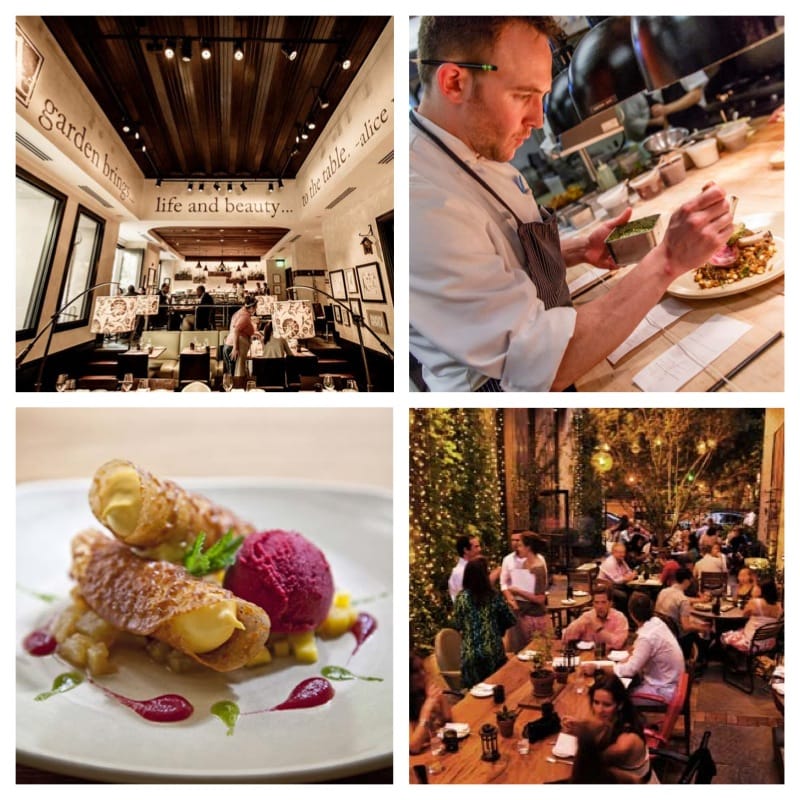 With 168-seats, urban Talula's Garden isn't quite so intimate. Aimee presents a carefully sourced and ingredient-driven menu that is utterly void of smoke and mirrors.  Simple, fresh food and an eco-conscious ethos take center stage. Fish makes a star turn on the menu with the Pennsylvania trout with Brussels sprouts and bacon. Her affinity for cheese is evident by the lush cheese groupings she oversees. The restaurant's expansive cheese menu features a patchwork of rare and local farmhouse cheeses paired with zesty house made accouterments. The menu takes pride in serving locally sourced ingredients, but it is not limited by it. Anson Mills Grits come from South Carolina, while cheese offerings come from places like Coach Farm in the Hudson Valley.
Green takes on a far-reaching definition at Talula's Garden. You will be immersed in greenery if you dine in the seasonal 66-seat outdoor garden.  But aspects of the garden are also brought indoors. A green wall brimming with herbs and edible flowers year-round adds a fresh touch and the perfect dose of practical whimsy.
The dynamic cocktail list draws upon seasonal herbs and ingredients such as vanilla grass and mint, which are grown in flower boxes behind the 10-seat bar as well as in the outdoor garden.
Talula's Garden's wine list is 100% sustainable and is a point of pride. The focused, 50-bottle list is carefully curated to showcase only those wineries that share Talula's commitment to responsible winemaking. Organic and sustainable wineries such as Bonny Doon and Dreyer Family Vegan winery, both in California, are represented. A selection of food-friendly craft beers will please those partial to hops and barley beverages.
How to get here: Consult oM's Philadelphia Transportation Guide.
The Wharf at Madison Beach Hotel | Madison, CT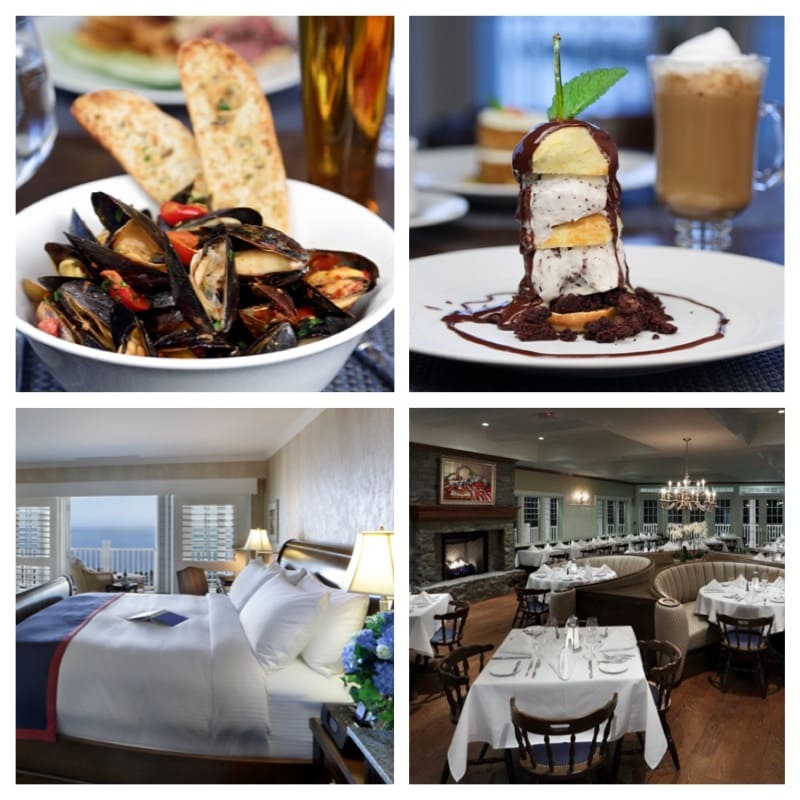 A visit to the town of Madison will have you feeling as if you've gone all the way to Nantucket, yet it's only a two-hour train ride from Grand Central Station.  No need to wait for summer to venture to this Connecticut shoreline community. The Madison Beach Hotel has a year-round resort aura, no matter how cold the wind blows. Its on-premise restaurant, The Wharf, is a New England classic.  Like the town itself, it keeps things casual with an underlying note of restrained richness.
Though only recently opened, The Wharf is already creating culinary waves.  This is no small feat in Madison, where demanding locals with discerning tastes set the bar high.  The iconic god of the Franco-American kitchen, Jacques Pepin, is a longtime resident, regularly making the rounds of local restaurants. As you would expect from an eatery located steps from the sea, the gifts of the Atlantic are plentiful, with locally sourced fish and crustaceans clustered on the menu. Lobster, organic salmon and an ultra-fresh raw bar are just a few of the palate-pleasers, fresh ingredients prepared with a light touch to let their true flavors shine.  The menu embraces simplicity, precision and balance in perfect proportions.
In warmer months, the panoramic porch provides water views with your meal. When the temps drop, indoor dining retains a cozy feel with the fireplace ablaze. The wine list has numerous reasonably priced offerings by the glass that pair flawlessly with the spritely food offerings. Spend Saturday night in one of the hotel's 32 modern rooms and you will be able to enjoy the show-stopping Sunday buffet brunch. Live jazz accompanies the delectable treats, making it a truly festive occasion.
How to get here: Take Metro-North from Grand Central Station to New Haven. Transfer to the Shore Line East commuter train, which meets Metro-North right across the platform. The Madison rail station is a 15-minute walk from the hotel. For ideas on what to do between meals, read oM's guide to Madison, CT.
Allison is a native New Yorker, who has lived in Rome, Tuscany, Melbourne, Toronto and Los Angeles. She frequently contributes travel pieces to Family Travel Forum, using her own children as guinea pigs as they travel the globe. She is fluent in Italian and Spanish and laughably adequate in French. Her background as an Early Childhood Educator gives her an added understanding of what it takes to travel with kids in tow. She firmly believes that the most important part of education takes place outside of the classroom, on the road, around the world. She never misses a chance to sample local delicacies, as her love for travel goes hand-in-hand with her love for food and wine. Follow Allison at @gourmetrav.