OK, so it's a little chilly. No one is denying that. But when our parents were super hot cyclists in the 70's, they were still biking through the winter, 10 miles in the snow, uphill both ways. And they didn't even have a bikeshare, people, so let's count our blessings, and keep on pedaling through the wintertime.
If you're thinking of hanging up your bike and hibernating for the next four months, just think of me as The Ghost of Cyclists Past, shaking my bike chain shackles at you to warn you against how bored and soft-thighed you will surely become if you cease all adventure and activity until the tulips bloom.
If it will help encourage you to get out and ride, why don't you have a gander at all the bikeable things in store for you through New Year's Day? You'll be donning your bike parka and balaclava in no time.
1. Bike to the Holiday Train Show
On view through February, is the TOTALLY NOT NERDY Holiday Train Show at the New York Transit Museum in Grand Central. If you haven't visited this place, then winter is the perfect time, because you can dress in period attire, ride to midtown, get inside where it's warm, and pretend you're living in the olden days. The elaborately decorated trains are just a bonus.
Closest Citi Bike Station: Pershing Square N at East 42nd. St.
2. Bike to the Brooklyn Night Bazaar
Also going on all winter long, and the perfect place to meet friends, bring noncommittal dates, or just stalk hot "artist-supermodel" types, is the Brooklyn Night Bazaar. Housed in land-marked Polonaise building in Greenpoint this year, the market has fantastic food, pretty great music, and the most obscure and adorable artisan/craftspeople/weirdos displaying their wares for your perusal. It's every Friday and Saturday night until late. Prices range from pleasantly affordable to "EXCUSE ME WHERE DOES THIS DECIMAL POINT GO??"
Closest Citi Bike Station: Manhattan Ave & Greenpoint Ave.
3. Bike to the World's Largest Menorah
For the eight days from December 2 to the 10, pedal yourself up to Central Park (5th Avenue / 59th Street) for the lighting of the WORLD'S LARGEST MENORAH. It is 32 feet tall, which is the largest size allowed by Jewish law. Are there hot latkes served every night? YES.
Closest Citi Bike Station: E 59 St & Madison Ave
4. Bike the Museum of Natural History (+ Holiday Origami Class)
If you are super intense about your love of outer space, the American Museum of Natural History is here for you. Though their annual Winter Telescope party is missing from this year's lineup, you can still head to the the museum's Hayden Planetarium, to be guided through the best techniques to see the stars or check out their Holiday Origami Folding Class (December 16) or Live Winter Solstice (December 20) talk.
Closest Citi Bike Station: 82nd St and Central Park West
5. Bike to a Kwanzaa Celebration
Did you know the American Museum of Natural History also celebrates Kwanzaa? On December 30th, kick off an auspicious new year with Kwanzaa 2018 held in the acoustic-friendly Milstein Hall of Ocean Life. Listen to the Afro-Cuban inspired Oyu Oro, then make sure to visit the international marketplace afterwards.
Closest Citi Bike Station: 82nd St and Central Park West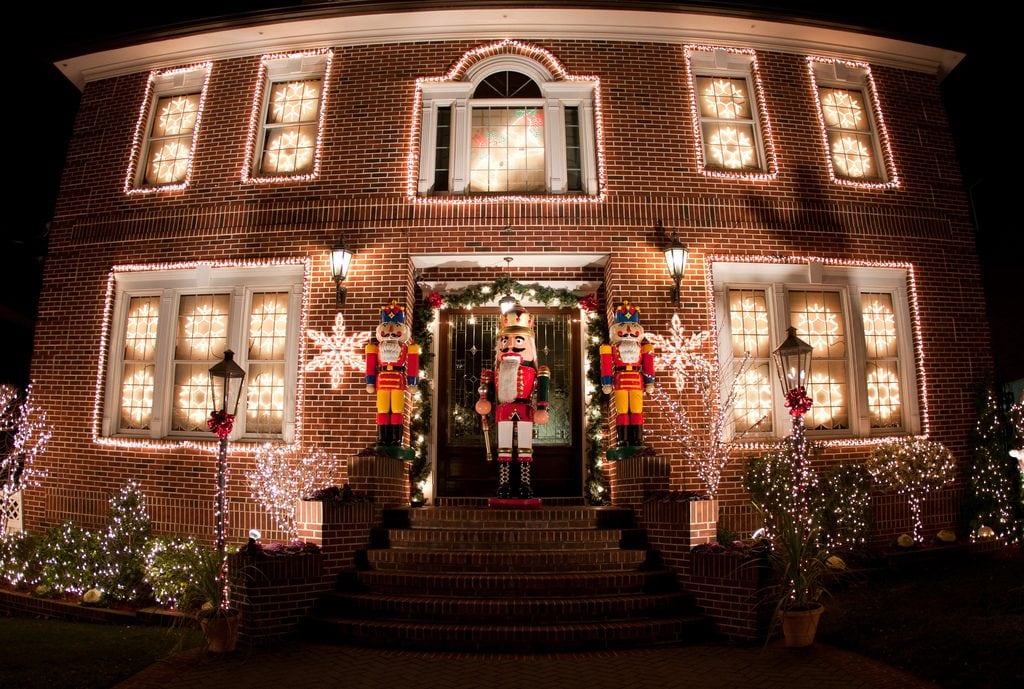 6. See the Christmas Lights in Dyker Heights
Have you heard about the Christmas lights in Dyker Heights? It's not just a convenient rhyme, people. Through the end of December, walk, bike, jog, moonwalk, or carol your way through the neighborhood famous for the most elaborate holiday décor on earth. Free Tours by Foot has an excellent guide to finding the lights — you won't be disappointed.
Closest Citi Bike Station: West Dr and Prospect Park West
7. Bike to the famous Coney Island Polar Bear Plunge
Now I know I promised you wintry entertainment through the end of the year, so how about starting 2019 the best way possible with the Coney Island Polar Bear New Year's Day Dip. It's at 1pm, on January 1st, on the Coney Island Boardwalk, and I can't think of a better way to keep your New Year's Resolution to do at least one insane, illogical, masochistic thing every week. Right?
Closest Citi Bike Station: West Dr and Prospect Park West
Photo courtesy of Joe Penniston.