While most people do their best to escape the city during the summer, I find it to be the best time of year to enjoy all the spoils that New York has to offer. The weekends are less crowded, cyclists fill the bike lanes, carefree children run wild through playground sprinklers, and free cultural events abound across the boroughs.
Many community organizations work year-round to ensure every inch of our city and its residents can relish the warmest months of the year. And so, as an ode to all the activities and places that make New York City an incomparable destination, why not volunteer for some of the very organizations that make summer so great?
1. Smooth Operator

The month of August has become synonymous with Summer Streets. For three Saturdays every year, over 250,000 people (and more than a few dogs) get to enjoy seven miles of Manhattan pavement during a four-hour-long fitness bonanza. Streets are closed off to vehicles allowing cyclists, runners, and rollerblader's free reign of the road, while pop-up pools and exercise classes line smaller side streets. As one could imagine, it takes a lot of people to ensure these events run smoothly; enjoy Summer Streets this year from the inside and volunteer to help other New Yorker's enjoy the rarity of a car-free morning!
Outside of Summer Streets, biking in the urban landscape can be a treacherous feat. Organizations like Time's Up! And Transportation Alternatives provide outreach programs and events that educate the public on sustainable transportation and our environmental impacts as citizens of an urban landscape. Recycle-A-Bicycle also promotes environmentally friendly travel with an emphasis on bike mechanics and knowledge, in addition to youth empowerment and stewardship. If you appreciate the bike lanes that keep you safe, and want to promote the growth of their infrastructure, consider volunteering on two wheels with one of these organizations.
If spending time in the shade is more your speed, check out one of the many groups helping to maintain our city parks, community gardens and waterways. On any given day you can learn about horticulture or composting and fine-tune your green thumb, all while enjoying the warmest days of the year with MillionTrees NYC or the New York Restoration Project. Head to the north or west to get your feet wet (often quite literally) with groups like the Bronx River Alliance and Hudson River Park.
4. Take the Stage
Our parks also offer a multitude of cultural events, from music festivals to outdoor movies. One of the most well known and often sold-out performance series is SummerStage; call their hotline (212.360.2777) or email kgoodwyn@cityparksfoundation.org to find out more information about volunteering with the CityParks Foundation SummerStage events. If you'd rather be the one performing (and perhaps in a cool, climate-controlled locale), dedicate your talents to a cause and volunteer with the Sparks for Life program at the New York Methodist Hospital in Brooklyn. According to their website, volunteers "might sing and play music, share yoga or relaxation techniques, or lead patients through an arts and crafts project." to brighten a patient's day.
5. Feed the Soul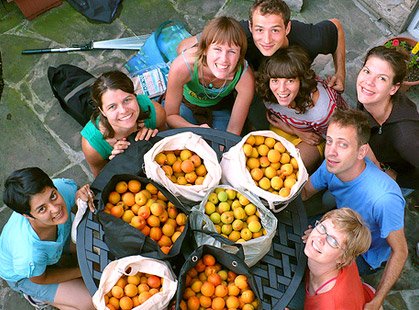 Amidst all the activity of summer, there's one thing that goes missing until September: school breakfasts and lunches. As the song goes, "schools out for summer," and that means thousands of children who rely on school meals to maintain a healthy, nutritious diet will go without them. Food Bank for NYC is working to end childhood hunger by 2015; help them reach their goal by volunteering this summer to restock pantry shelves and serve meals (over 400,000 go out every day!) to New Yorkers in need. In addition, you can sign up to volunteer with the New York Legal Assistance Group and serve lunch to children at public libraries across Brooklyn every weekday until August 30th. Check out the list of participating library locations, available shifts and contact information at bklynpubliclibrary.org.
Do you have other suggestions for summer volunteer opportunities? Sound off in the comments section and add all of the organizations and programs that couldn't fit on this list!
Rachel Bogin is the founder of the blog Give and Get NYC, a handy, approachable resource for volunteer opportunities in New York City. Bogin "opens up the volunteer world to everyone, by taking away the mystery of volunteering and making it super easy to get involved whenever and wherever you want."
Photos: NYCDOT, Recycle-A-Bicycle, Food Bank for NY
Rachel is former experiential marketer and current professional fundraiser and event planner for mission-driven organizations. She recently became the Manhattan Ambassador for Hike It Baby, a non-profit dedicated to building communities that support getting families outside and raising a generation to love the outdoors. Rachel finds joy in nature and hard-to-reach scenic vistas, and has reveled in exploring places as close as Harriman State Park and as far away as Denmark and Austria by train, bus and her own two feet. When she's not at work, you might find her dropping off compost at the local greenmarket, hiking in the Hudson Valley or picnicking in Riverside Park. She shares her life and home in New York City with her husband, son and extremely judgmental cat.