Traveling in style is practically a necessity for savvy New Yorkers. Enter Lark Hotels. This boutique hotel group is packing a major cool factor in its several properties across many of the quaintest cities in New England. Each distinctive, with playful vibes; Captain Fairfield Inn in Kennebunkport, Maine was a former captain's home, with original detailing preserved, while The Danforth in Portland, Maine used to house a speakeasy in the '30s, and the nearby Pomegranate Inn has hand-painted walls and a seriously arty, feel-good vibe. Their latest is currently being custom-built in Narragansett, Rhode Island. Think: the nostalgia of a bygone era meets modern day luxury.
The collection, created by young adventurers in New England, was named not only with the bird well known for its hospitable morning greeting in mind, but for the Studebaker Lark car in the early '60s that apparently sold extremely well for quick weekend jaunts. But the best way to describe this mod group is perhaps the meaning of a lark: a carefree adventure, that may or may not include a bit of mischief. Sound like your ideal trip? Let's go.
Attwater Hotel | Newport, RI | theattwater.com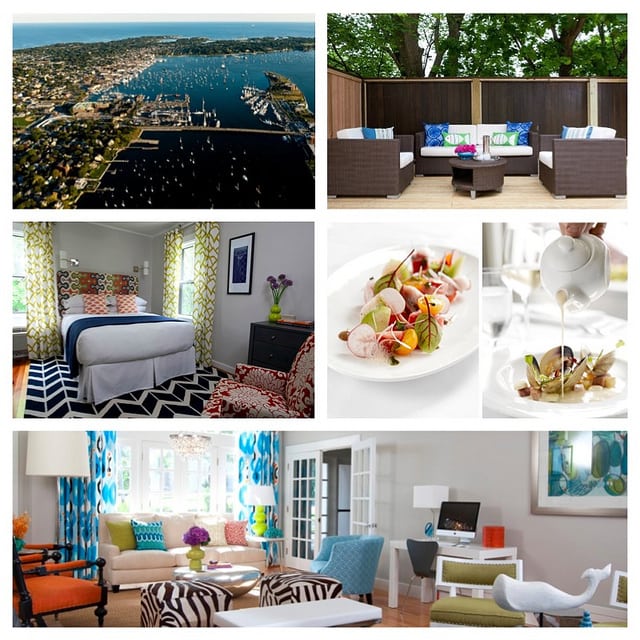 The building, a former beer hall from the early part of the 20th century, is perched in Newport's swanky mansion district. And while it is officially considered a Bed & Breakfast, you won't find any matronly florals in the lobby. Instead, the aesthetic is a studied mix of preppy New England touches, suggestive of the nautical beginnings of the city, coexisting with mod zebra stripes and an unexpectedly colorful palette that really speaks to the unconventional among us. The guest lounge is striking and an ideal place to be ushered into the meticulously styled scene. Perhaps that's what landed it on Conde Nast's Traveler Hot List this year?
It could just as likely be the amenities. An intimate hotel with only twelve rooms, each are equipped with designer linens and waffle kimono robes. Other features include wireless internet, an in-room iPad programmed to be your unofficial guide to the city and Apple TV. The Attwater doesn't skimp on style, even while they go the distance with technology, keeping you connected and cozy. An in-house cafe is open all day, serving coffee, teas, baked goods and fruit, is a nice addition to the Keurig coffee makers in the rooms, since you'll most likely be venturing out.
On the Town: Tips from Attwater's Concierge

By water: The main attraction in Newport is the water and a unique way to take in the town is by cruising the harbor on the Newport Harbor Shuttle. Grab a hop-on/hop-off shuttle pass, which is good all day and makes stops at Perrotti Park, Bowen's Wharf and more.
By land: Rent bikes at Newport Bicycle and head to the beach. Of the three beaches in town, conveniently named First Beach, Second Beach and Third Beach, the Third one's the charm. One minute you're in the middle of a bustling city, the next, nearly the middle of nowhere, but in a good way. On your way to Third Beach, pick up a sandwich at Rosemary and Thyme Artisan Bakery and Cafe, the namesake is a savory combination of herbed goat cheese, olives, tomatoes and greens on grilled naan, and spend the day lolling in the sun, watching the many stand-up paddle boarders or hopping on one yourself. The water is warmest here, as its location is a small inlet, and when you heat up, there's always the iconic Del's Lemonade truck for an icy beverage. The perfect end to a perfect day? Dinner at Tallulah on Thames, a locavore, New American restaurant that will impress even the most discerning New York foodie.
How to get there: Peter Pan buses arrive in Newport daily, or take Amtrak to West Kingston, then hop a cab. Renting a Zipcar is also an efficient option.
76 Main | Nantucket, MA | 76main.com

Just opened on June 7 as the first boutique on Nantucket's Main St., 76 Main gets to set the bar for casual elegance on the island. Surrounded by those beachy-chic homes, yes, as lovely as you imagine them, the hotel has been designed to emulate the summer house escape. The ambiance embraces the sense of place, crisp and clean, with subtle nods to the sea appearing as shiplap wainscoting and sea grass rugs, while staying true to the modern and imaginative decor with bold striped walls and decorative lamps that Lark Hotels is known for. At twenty rooms, it's big enough to disappear in, but small enough to get very personable service, the ideal for a romantic getaway.
The hotel breaks down into two main areas: the main house features finely tailored rooms, while through the courtyard, the guest house rooms have a more relaxed vibe. The Vineyard Vines suite will incorporate the well known, colorful looks of the apparel line into a single cheery space. And the courtyard will act as more than just a passageway between the two wings, a garden and fire pits welcome guests to congregate outdoors, along with a cocktail mixer bar (the hotel provides the glassware and mixing ingredients, guests can bring their favorite spirit) creating a BYO hangout convenient to both your room and the town. In other words, a great jumping off point and the ideal place to end the day. An on-site cafe serving sweet and savory pastries and coffee makes fuel for the day very easy-access.
On the Town: Tips from 76 Main's Concierge
Outdoors: Rent a bike at Young's, which is steps from the ferry landing. A couple of miles on your way out is Cisco Brewers where you can grab a growler to take to the beach along with sandwiches from nearby Bartlett's Farm. Once you arrive at Ladies Beach enjoy the quiet and the excellent surf conditions.
Indoors: The local art scene in Nantucket is quite vibrant. Even on your walk to the hotel from the wharf you will encounter countless galleries, but be sure to check out South Wharf, where Lark favorite, Molly Dee has her vintage-inspired postcard-esque art on display.
How to get there: The Hy-Line Strait wharf is just a 5 minute walk to the hotel. Steam Ship Authority is ten minutes. Ferries depart from Hyannis, which is a stop on the Peter Pan bus line. Check out the fabulous specials being offered for guests.
Look out for these summer deals at Lark Hotels:
Book the "Stretch, Sauna, Cycle & Sip" package at 76 Main, starting at $828 for a two-night stay, including a yoga class at the Yoga Farm, a Far-Infrared Sauna Session, two-day bike rental, and a health shake every morning with breakfast.
Review more special Lark Hotel offers at larkhotels.com. Plan a trip to 76 Main in Nantucket around one of these great summer festivals and activity ideas. Rates for the Pomegranate Inn start at $139. Rates for the Attwater Hotel from $159.

Carly Pifer is a freelance writer who has been known to follow whims inspired by romantic movie scenes or colorful street style shots to India, Japan, Tunisia and Argentina. After stints living in Seoul, Boston, Paris and Los Angeles, writing and searching for something intangible, she landed somewhat steadily in Brooklyn and has begun to find inspiration in her more immediate surroundings (and also the permanence of her bookshelf). She writes about fashion for Refinery29 and has been known to pack an outfit per day on backpacking trips. Please visit her website to read her travel diaries and other writing on the web at www.carlypifer.com or follow her on instagram .