Wedged between Bridgehampton and Amagansett, and a short seagull flight to Sag Harbor and Montauk, East Hampton is perfectly situated for two-wheeled travelers. On a recent spring weekend, my husband and I set out for East Hampton and c/o The Maidstone, our home base for the next few days.
We discovered five great bike excursions—to vineyards, beaches, and hidden historic sites—for both serious and spontaneous cyclists.
Where to Rest
The locale, environmental ethos and free Kronan cruisers lured us there, but it was the people, peace of mind, and what arrived on plates that made it hard for us to stop lingering in our clogs, as excited as we were to get out and see what we could see by bike.
c/o The Maidstone is a rare breed of hotel. A few hours after settling in, we were ready to replace Birgit Nilsson, our room's name, with our own. (If it wasn't frowned upon, we'd have had our dog pee on the door to keep future guests out.) But it wasn't our living quarters so much as the whole experience, from the knowledge that we were staying at one of the greenest hotels on Long Island to the purchasable art on the walls and bright uplifting decor to the sing-songy Swedish conversations, Köttbullar meatballs and the roe delicacy löjrom. (Later, on the train ride back into the city, you'll find yourself making reservations at a Scandinavian restaurant—like Smörgås Chef in the West Village—in an attempt to relive delicious moments from the weekend.)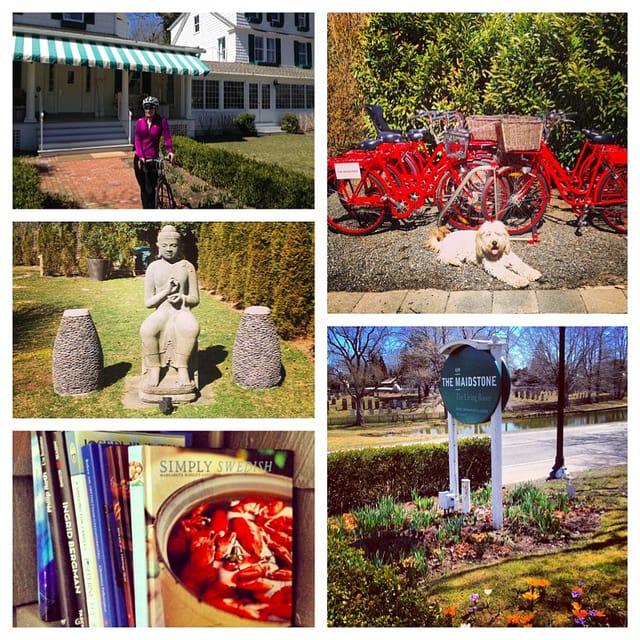 At breakfast, it was the homemade croissants with Lingonberry jam, at lunch it was the hanger steak salad with Västerbotten cheese and candied nuts, and for dinner at The Living Room it was the Peconic Oysters, Hudson Valley foie gras, herring served three ways and cardamom dusted cod—not to mention the variety of insightful, comedic characters who sweetened the meal.
But you'll eventually will yourself to pedal off and when you do, the modern Nordic-influenced menu (which changes quarterly and mostly features light, locally-sourced fare), is the right way to start or end a ride. Beyond the food, there is complimentary yoga in the garden at 9am, outdoor massages, a superb concierge service, croquet & boules sets, a Viking lawn game called Kubb, a captivating library, and those shiny red bikes that beckon.
Where to Ride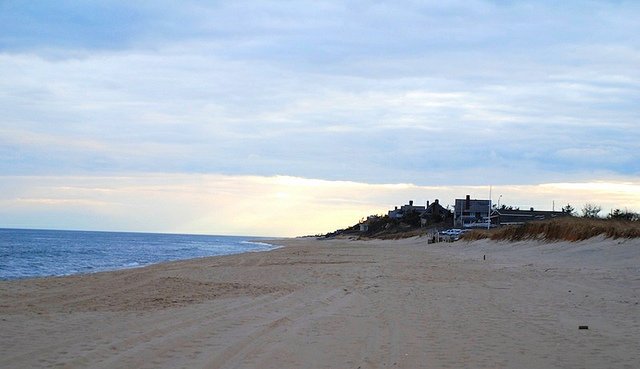 1. East Hampton Beach
Roundtrip Distance: 1.8 miles, 10 minutes
Level: Easy
Fun factor: What's a trip out to the Hamptons without a visit to the beach? Here in East Hampton, shamanistic sands release any stress by the time you've flung your sandals—or helmet. Find a place (perhaps in front of the dramatic white piece of driftwood) for a picnic. The Maidstone offers two options: order anything from the restaurant or from the Grab & Go menu, which include a sandwich (choose from vegetarian, shrimp or chicken), a salad, fresh cut fruit and a bottle of water (made from an on-site Natura water filtration system).

View To the Beach in a larger map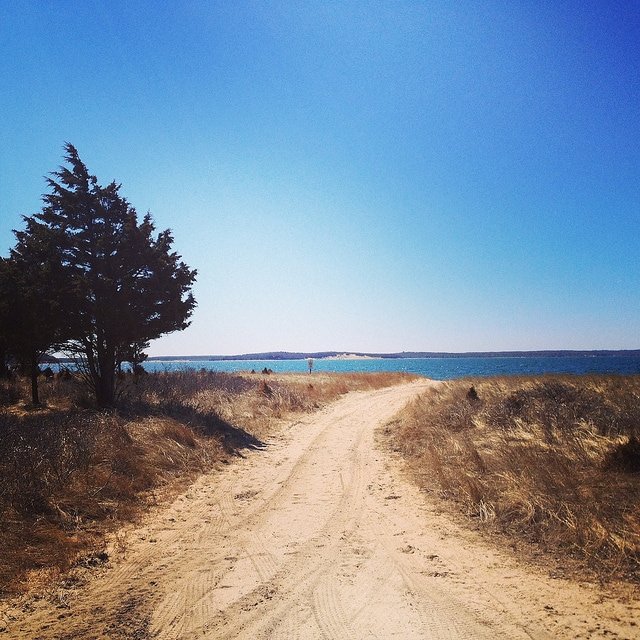 2. Cedar Point Park
Roundtrip Distance: 13.2 miles, 1 hour 10 minutes
Level: Easy/Moderate
Fun factor: Once you're off Montauk Highway and onto Hands Creek Road, the tree-lined route is quiet and seemingly car-free. You'll amuse yourself picking which château or wondrous modern home you'd buy. The birds tweet the way and if you like to go fast you can fly down the perfectly paved flat roads. Past the entrance into the 607-acre Cedar Point Park and through the campgrounds, the reward will appear around a sandy bend: turquoise-tinted Gardiner's Bay, sweeping views of Mashomack Preserve and Shelter Island. Stay a while, have a picnic while kayakers cruise by and the wind dances in the nearby dunes.

View To the Point in a larger map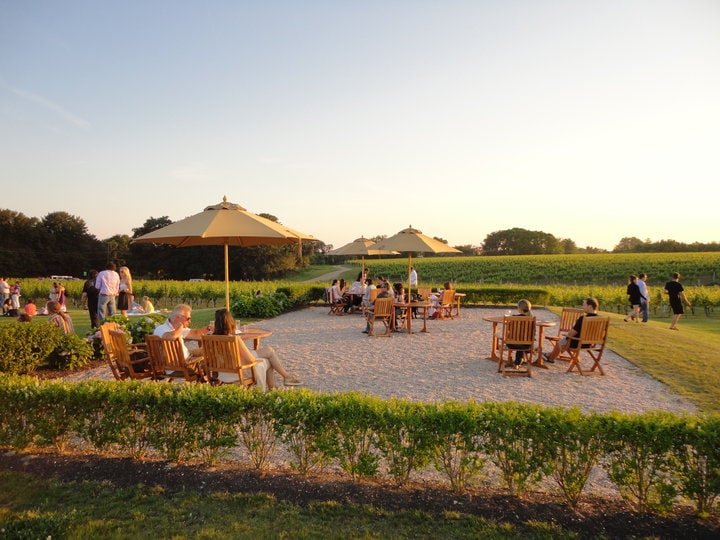 3. Wölffer Estate Vineyards
Roundtrip Distance: 10.2 miles, 50 minutes
Level: Easy
Fun factor: You'll be won over by Wölffer wines before you leave The Maidstone, but tasting at the source is infinitely more fun. Roll into the Tuscany-inspired setting, find a seat at the wine stand, order a glass of Noblesse Oblige Sparkling Rose and enjoy live music from 5pm to sunset every Friday, May-October. Wine enthusiasts able to keep tippling and turning the pedals might like to head six miles down the road to eco-friendly Duck Walk Vineyards for more sips and strolls through the vines.

View To the Vineyard in a larger map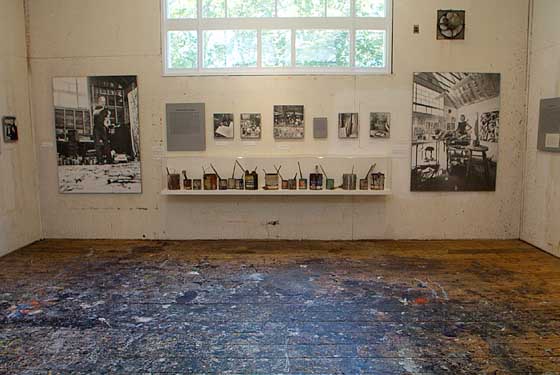 4. Pollock Krasner House & Green River Cemetery
Roundtrip Distance: 20.4 miles, two hours
Level: Easy/Intermediate
Fun factor: Stand inside the home and studio where the abstract expressionist artist Jackson Pollock dripped paint and drank. Time your visit to the National Historic Landmark ($10 admission) with the farmers market, held Saturdays from 9am-1pm at neighboring Ashawagh Hall. After you've filled up your basket with goodies, spin over to Green River Cemetery and pay respects to 20th century luminaries like Frank O'Hara, Elaine de Kooning, Hannah Wilke, Jackson Pollock and his wife Lee Krasner.

View To the Pollock in a larger map
5. Montauk Point Lighthouse
Roundtrip Distance: 40 miles, 3 hours
Level: Moderate/Advanced
Fun factor: If you're used to tedious loops of Central Park or crowded rides on the Hudson River Greenway, this uninterrupted cruise along Montauk Highway will feel like a vacation within a vacation. It's a fun way to see a big chunk of the eastern end of Long Island and get in a good workout. While we think the journey is the reward, the lighthouse and hot lobster roll—recommended on the return—make the legwork especially worth it.



View To the Lighthouse in a larger map
To make a reservation at c/o The Maidstone, call 631.324.5006 or visit themaidstone.com for more information.
How to get there: Six-minute bike ride from the LIRR East Hampton Station or a 20-minute walk. Make sure to get your $5 lifetime bike permit to be able to bring your wheels on board.

Photos: Vincent Crossley, Gentleridevan, Wolffer Estate, Pollock-Krasner House 
The co-founder and editor-at-large at offMetro, Lauren is a sustainable travel specialist and freelance journalist with frequent bylines in National Geographic, Bicycling Magazine and Shape. Follow Lauren's adventures at @laurenmati.