August 20, 2009
When the waitress offered me a plate of caviar-topped Swedish Raraka surrounded by clouds of crème fraîche, I knew this would be a memorable anniversary meal. The potato cakes were like crispy designer chips threaded with onion, the caviar was salty, and the crème kept it all cool with a hint of dill.
News about c/o The Maidstone's new "Scandinavian Cozy" experience at The Living Room, spread quickly on the shores of Montauk, spurring residents (who don't normally feel the need to leave the South Fork of Long Island during summer) to make reservations a week in advance, present company included.

Excited by executive chef James Carpenter's commitment to slow food, my handsome date and I agreed to sample as many items from the menu as our stomachs could hold. Carpenter, formerly of Sag Harbor's Della Femina and Aquavit, works closely with local farms and fishermen in order to live up to his philosophy, "to cook with the seasons" and ensure that everything on the menu is fresh and sustainable.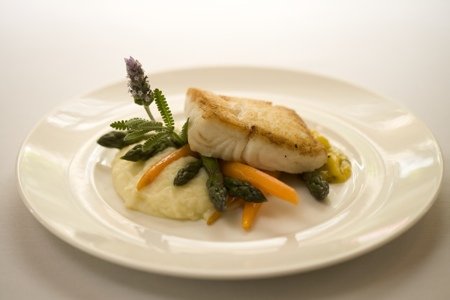 Most of the produce used at The Living Room comes from Satur Farms—the love-child of husband and wife team Paulette Satur and Eberhard Muller—which prides itself on pesticide-free produce known for rich flavor profiles. Muller, of Le Bernardin fame, now works at the farm full-time in an effort to provide other top chefs with raw ingredients that meet his own demanding standards for freshness.
We began with one of the evening's specials—a cold soup of ginger and carrots topped with poached lobster. The soup was a bold orange, which seemed in theme with the splashes of color throughout the dining room, and had a nice gingery snap to it that worked perfectly with the chunks of melt-in-your mouth lobster. Add a homegrown Mint-Ginger Martini made with organic cucumber vodka, and the tone was set for what was to be an epic meal.
If you've come to the Hamptons for a quick bike getaway, reward yourself with a delicious slow cooked feast, starting with that Swedish Raraka, followed by a roasted beet salad topped with local Mecox Bay Dairy cheese, and the local fluke special served with shrimp, sweet corn, and peas. The fluke was tender and light and complimented perfectly by the local corn that burst with yellow summery flavors. The generous portion was more than I could handle, and our helpful bus boy returned to box my fluke in a container made of recycled materials. The fish paired well with a glass of Sancerre from the extensive and mostly bio-dynamic wine list.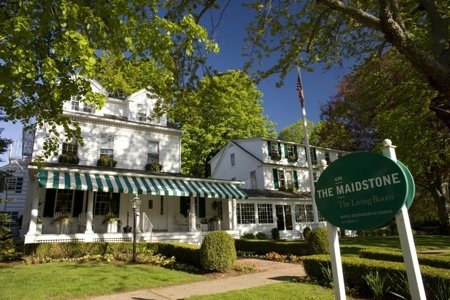 Across from me, my darling dinner companion suddenly had very few words as he voraciously maneuvered around the "Veal Oscar" served with seasonal asparagus, lobster, a spring green garlic potato gratin, and béarnaise sauce. The traditional dish (reportedly named for Sweden's King Oscar II who reigned 100 years ago) with its impossibly delicately stacked potato gratin seemed to be a hit at more than just our table.
For dessert, we dove into a homemade vanilla-honey ice cream and selection of assorted cookies that ranged from simple sugar ovals to rich fudge-like triangles. Whether it's a birthday or a Wednesday, I know we'll find our way back to The Living Room to celebrate what new fresh flavors fall has in store.
How to Get There: East Hampton is easily accessible by rail and road. The Long Island Railroad offers daily trains to and from Penn Station. Check out lirr.org for a full schedule. Two tips: 1) Be prepared for crowds on the weekend and 2) Pack a sweatshirt for the relentless aircon. The Hampton Jitney also offers daily service to the east end and departs from various locations in Manhattan and Brooklyn. Check out hamptonjitney.com for a full schedule and be sure to make a reservation.
Shortest route: The Jitney will drop you in front of The Palm Restaurant on Main Street (Montauk Hwy 27).  From there head West (in the opposite direction whence you came) and c/o The Maidstone will be on your right.  (About a 10 minute walk.)
Longer Route: The train station is located on Railroad Avenue. When you exit the train make a left and then a right onto Newtown Lane. This is one of the main streets in East Hampton and will bring you to Main Street (Montauk Hwy 27). Make a right onto Main Street and head West, c/o The Maidstone will be on your right directly across from Town Pond. (About a 20 minute walk or call a taxi: Carl's Taxi, 631.907.0077)
(Dishes range from $9-$36. c/o The Maidstone is located at 207 Main Street, East Hampton, NY, 631.324.5006, themaidstone.com)