It all started with Prohibition. I went to Philadelphia to explore that wild time of bootleggers and flappers (via American Spirits: The Rise and Fall of Prohibition, on exhibit at the National Constitution Center), and soon found myself tippling my way through town. It's not a difficult thing to fall into. The affair with liquor is alive and well in the City of Brotherly Love, and bespoke cocktails—often served in modern renditions of old-timey settings—reign supreme.
I sampled the wares at a variety of institutions (all in the name of research, of course), and hereby present the best Philadelphia cocktail bars.
Mission: Prohibition

Speakeasies may no longer be necessary, but they still have a sense of glamour. And this being a Prohibition-inspired tour, I started at the source. While original speakeasies are a bit tougher to find (the one I visited, McGillin's Olde Ale House, is these days crammed with beer-guzzling coeds), newer sorts have been sprouting up.
The Modern Speakeasy
Named for the company that fronted the largest alcohol ring of the Prohibition era, The Franklin Mortgage & Investment Co. (112 S. 18th St.) is speakeasy in tribute only (the ever-present line outside precludes any pretense of secrecy). Still, the trendy hotspot does what it does, and does it well.
You'll wait, oh yes. But then you'll savor: low lighting, leather banquettes, drinking as art form. At this homage to the "the golden age of bar rooms" it's hand-chipped ice, freshly squeezed juices, and a drink list divided into categories like "Required Reading," "Rebellious Spirits," and (my favorite) "I Asked Her for Water and She Brought Me Gasoline." My drink, the "Sideways in Reverse," combined apple brandy, Campari, St. Germain, and lime juice—and, while I'm not the type to wait in line, I didn't regret it.
The "Not a Speakeasy" (But Really a Speakeasy)
The Hop Sing Laundromat (1029 Race St.) is everything I wanted my "speakeasy experience" to be. It blends right in with the anonymous facades on an anonymous Chinatown Street—the only thing that told us we were in the right place were the three people standing outside, as casually as if they were waiting to be buzzed into a friend's apartment. But you don't ring the bell here (we learned this when, once inside, we saw the doorman open the door acknowledge someone who had rung, and then close it again in their faces).
Upon being allowed entry, we waited some more in a dimly lit antechamber, done up with books, vintage etchings, and a shelf of Campbell's Soup cans. We sat, eager, upright, and on our best behavior (perhaps it was the church pew?), until Lee, the proprietor, sauntered in and delivered, in broken English, the rules: "No cameras. Texting is allowed but phone calls are not…"
He also apologized for the drinks—it's just a "humble bar" after all (just take a look at the one-page website)—before leading us to a table swanky main room, where dark red walls are hung with gilded mirrors and oil paintings. Behind the bar is a boozers dream: every spirit imaginable on built-in shelving, replete with rolling ladder. Cocktails are listed by liquor. Drink specials come with stories. I opted for the "Railroad Judah," named for the poor sap who conceived of the Transcontinental Railroad and then died before he could see it happen. I liked the story. Our server raised an eyebrow and asked if I'd ever tried laphroaig before. I hadn't, and was more interested in the green and yellow Chartreuse. He smirked, said nothing else, and walked away.
My drink arrived in what looked like a tiny martini glass. It was pale brown in color and tasted like smoked wood chips. When the waiter came by and I said I was enjoying it, he looked confused but impressed. I felt I'd just gained initiation into some secret drinkers' club.
Where Speakeasies go to… Prison

Lest you think I spent my entire visit to Philly sauced, a Prohibition-related daytime activity. Eastern State Penitentiary (2027 Fairmount Avenue) is an imposing structure that is even more haunting within than without. Abandoned in the '70s, the structure, much of which was built in the 19th century, still feels like ruins, with chipping walls and rotting cells.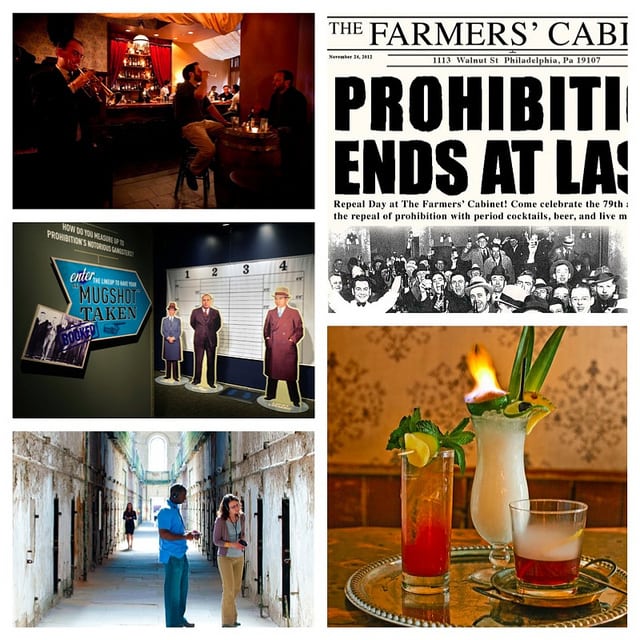 Until you reach the Park Avenue Block, where one snazzy cell has been decked out in period furnishings to resemble the schmancy digs it provided for one Al "Scarface" Capone. Rumor has it that Capone, who spent eight months here from 1929 to 1930, was caught with a concealed weapon on purpose so he could wait out the fervor from the St. Valentine's Day Massacre. Whether or not that's true, one thing is certain: Mr. Scarface did his time in style, in a cell he outfitted with lavish decor, from oriental rugs to a richly polished desk.
The (New-Fangled) Old-Fashioned

It's not just the elicit that makes Prohibition so fascinating. It's the memory of simpler days—and more complicated drinks. I hit up several drinking and dining establishments that take the "simply-complicated" approach, with complex food and drink made from the freshest ingredients.
The House of Beer and Cocktails
Named for a monthly 19th-century agricultural handbook, The Farmers' Cabinet (editors' note- has since closed) captures the best of the Victorian age: a devotion to craft beers, fresh ingredients, and gaiety. The restaurant/bar mixes high and low, with various rooms and nooks done up alternately in rich textured wallpaper and Victorian furnishings or rustic wooden walls and mason jar light fixtures.
When I visited, I sat on a beer barrel and sipped a "Perplexed Monk" (rum, aperol, lemon, and house-made cola) while Drew Nugent and the Midnight Society, looking sharp in old-timey suits, serenaded a lively crowd with jazzy ditties.
The Garden of Delight
There's a palpable buzz at Talula's Garden (210 W Washington Square), a whimsical spot that feels fresh off the pages of an Anthropologie catalog (in the best of ways). Outside, the garden twinkles, while inside all is aglow, with candles in mason jars and repurposed decor, including windows that were discarded from M Night Shyamalan's The Village.
Here, the focus is more on the seasonal menu (chef Aimee Olexy is known for her cheese plates, and for good reason), but the cocktails are every bit as lovely. They're mostly fresh takes on classics, with breezy names like "The Treehugger" and "The Visionary." I sampled "The Dreamer," a "scented gin and tonic" made with cucumber and garden herb syrup.
Old Dogs, New Drinks
The grandfather clock that guards the entryway of the Morris House Hotel bears the scars of revolution: bullet holes from when Revolutionary War soldiers literally "killed time" by shooting at the pendulum. It's also known that Jefferson, Washington, and John Adams ate, smoked cigars, and (of course) drank here, no doubt while hashing out important new-nation business.
Today, it's the cocktail revolution that's underway at the hotel's M Restaurant (231 S 8th St.), and leading the charge is Theo, the hip resident bartender who concocts wild and wondrous elixirs with names like "The Death of Marie Antoinette" (gin, drambuie, and luxardo) and "The Electrified Fence" (house-infused rye, apple, and ginger beer).
While my party was dining in The Library—among gorgeously worn volumes, "period" paintings of the hotel's owner, and (a girl can only hope) the ghosts of many a spy and politician who passed through here—Theo came in and explained his process: "I sometimes come up with the names first," he said. Then he uses in-season produce to create and mimic flavors via "infusions, consumes, or jellies."
The results are nothing short of exquisite, and visitors can often even get a sneak peek at one of Theo's new experiments at happy hour, when the bar offers a "three for 13" deal: one drink (choose from two beers and a "bartender's choice" cocktail) and two food items (from a list of 13 options) for $13. Even more incredible than the deal itself is that it can be enjoyed all night, six nights a week (the restaurant is closed on Mondays).
Where to Crash

You may want to party all night long, but even the heartiest of cocktail drinkers have to sleep sometimes. Try one of these hotels with history on for size.
The aforementioned Morris House Hotel (from $199/night, 225 South 8th St.) offers 15 plush guest rooms and a healthy dose of historic charm.
Things feel far more modern over at the Loews Philadelphia (from $200/night, 1200 Market St.), but original touches, like a stunning vault in the lobby, remind guests that this landmark building plays a significant role in Philadelphia history. Formerly the headquarters of the Philadelphia Savings Fund Society, the 36-story building was the city's first skyscraper, built in the middle of the Great Depression. Its beloved "PSFS" sign still illuminates the skyline, and many of the 581 sleek guest rooms offer impressive views (mine looked directly across to William Penn on his City Hall perch).
How to get there: Take Megabus or consult oM's transit guide to Philadelphia

View Best Philadelphia Cocktail Bars in a larger map
Photos: Morris House Hotel, The Farmers' Cabinet, Talula's Garden, Eastern State Penitentiary