Philadelphia is an unbeatable weekend getaway for New York City families. Located less than two hours from NYC, it's a snap to reach via public transportation, barely giving the tykes time to say "are we there yet?" Laid out in an easy-to-explore grid, it is both pedestrian and stroller friendly. It has a viable network of buses, a subway system and an extensive network of commuter trains for exploring farther afield.
If this sounds awfully familiar, Philadelphia does share some of the Big Apple's urban flair. Pint-sized New Yorkers will feel right at home surrounded by the town's big city verve, complete with Fresh Direct trucks making the delivery rounds. But don't get any ideas about calling it the sixth borough. Philadelphia is utterly its own gal, dense with history, museums and attractions. The City of Brotherly Love is so captivating your kids may call a truce and experience a weekend of sibling peace. With so many attention-grabbing activities, they'll be too busy to bicker.
Philadelphia Museums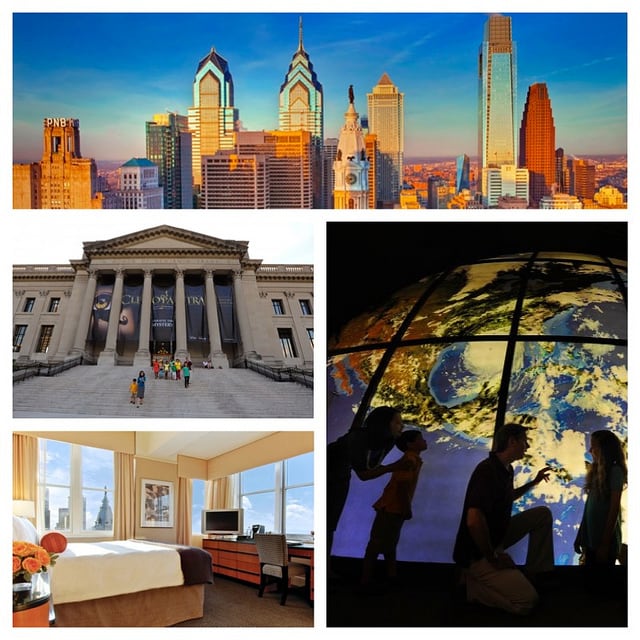 1. Franklin Institute | www.fi.edu
This is one of the country's oldest and most celebrated science museums. Despite its venerable status, the world of science is explored in a thoroughly modern way. Meander through a replica of a human heart, ride a sky bike across a 1-inch cable and engineer a working 350-ton locomotive before hitting the planetarium and IMAX Theater.
2. Please Touch Museum | www.pleasetouchmuseum.org
Catering to the eight and under crowd, this museum is 100% hands-on. There are six interactive zones that encourage learning through imaginative play. Developmentally appropriate art activities are on tap throughout the day. The Playhouse Theater preforms 25-minute live shows daily, the perfect duration for the preschool set. The fully refurbished 1908 carousel is a showstopper.
3. Academy of Natural Sciences | www.ansp.org
The Dinosaur Hall here is huge, making it Philadelphia's top destination for budding paleontologists.  The butterfly exhibit presents colorful winged beauties flying freely in a reproduction of a tropical rainforest.  The Live Animal Center is home to more than 100 live birds, mammals, reptiles and invertebrates.
4. University of Pennsylvania Museum of Archaeology and Anthropology | www.penn.museum
Egyptophile families should head straight to the basement to check out the human and animal mummies. The museum's lauded collection includes nearly one million artifacts of civilizations past and present, including a monumental granite sphinx, three-dimensional Egyptian sculptures and excavated parts of an Egyptian royal palace. Greek, Roman, Etruscan, Islamic and Native American cultures are also well represented.
5. National Museum of American Jewish History | www.nmajh.org
People of all religions are flocking to this museum, where the numerous interactive exhibits have unexpected kid appeal. In the 19th-century area, visitors can reenact the experience of immigrant pioneer children by exploring a covered wagon and dressing up in period clothes. In the 20th-century section, families can get a sense of the hardships garment workers endured by trying their hand at a sweatshop sewing machine. If junior is the Spielberg of tomorrow, he or she can create a video that remains in the museum's permanent archives.
Historic Philadelphia
6. Independence National Historical Park | www.nps.gov
Known as America's most historic square mile, you could easily spend the day strolling this compact area that brings elementary school history lessons to life. Some 20 of its buildings are open to the public. Start at the Independence Visitor's Center so the kids can get a free Junior Ranger Activity Book. This is also where you can pick up free, same-day tickets to tour Independence Hall, where the Declaration of Independence and the U.S. Constitution were signed. The Liberty Bell Center, home to that cracked bronze symbol of freedom, is also located in the Old City. A photo of the kids next to the bell is de rigueur. The oldest Mint in the country is definitely worth a visit. Kids love watching all stages of the efficient minting process, with the machines striking over one million shiny coins each hour. Self-guided tours are free on weekdays. Adults need a state issued photo I.D. to enter. It is worth paying the admission fee ($17.50/adult, $16/13-18, $11/4-12) to visit the National Constitution Center. It investigates this document's history and relevance in our current lives. Kids may try on a Supreme Court robe and take a mock Presidential Oath of Office.
Alternative Philadelphia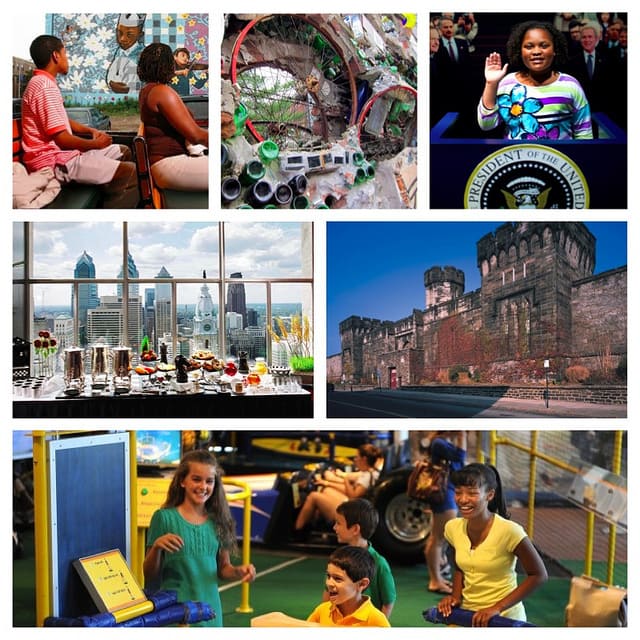 7. Philadelphia's Magic Gardens | www.philadelphiasmagicgardens.org
This whimsical, indoor/outdoor space is devoted to mosaic art. Founder Isaiah Zagar's labyrinth-like installations are created using handmade tiles, broken glass, glittery mirrors, bicycle wheels and other found materials. Monthly "Family Jams" stimulate young imaginations with hands-on art projects, included in the price of admission.
8. Mural Arts Program | www.muralarts.org
Philadelphia is home to the largest public art program in the country. Over 3,000 vibrant murals dot the urban landscape, highlighting themes such as history, diversity and anti-drug messages. If your tween scoffs at the idea of being dragged inside a traditional art museum, read on. Started as an attempt to redirect local graffiti writers' energies, the program provides structured support to help artists channel their creative juices into mural making. Families can join a guided tour of the worlds' largest outdoor art gallery on foot, bike or trolley.
9. Eastern State Penitentiary | www.easternstate.org
Not for very young or easily frightened kids, those age seven and older can tour this crumbling, fortress-like structure that was once home to the incarcerated. For kids who groove on the creepy, they can view prison artifacts, see solitary confinement cells and listen to audio excerpts from former guards and inmates.
Outdoor Philadelphia

10. Franklin Square | historicphiladelphia.org/franklin-square
Located in the middle of the historic area, the playground is a great place for kids to let off steam. Hard-to-please tykes should be further satiated with a round of Philly-themed mini golf and a ride on the carousel.  This is the place for hunger pangs to kick in, thanks to local celeb Chef Stephen Starr's seasonal stand, SquareBurger. Classic burgers, crispy fries and thick milkshakes flavored with TastyKakes seal the deal.
Where to Eat
The Reading Terminal Market is a Garden of Eden for hungry kids and their foodie parents. It offers a medley of goodies, including farm-fresh Pennsylvania Dutch specialties sold by Lancaster County Amish and Mennonites. There is lots of variety, so even the pickiest kid will find something to nosh on. If you're traveling with a hot dog lover, make a beeline for Smucker's Quality Meats, where the owner and his bonnet-clad daughters sell home-cured frankfurters served on soft potato rolls. For dessert, savor a sticky bun, apple fritter or donut from Beiler's Bakery.
Philadelphia is garnering a reputation as a player in the frozen dessert arena. If you crave a classic cone, Bassetts at the Reading Terminal Market is America's oldest ice cream company. Franklin Fountain, located in the Old City, is the place to splurge on a festive banana split or elaborate sundae.
Where to Stay

Loews is a large and comfortable property near Reading Terminal Market. Its small indoor pool should keep the kids smiling. The Palomar is located near Rittenhouse Square (where the annual Rittenhouse Row Spring Festival takes place). The hotel indulges young guests with pint-sized leopard print robes and their own pet goldfish for the duration of their stay. Parents are pampered with a free wine reception each afternoon.
How to get there: Consult oM's Philadelphia Transportation Guide.
Getting Around: SEPTA, Philadelphia's public transportation system, will get you around town when little legs tire of walking. The handy Phlash purple trolley connects Philadelphia's top historical and cultural attractions from May through September.  You can hop-on and hop-off all day when you purchase an inexpensive Phlash Pass, just $15 for a family of four. Philadelphia Trolley Works costs a bit more, but operates throughout the year. The double-decker bus gives you on-off privileges and a scenic view from the top deck.
For more vacation planning information, go to VisitPhilly.com.
Photos: Steve Weinik, Allison Tibaldi, Eastern State Penitentiary, Loews, G. Widman for GPTMC, R. Kennedy for GPTMC, J. Smith for GPTMC

Allison is a native New Yorker, who has lived in Rome, Tuscany, Melbourne, Toronto and Los Angeles. She frequently contributes travel pieces to Family Travel Forum, using her own children as guinea pigs as they travel the globe. She is fluent in Italian and Spanish and laughably adequate in French. Her background as an Early Childhood Educator gives her an added understanding of what it takes to travel with kids in tow. She firmly believes that the most important part of education takes place outside of the classroom, on the road, around the world. She never misses a chance to sample local delicacies, as her love for travel goes hand-in-hand with her love for food and wine. Follow Allison at @gourmetrav.