It's easy to dismiss hotel restaurants as overpriced, under-seasoned dining traps designed for the inexperienced traveler. But with award-winning chefs steering the ship and culinary trends invigorating menus, it doesn't have to be the case. In fact, some in-house establishments are so good, they lure guests all on their own.
Here, food-obsessed travel writer Joanna Prisco shares her monthly picks for where to stay if eating well is high on your list of getaway necessities.
Behind-The-Scenes at a Long Island Luxury Hotel
As many residents will tell you, there's more to Long Island than the waterfront villages of Hamptons and Montauk. If you fancy a trip out of NYC but don't want to spend half a day's worth of travel time, consider a 45-minute ride on the LIRR to Garden City. Across the street from the station's platform sits the town's storied, eponymous hotel to provide an oasis of comfort, quiet and culinary diversions for a day or two.
Built in 1874, The Garden City Hotel has been a landmark since its opening, attracting luminaries ranging from the Vanderbilts, Astors and Kennedys to the late King of Pop.
"Gene Simmons is here a lot too, because his mother lives right down the road," Director of Sales Jini Tharappen confides.
The KISS front man has no doubt sampled a few of GCH's barrel-aged cocktails, such as the Roy Siciliano—scotch, amaro averno, softball-sized ice cube, lemon twist—prepared by bartender Ernie Canas, whose McCarthy-era charm pairs perfectly with the dark woods, white linen tableclothes and rich textiles decorating the hotel's signature restaurant and bar REIN.
But well-crafted spirits aren't the only pleasures to entice your palate. How about an intimate, multi-course dinner inside the kitchen prepared by Executive Chef Michael Mandato?
A CIA alum and Jean-Georges Vongerichten protégé at Brandywine, Mandato has recently launched a new dining program at REIN suited to the food lover who requires a more personal dining experience: The Chef's Table.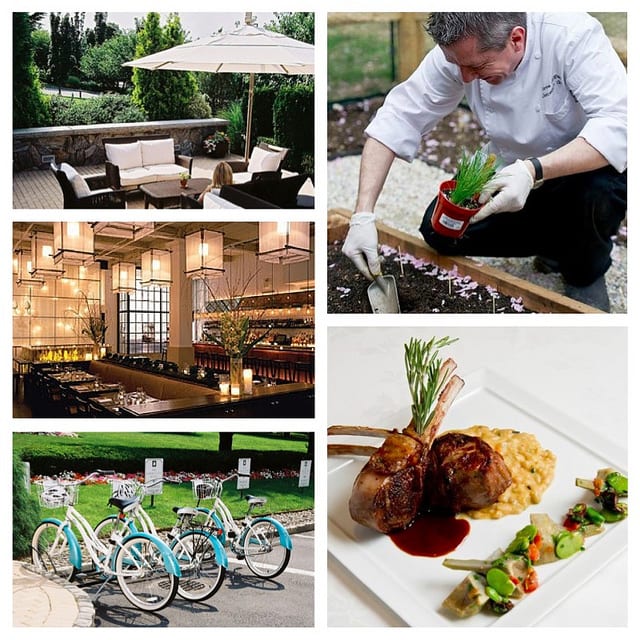 Limited to just 20 guests per seating, the five-course feast begins with a Champagne toast and a series of passed hors d'ouevres served hot off the line—literally! From house-prepared tuna sashimi belted in soybean paper to miniature crab cakes fried in a potato-chip crust to prosciutto-wrapped asparagus spears dusted in Parmesan and cracked black pepper, Mandato ensures your appetite has been whet even before being seated.
"We're trying to give guests a more exciting dining experience with the Chef's Table dinners," says Mandato. "So we're seating them next to the line and preparing some of our best dishes right in front of them."
While the Chef's Table menu changes with the season—and sources its herbs from the on-site organic garden—some recent plates included tender medallions of Grilled Smoked Quail Breast with foie gras-stuffed dates, and a glorious Colorado Lamb Tasting that featured a trio of different preparations: grilled rack, melt-in-your-mouth braised shank, and thin slices of pepper-crusted loin all nestled on a bed of parsnip puree with Brussels sprouts and baby squash.
Each course arrives with its own wine pairing from the hotel's curated cellar—on view in the main dining room. Bottles we were fortunate to taste on a last visit included a 2010 Chateau Montelana Chardonnay (excellent with butter-poached lobster) and a 2011 Mission Hill ice wine from Five Vineyards (to keep your pavlova company, natch).
The day after indulging, you may want to explore outside of the hotel. If so, there are a handful of nearby activities to be enjoyed, including three local museums—The Cradle of Aviation Museum, The Long Island Children's Museum, and The Nassau County Firefighters Museum—and Edgemere Park, which offers a bocce court and horseshoe pit for endless tossing, and Nunley's Carousel, a vintage $2 ride with 40 stallions to choose from. Take one of the hotel bikes out for a joy ride around town and end the day of sightseeing with a happy hour drink on the outdoor patio.
Garden City is also home to two exemplar golf clubs—The Garden City Golf Club and the Cherry Valley Club. But to take advantage of the grounds as a guest, one must know a member in good standing.
Who knows, you may find such a friend during dinner.
Hotel rooms from $199/night or $389/night for the Table for Two package, which includes overnight king accommodations, a culinary surprise paired with wine created by Executive Chef Mandato, and a $100 credit towards dinner for two in Rein Restaurant. Visit on your birthday and enjoy free dessert and champagne. (45 Seventh Street, Garden City, 516.747.3000)

How to get there: Take LIRR to Garden City. From $8 one way/off peak.