The members of the Time's Up bike co-op have a passion for bicycles—the kind of passion that makes a person don a cape, a pink boa, and a top hat and ride through the streets proclaiming his love for the bike lane.
Going on a bike ride with this eclectic group is like watching Sufjan Stevens cover The Beatles—you might recognize something familiar beneath the colorful costumes and frenetic energy, but it's certainly not the same old song and dance.
Time's Up began 25 years ago as a 501 (c)(3) environmental organization. Riding bicycles was always important in promoting their call for carbon-free, sustainable forms of transportation; but being a radical direct action group, the bikes were equally important as a way to escape the cops.
Though still engaged in alternative politics, the all-volunteer group has shifted focus over the years to make community bike rides and free bike workshops a centerpiece of the organization. From quiet moonlit rides through Central Park to costume-clad, boom box-backed laps around the boroughs, Time's Up rides provide insight into New York's hidden history while encouraging environmental responsibility.
In a kitchen decorated with bicycles and spare parts, I sat down with Time's Up Volunteer Coordinator, Keegan Stephan, to talk about his involvement with the group, some of the best places to ride to around New York City, and the evolution of the Time's Up Energy Bike Project.
You're not from New York are you?
No, I'm from Alaska.
As an environmentalist, what made you leave Alaska for New York City?
I really love Alaska. I love its natural beauty, and I love the outdoors and camping and hiking and cycling. But it was a very conservative state. Part of moving here was getting around more like-minded people. I came out here for college to pursue writing and I fell in love with the city for its high-energy and like-minded communities.
How did you get involved with Time's Up?
I was stationed in the South Bronx [after college] and running a co-op helping local kids fix their bicycles. I ended up moving to Brooklyn and took my shop with me. I realized I was duplicating Time's Up's services so I just integrated with them. I've been working with them ever since.
You grew up surrounded by the outdoors. Do you find it hard to connect to nature in New York?
I don't find it hard to get connected back to nature in New York City at all. I ride a bicycle avidly enough that I can get out of the city pretty quickly. It's probably one of the best things about living in this city for me—I find [nature] so accessible.
Where do you go?
I like to take the South County Trail to the North County Trail, way up to Fahnestock State Park. It's like 40-60 miles and it goes farther than that. I like to go camping there. I also like to cross the George Washington Bridge and take the 9A to the 32 over Bear Mountain and up to New Paltz. It's about a 100-mile ride and I bring my camping gear and sleeping bag. I just camp for a night or two and then I bike back.
Tell me about some of the Time's Up bike rides?
We have a huge range of rides. If you go on our Central Park Moonlight Ride, you probably won't see anyone that you would see on a Critical Mass ride or one of our clown rides. The Central Park Moonlight Ride draws a huge crowd. That's a group ride. It's very safe, very slow, but it takes you into Central Park at night which some people think is dangerous. It facilitates getting more people on bikes and feeling more comfortable in the city. And, because it's a Time's Up ride, it plugs you into the environmental message.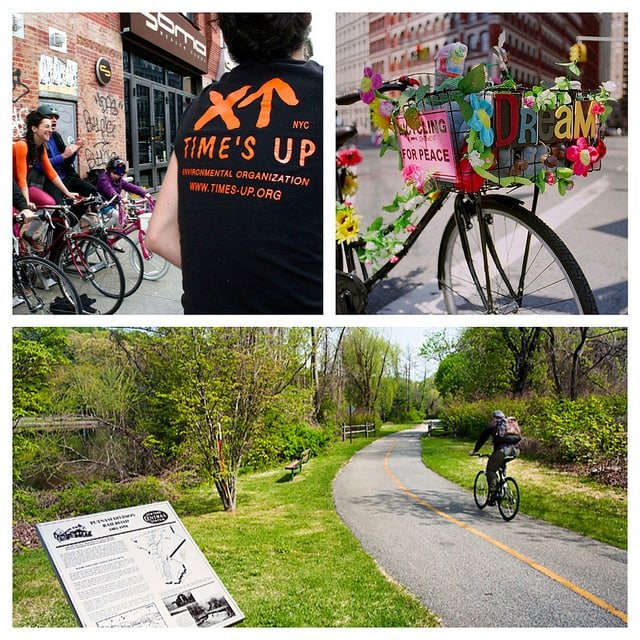 What ride would you recommend for someone new to Time's Up?
It depends who I'm talking to. If they were more mainstream, I would tell them to go on the Central Park Moonlight Ride.  It gets you out at night, in the park, where a lot of people don't hang out. The ride leader, Hannah, has been doing this for 15 years so she knows some really cool places that you wouldn't be exposed to if you don't go on this ride. If someone seems to be coming from more of a direct action side, I would recommend coming on Critical Mass where they're going to meet a lot of like-minded people who are into alternative politics and radical thinking.
Do you have a favorite Time's Up Ride?
One of my favorite rides is the Peace Ride. It's the third Sunday of every month. It goes to all these sort of historic places that revolve around peace and love and community building. It's really a charming way to get to see the city and it's one of the best date rides.
How demanding are most of these rides?
Very few of our rides are so demanding that only fit cyclist can go on them. Our hardest ride is the beach ride where we go out to the Rockaways. We were doing those as disasters relief rides after hurricane Sandy and they were very demanding for a number of reasons. But that is not our average ride. The peace ride has a slower pace and the Central Park Moonlight Ride is under five miles at a pretty leisurely pace. Lots of people of various skill levels go on that ride.
A focal point of the disaster relief ride was using energy bikes to help those without power. How did the energy bike project come about?
We designed and built energy bikes for Occupy Wall Street during our time in Zucotti Park. We were working with a sustainability group that wanted to get the encampment off of fossil fuels. That became really urgent when the FDNY came in and took away all the gas generators the night before a storm, leaving 41 cases of hypothermia the next day. We had about three on line when Hurricane Sandy hit and they became disaster relief again. There was no power in the Lower East Side and we brought them for people to charge their personal electronics so they could call their loved ones to let them know they were all right. When the power came back on, we brought them out to the Rockaways where there were still people without power. We're working with the New York Sports Club right now to try and retrofit all their stationary bikes to generate electricity.
What kind of bike do you recommend for people riding around the city?
If you're just getting started biking around the city, I recommend something very upright so that you feel safe and so that you have an eye on traffic. Time's up specializes in a Dutch-style bike that is very upright, full-fenders, step-over frame. It's very much an intro to the city bike.
Why are organizations like Time's Up important in New York City?
This building is an open door for community building. I have the shop open most days and people can just walk in and talk about bikes. It fosters community—people know they have a place to hangout. They're people who don't want to be going to a bar every night, don't want to spend all their money on going out to eat, and they come here and see how we get by without spending much money, how we support each other to do good things.
How can someone become involved with Time's Up?
The easiest way is just to come into the space at 99 South 6th Street in Williamsburg during our open hours (Wednesdays and Sunday 6pm to 9pm) and just let us know you want to volunteer. Chances are, no matter what skill you have, I can have you help out the minute that you show up.
For information about ride dates, repair workshops, and cool events like Movie Nights at the Bicycle Co-Op, or to make a donation and become a member ($20 for a student or $25 for an adult peryear), visit times-up.org or contact Keegan Stephan at keegan@times-up.org.
Photos: Nadette Stasa, Pedal_Power_Pete, Michael Baumann, Rivertowns, NY