If you think Florida is all early bird dinner specials, strip malls and children waiting on line to hug a black-eared mouse, you've never been to Sanibel.
The spirit here is authentic Old Florida, recalling the days of laid-back beach tourism. Locals have worked hard to keep Sanibel pristine and unspoiled, with nearly 70% of its land set aside as conservation area. There are no big-box stores, no fast food outlets and no high-rise condos. In a world defined by bigger is better, Sanibel permits no structure higher than a palm tree.

Seekers of cutting edge nightlife take note, the hippest nocturnal diversion in subdued Sanibel is dabbling your bare feet in the cool evening sand. While several venues feature live music, the natural sound of the sea is the acoustical trend. If you're traveling with kids, Sanibel is a refreshing place to teach your family how to interact with nature in a responsible manner. There are no theme parks or amusement piers and the only ride you'll get is on the gentle waves.
Getting Around Sanibel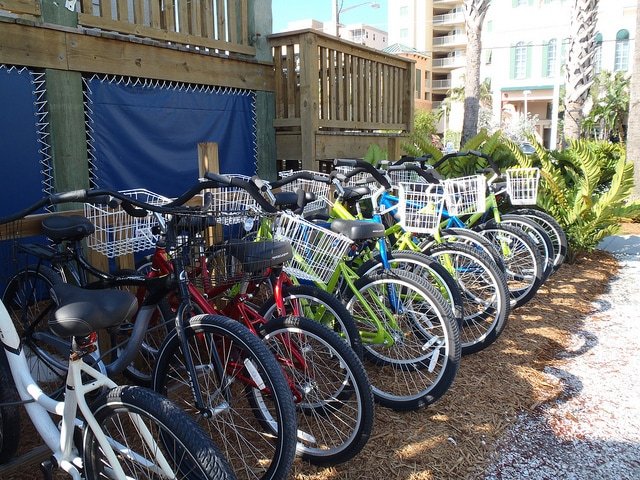 Sanibel is a barrier island off Florida's Gulf Coast, across a causeway from Fort Myers. It is blessed with an abundance of paved, flat bike trails, making two wheels the perfect way to traverse the island. This unhurried mode of transportation allows for ample opportunity to get up-close with turtles, birds and snakes with whom you will be sharing the path. As you pedal Sanibel's 25 plus miles of bike paths that reach all the way to Captiva, you will have a chance to appreciate the unique plant life of the area. Many hotels rent or lend bicycles, but if yours doesn't, Billy's Rentals has a wide selection and will deliver to your hotel.  There is no public transportation on Sanibel, but your bike will get you everywhere. If you care to pedal off island, the whole of Lee County is pro-cycling. The local biking club, Caloosa Riders, has an active membership and welcomes area visitors to join group rides.
Sea Shells
Sanibel's beaches are enticing. The sand is so powdery it feels like sifted flour. The Gulf water is usually bathtub-warm and the surf gentle, which makes for low-stress swimming. But Sanibel's true claim to fame is its spectacular and diverse assortment of shells, courtesy of its unusual east-west orientation that allows hundreds of species to wash up from the Caribbean.  The color palette peppering the sand is striking, and you may find Horse conch, cockle, tulip and the highly coveted junonia in a rainbow of hues. Shell collecting is especially fine at low tide or post-storm, but you are always assured to find some eye-catching mollusks and bivalves. It's one of the island's top pastimes, and you will see lots of people equipped with nets and scoops engaging in the so called "Sanibel stoop", the bent-over stance that beachgoers strike to pick up their desired shell. As the island passionately protects all living things, live shells must be left behind undisturbed. Sanibel is the appropriate home to the only museum in the country devoted to shells, the Bailey-Matthews Shell Museum, open daily. If you haven't seen enough shells on the beach to satiate your quest, you will find hundreds more here.
The J. N. Ding Darling National Wildlife Refuge
The refuge is part of the largest undeveloped mangrove ecosystem in the United States. It is a prominent rest stop along a major bird-migration route and hundreds of species have been spotted here. The Wildlife Drive is a bikeable one-way loop that offers supreme animal viewings. You can also cover the loop by riding the guided open-air tram that leaves from the education center parking lot. Closed Fridays.

Get Friendly with Sea Life
You won't find swim with dolphin programs in Sanibel. The emphasis here is on respectfully viewing and interacting with nature without disturbing or harming its creatures. Tarpon Bay Explorers offers a "Nature and Sea Life Cruise" that explores the waters of peaceful Tarpon Bay. The 90-minute tour starts with an interactive visit to the touch tank, where you will get your hands wet as you greet sea stars, horseshoe crabs, sea urchins and many more aquatic creatures. Next, board a quiet, environmentally friendly pontoon boat to learn about the rich back-bay ecosystem and the wildlife that inhabits it. You will observe a bird rookery with egrets, herons, ibis, pelicans and many more feathered friends who call these waters home. You may spot bottlenose dolphins as well as manatees during cooler months. Listen to the thoughtful commentary by enthusiastic naturalists and ask as many questions as you like as you view the mangrove estuary and its dense flora. Tarpon Bay Explorers also offer guided kayak and canoe tours for all levels, always respecting ocean etiquette.
Spend the Day on a Desert Island
Lee County is home to several sparsely inhabited islands that are accessible only by boat. Captiva Cruises offers regularly scheduled departures to isolated Cabbage Key from McCarthy's Marina in Captiva, a leisurely 90-minute bike ride from Sanibel. The catamaran drops you off and allows you a few hours to walk the secluded nature trail and have lunch at the island's sole restaurant, the ultra-casual Cabbage Key Inn, the place that inspired Jimmy Buffett to write "Cheeseburger in Paradise." Don't forget to leave an autographed one-dollar bill to join the collection of thousands that are already taped to the dining room walls.
Wildlife Healing in Action
The Clinic for the Rehabilitation of Wildlife, widely known as C.R.O.W., is Sanibel's wildlife hospital. They compassionately care for thousands of sick and injured animals annually. The goal of these real-life Doctor Dolittles is to get the animals back to their natural habitat as quickly as possible. The Healing Winds Visitor Education Center is a must-see for those who are interested in learning how humans can best help animals. You will learn behind-the-scenes information about traditional and holistic methods of wildlife medicine. There are loads of interactive exhibits, including live video footage fed from the veterinary hospital. Children should enjoy the touch-screen "Be the Vet" game, where participants try their hand at patient diagnosis. If you are going to be doing any shopping, the gift shop here is the perfect place, as 100% of the profits go towards patient care at the clinic.
Where to Stay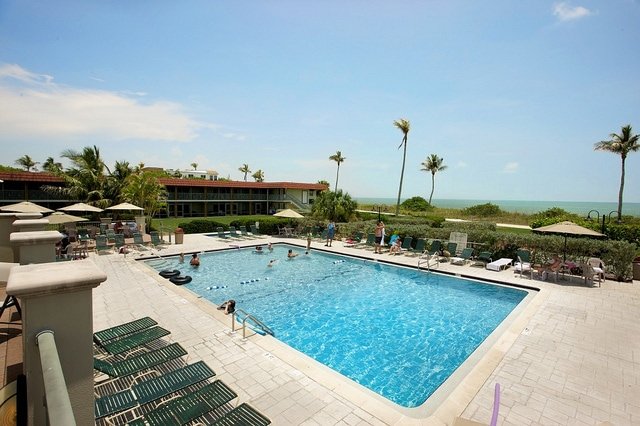 The West Wind Inn is a conservation-minded, bike-friendly property that provides an excellent home base for guests to acquaint themselves with the earthly gifts that are so abundant here. It is located on an incomparable swath of beach that is noted for its shells. Creature comforts include a computer center, bikes, a tennis court and large heated pool. The rooms are clean and comfortable and have kitchenettes for preparing snacks and light meals. Groceries can be purchased just up the road at Bailey's, a popular local market. Ask for an ocean-facing room and you will be lulled to sleep by the sea's own lullaby. Rates from $265 during peak season (Feb – Apr 15) and from $121 in the off season (Apr 16 – Jan 31).

Where to Eat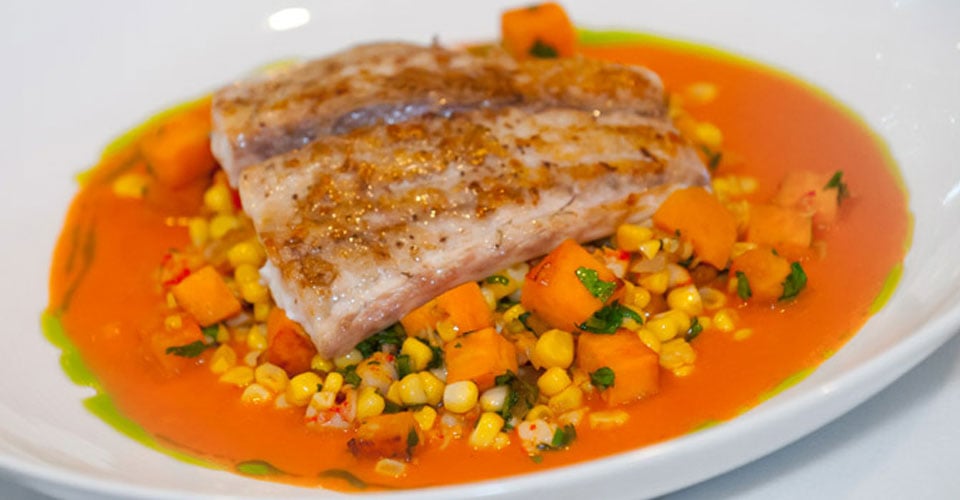 Sanibel is a popular fishing spot and freshly caught seafood graces almost all local menus. The Timbers is a fish market and informal restaurant with a wide menu of seafood tasting so briny you know it was just caught. Shrimp, oysters, stone crab and many more offerings are available depending on the season and the daily catch.
A morning meal at the Over Easy Café is de rigueur in Sanibel, thanks to the low prices and menu of yummy breakfast classics. Chef Melissa Talmage trained in Manhattan at the French Culinary Institute, then kitchen hopped from places like Union Square Cafe to Commander's Palace in New Orleans before opening Sweet Melissa's Cafe, a 20-minute bike ride from the West Wind Inn. For delicious, innovative cuisine in a more upscale environment, this is the best spot on the island.
How to get there
Southwest Florida International Airport is easy to navigate. It is served by many airlines, including Delta and Jetblue non-stop from LaGuardia. Roundtrip flights for February from $215. Sanibel Limo and Sanibel Taxi are reliable airport-to-Sanibel taxi services that must be booked in advance. The cost is approximately $60. For more information on vacationing in Sanibel, visit The Beaches of Fort Myers and Sanibel website. Visit carbonfund.org to offset your roundtrip flight for $4.
For more Way Off adventures without a car, visit offMetro World

View Getaway to Sanibel, Florida in a larger map
Photos: Ken Douglas, SowersPics, steveritchie, Andrea Westmoreland, Tarpon Bay Explorers, Beaches of Fort Myers and Sanibel, West Wind Inn, Sweet Melissa's
Allison is a native New Yorker, who has lived in Rome, Tuscany, Melbourne, Toronto and Los Angeles. She frequently contributes travel pieces to Family Travel Forum, using her own children as guinea pigs as they travel the globe. She is fluent in Italian and Spanish and laughably adequate in French. Her background as an Early Childhood Educator gives her an added understanding of what it takes to travel with kids in tow. She firmly believes that the most important part of education takes place outside of the classroom, on the road, around the world. She never misses a chance to sample local delicacies, as her love for travel goes hand-in-hand with her love for food and wine. Follow Allison at @gourmetrav.