When it comes to urban adventure, as far as we're concerned, New York City is the best place to have one. And if you take a step further and go beyond the boroughs, as we've discovered over the past four years, there are endless car-free getaways to be had for all types of travelers.
From new restaurants in Queens to moonlit cross-country skiing in New Hampshire to a yoga retreat in Massachusetts and camping in Acadia National Park, the oM writers offer 20-plus reasons to get out of town and explore this year.
PAUL BRADY: "It's been far too long since I've visited Philadelphia, and there are plenty of new hotels opening there, not to mention an always-electric restaurant scene. It's so close, there's no excuse to not be going once a month.
I still haven't been out to the East End, and that needs to change in 2013. I'd love to explore the wineries on the North Fork, and I'd love to visit Montauk sometime outside of the summer crush.
I've spent an inordinate amount of time recently dreaming about spending the night at the Saugerties Lighthouse, a place so popular you have to book at least two or three months out."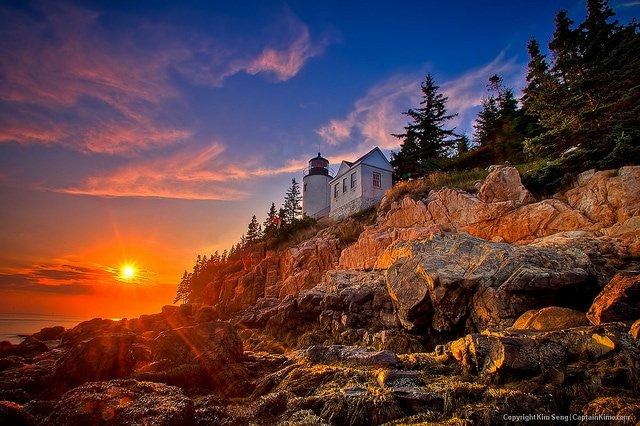 VINCENT CROSSLEY: "After visiting several national parks out west this summer, I'd love to experience one of the gems we have in our own backyard, Acadia National Park.
I'm especially looking forward to sea kayaking amongst the many islands, camping at the Duck Harbor Camp Ground, and watching the sunrise from Cadillac Mountain (believed to be the first location in the US to get hit by the sun's rays every day).
LAUREN MATISON: "Last year's ski season was dismal, so I'm craving an adventurous winter in the snow. Hunter Mountain and Windham are wonderful local slopes, but I'm looking forward to traveling to the Omni Mount Washington Hotel in Bretton Woods, some 350 miles away from the city. I'd like to get lost in the White Mountain National Forest, which surrounds the beautiful hotel, and try my legs at cross-country skiing and snowshoeing, especially on the moonlight tours being offered January 26 and February 23. Dog sledding, snowmobiling, and skiing are also on the agenda. The European Plan includes overnight accommodations and two Alpine lift tickets or Nordic Trail passes from $99 per person, per night. Add daily breakfast and a four-course dinner with the Modified American Plan from $179. Rent a Hybrid or ride Amtrak to Boston, transfer to the Amtrak 8334 bus to Littleton, and take a 20-minute taxi to the hotel.
When the snow has melted, I imagine I'll be ready to swap out my pink one-piece ski suit for an even cooler look of spandex cycling shorts and a bright green polka-dotted offMetro jersey. After years of riding across the George Washington Bridge and lapping Central Park, I'm eager to explore new terrain on two wheels. The Ranney Crawford House B&B, raised from the ground in 1810, calls to cyclists with wide, well-paved and traffic-free roads and the scenic vistas of Vermont. Owner Arnie provides guests with cue sheets and is always up to lead guided rides right from the inn's front door. Rates from $165 include a three-course gourmet breakfast, partially sourced from the inn's vegetable garden. Take Amtrak's Vermonter to Brattleboro, and hop a cab 20 minutes to the inn. Get a bike at Westhill Bicycle Shop in Putney (802.387.5718) or bring your own and rent a hybrid for the journey."
ANNIE MCBRIDE: "Though I frequently head east during the summertime, I have never been to Shelter Island, which is nestled between the North and South forks of Long Island. From stories and summertime photos, Shelter Island seems like a magical place that takes a sea voyage to get to. You can take the LIRR to Greenport on the North Fork and hop on a ferry (North Ferry Co. runs every 15-30 minutes from 6am to midnight, 631.749.0139).
I have only passed by the Mohonk Mountain House to take a quick hike around the lake, one of the most breathtaking and refreshing places I have ever been. I plan to return this year with some hikes mapped out and a great book to read on their massive wooden patio overlooking the lake. Adirondack Trailways runs from Port Authority out to New Paltz Bus Station. Call the lodge for pickup before you arrive. 845.256.2016."
AMY LEE PEARSALL: "Sometimes we just need to unwind after the holidays, and I like my retreats sprinkled with yoga and steeped in nature. This year, I'll be hopping on the bus to Lenox, Massachusetts, where I'll catch a connecting shuttle van to Kripalu. If you've been craving downward dog, meditation, and a little snowshoeing (weather permitting), consider treating yourself to one of their R&R retreats and a spa treatment to jump start your 2013.
With the release of Roger Michell's film Hyde Park on Hudson, I am reminded that I have yet to visit Hyde Park, New York. Historic Hyde Park operates their Roosevelt Ride shuttle service May—October, providing easy access from the Metro-North station in Poughkeepsie to the Franklin D. and Eleanor Roosevelt homes, the presidential library, and the Vanderbilt estate."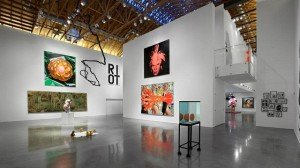 CARLY PIFER: "I've been meaning to take a trip out to Greenwich, Connecticut and tour the Brant Foundation Art Study Center. They have a Nate Lowman exhibit on now titled, "I WANTED TO BE AN ARTIST AND ALL I GOT WAS THIS LOUSY CAREER"; the centerpiece is O.J. Simpson's white Ford Bronco. Follow that up with a charming brunch and it makes for one weird day.
I'm obsessed with the idea of taking the train up to Lake Placid. I'm sure the ride would be beautiful and given the time of year the destination would be so peaceful. I want to wake up in the morning with a window on a snowy-scape and absolute silence.
I went to school in Boston so it's basically my East Coast version of home and hopping on the Chinatown bus brings back a lot of bittersweet memories from college, too. I love walking the pretty streets and then heading into one of the many cozy pubs in town. The Lansdowne has great Irish fare, live music, and events like oyster festivals and beer dinners."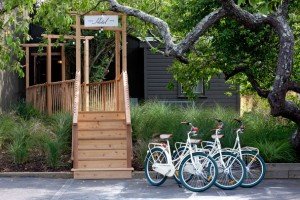 ELIZABETH ROSE: "Storm King was recently awarded a place on National Geographic's Best Trips of 2013 list. Explore the breathtaking outdoor sculpture park on a bike, offered on-site, before it closes on November 11."
Adults won't want to miss the chance to relive the joys of their summer camp days—without the uncomfortable bunk beds—at Ruschmeyer. Roast marshmallows, go for a paddle boat ride or play a competitive game of table tennis as you look forward to high thread count sheets and organic personal care products awaiting you in your room at the day's end."
SILVIE SNOW-THOMAS: "My goal for 2013 is to become an actual surfer chick. After years of hours-long boogie boarding sessions, beach days that turn into beach nights and every summer spent on Cape Cod, it is time I learn to stand up consistently on a surfboard and do so with style. I can therefore think of nowhere better to check out than Rye Beach, New Hampshire where the long stretches of sandy beach and consistently good wave conditions are a welcome respite to us city-dwelling aspiring surfers. Summer Sessions Surf Shop offers surf camps, lessons and rentals, and "Ladies Nights," with professional instruction and the chance to try out new surfboards and wetsuits on Wednesday nights throughout the summer. I'll start those days with bagels and lattes at The Sandpiper Country Store.
As a New Englander, it's sad to say I've not yet been to Block Island and long to experience the rolling dunes and quaint Bed & Breakfasts of the very bikeable island. In summer 2012, the island hosted a unique glass float art project and let loose 200 glass floats to be found by visitors. Once I arrive island-side by ferry, I'll definitely be on the hunt for one of these floats."
BRENDAN SPIEGEL: "Tourists don't usually venture beyond Capitol Hill and Northwest Washington, but the Northeast quadrant is experiencing a revival, centered around Union Market, a just-opened artisan food hall with an all-local lineup of vendors. I'm excited to get down there and try it out. Obama's re-inauguration should be a good excuse (and hopefully, won't be as much of a disaster as last time).
I've always found Atlantic City charming in a downtrodden, past-its-prime sort of way, but the city was hitting a new stride pre-Sandy, with the opening of Revel Resort and some interesting new restaurants. It's been following the Las Vegas model and setting the tone to be known for more than just gambling. Most places are back up and running post-storm, so I hope NYC travelers will support AC's recovery and head down there in 2013.
The jam-packed mall food courts of Flushing have always been reason enough for foodies to brave the 7-train trek to Queens. But now the food there is getting increasingly refined, and awesomely, remains crazy cheap. Biang is the best new restaurant I've eaten at this year, and their grilled lamb skewers are $1 each. New York mag just gave Little Pepper Hot Pot a four-star review–can't wait to try that next."
ALLISON TIBALDI: "As a self-confessed pie addict, I have always wanted to visit Rockland, Maine. Each January, this coastal village celebrates National Pie Day with delicious festivities. The main event is the 9th Annual "Pies on Parade" on Sunday, January 27th. Hungry visitors will sample dozens of pies, from standards such as blueberry to savory treats like Shepard's Pie to exotic concoctions that blend lavender, honey and yogurt.
Some twenty local venues, including Rockland's four historic inns, participate in the tasting. To burn off some of those calories, walk from tasting to tasting or start your diet tomorrow and ride the trolley. Tickets to the Pie Parade cost $25, and there are some great weekend packages that include accommodations and yummy extras like a wine and pie pairing. Amtrak's Downeaster line has recently extended its route to Brunswick, Maine, where you can catch the Concord Coach Line to Rockland."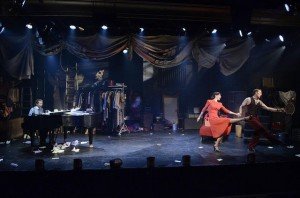 MATTHEW WEXLER: "While Broadway may be heating up this summer, so will the streets of New York City—to unbearable temperatures that I'd rather avoid in exchange for some cool mountain air and serene lakes.
That's why I'll be heading to The Finger Lakes Musical Theatre Festival, a season of more than 250 performances ranging from musical theater classics to a rotating roster of new works.
The Festival, produced by Merry-Go-Round Playhouse in Auburn, New York, runs all summer long and has been in the making since its original inception in 2007. Nestled in a town of 30,000 people, The Finger Lakes Musical Theatre Festival is poised to further reinforce the region as a cultural destination. It's also easily accessible by public transportation to nearby Syracuse."

Photos of great getaways from NYC: Omni Hotels, Saugerties, justingaynor, Kripalu, The Pridwin, Union Market, cristinabe, Caitlin Hickey, Finger Lakes Musical Theatre Fest, Captain Kimo