A visit to one of these seven Bronx bakeries is a stroll down memory lane, back to a time when baked goods were full-sized and calorie-rich. You won't find skimpy miniature cupcakes decorated with edible flowers in this borough. Proudly unfashionable classics of the Jewish and Italian kitchens can be yours for a fraction of Manhattan prices. Mouth-watering sweets such as shiny black and white cookies, chocolate-chip infused ruggelach, dazzling rainbow cookies, authentic old-world bread and creamy cheesecake will put your gustatory senses into overload. These nostalgic bakeries are all accessible without a car so there are no excuses to come between you and this little slice of heaven.
Here are the best bakeries in the Bronx.
What: S & S Cheesecake
Where: 222 West 238th Street
Why: One bite of this creamy delight and you will know why Zagat sings its praises. It is dense yet surprisingly light, perfectly nailing that hard to attain sweet spot. The premises are a tad Spartan, which may account for why much of the business is mail order. For purists, go for the topping-free classic New York-style. In cheesecake speak, New York-style is code word for Jewish-style and is made with cream cheese, as opposed to ricotta cheese, which steals the show in an Italian-style cheesecake.  For a retro-look try one covered with glossy cherries.  Only whole cakes are sold, in two sizes, 2 or 5lbs.  Store hours are Monday-Friday, 6 a.m. until 3 p.m.
How to get there: Take the # 1 train to 238th Street
What: Sal & Dom's
Where: 1108 Allerton Ave.
Why: Owned and operated by the same family for four generations, this is the place to come for seasonal treats that you thought you couldn't get outside of Italy, like stuffed Sicilian Easter breads and Christmas panettone. Handmade marzipan is used to lavishly decorate the tiered cakes that look like they came straight off the set of The Sopranos. Open daily.
How to get there: Take the #2 or 5 subway to White Plains Road. Walk a few blocks east on Allerton Avenue.
The following four bakeries are in the heart of Belmont, the Bronx's Little Italy. They are accessible via Bronx-bound B and D trains to the Fordham Road/Grand Concourse station. The #4 subway will take you to the Fordham Road/ Jerome Ave. station. It is about a 15-minute walk to Arthur Avenue. You can also take Metro North and get off at Fordham Road.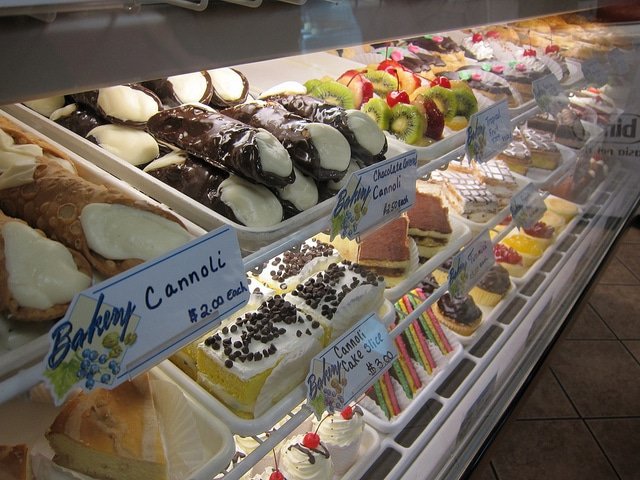 What: Madonia Brothers Bakery
Where: 2348 Arthur Ave.
Why: You can find sprinkle-dappled cookies, crunchy biscotti and classic cannoli here, but at Madonia Brothers you may start to believe that man actually can live on bread alone. The addictive olive bread may be the most popular item, but the distinctive raisin-studded fennel bread gets many votes for perfectly balancing sweet and savory. For something truly substantial, the ham-heavy prosciutto bread has a peppery kick that will fill and wake you up. The soft-crumbed cheese and jalepeño round is a spicy nod to this neighborhood's growing Mexican population. The intoxicating smells assure you that all baking is done on premise. Open daily.
What: Addeo & Sons Italian Bakery
Where: 2372 Hughes Ave., 2nd location on Arthur Ave.
Why: Basic bread is king here, so don't be put off by the slightly austere atmosphere. The signature variety is the pane di casa.  It is a hearty, uncomplicated loaf that is the essence of the old country. Fresh pizza dough should please the most die-hard traditionalists. The crispy taralli, seasoned with fennel or pepper, are crown-shaped bites that look like savory donuts, but have the crunchy texture of a cracker. Cookies, biscotti and breadcrumbs are as authentic as those you find in Italy. Closed Sundays.
What: De Lillo Pasticceria
Where: 610, E. 187 St.
Why: This venerable Belmont café recent move to spacious new digs makes it the most aesthetically pleasing pastry shop in the neighborhood. Patrons, including lots of Fordham University students and faculty, have ample room to sit, relax, and watch Italian television shows being broadcast. The coffee is excellent, and the waiter takes pride in making sure that your double caffé macchiato is exactly how you like it. Order a chocolate éclair to go with it and you will be presented with a velvety cream-filled oval, draped in a shiny chocolate glaze that will fill you up for most of the day. Real deal Italian pastries are lovingly displayed in the glass case. Excellent gelato, cakey rainbow cookies and festive cakes seal the deal. Open daily.
What: Artuso Pastry Shop
Where: 670 E.187 Street
Why: Family-run for four generations, Artuso's tantalizing cannoli, mocha-laced tiramisu, and nutty pinoli cookies have kept the crowds happy for years, so there is no need to tinker with perfection. Made-to-order special occasion cakes are affordable, but it will look like you splurged. If you can't make the trip, order their mini cannoli kit. It comes with everything you need to make a dozen cannoli at home in minutes, and makes a novel hostess gift. Open daily.
Photo: ChrisGoldNY
Allison is a native New Yorker, who has lived in Rome, Tuscany, Melbourne, Toronto and Los Angeles. She frequently contributes travel pieces to Family Travel Forum, using her own children as guinea pigs as they travel the globe. She is fluent in Italian and Spanish and laughably adequate in French. Her background as an Early Childhood Educator gives her an added understanding of what it takes to travel with kids in tow. She firmly believes that the most important part of education takes place outside of the classroom, on the road, around the world. She never misses a chance to sample local delicacies, as her love for travel goes hand-in-hand with her love for food and wine. Follow Allison at @gourmetrav.