How many times have you looked out at Hoboken and wondered what else the waterfront town has to offer besides spectacular views? The other day we took the PATH over and wound up wandering around brick roads, shopping at old fashioned shops, and missing Ol' Blue Eyes on a self-guided Sinatra tour. In between, we discovered some surprisingly delicious food, including the best empanada you'll ever eat and where to enjoy live music with a truly "Naughty Veggie Burger."
Here are five of the best places to eat in Hoboken.
3 Forty Grill (closed) | 340 Sinatra Dr.
Self-described as Hoboken's "premier waterfront restaurant," 3 Forty Grill is a spacious restaurant and martini bar with gargantuan views of Manhattan's west side. Just across the street from Pier Park, 3Forty has real estate to envy and an eclectic seafood and steak menu for all tastes. The restaurant also offers a raw bar (from $13) of clams, mussels, and lobster in any combination of six, or a multi-tiered plateau for sampling.
Elysian Cafe | 1001 Washington St.
This corner bistro is a charming, well-priced brunch and dinner locale. Inside, the cozy setting is accented with ornate wall molding, while the outdoor seating area wraps around the lightly shaded sidewalk and brick road. On the menu, egg white omelets made with tomato, spinach, and goat cheese ($10) is popular brunch fare, and for lunch and dinner they serve up classic seafood like lobster rolls and calamari. The best time to visit, however, is Wednesday for $20 steak night, which is held every week and comes prepared as a Bistro, Stir Fry, or Country Fried dish with soup de tour or mixed greens.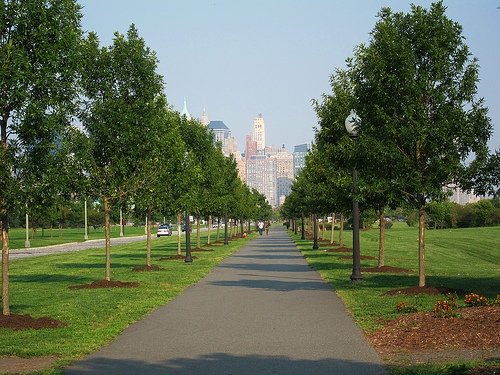 Amanda's | 908 Washington St.
This quaint brunch and dinner restaurant looks like an old English tea house, with its toned down décor of simple wallpaper, soft lighting, and parlor feel. Amanda's is more popular as a brunch destination, and it's easy to see why after checking out their weekend menu. With several starter options, three choices of eggs benedict (from $11), and a variety of omelets like classic vegetable and roasted sweet pepper, Amanda's is perfect for any lazy Sunday.
La Isla | 104 Washington St.
Don't be deceived by this restaurant's exterior. La Isla Restaurant may have an understated street view with a banner reading "Cafeteria Restaurant" shown bolder than their name, but La Isla Restaurant is not only a local favorite, but is said to have the best Cuban fare in the entire New York area. Traditional Cuban, which blends Spanish and African cuisine, is as colorful as it is flavorful, and La Isla's modern interpretations don't disappoint. The stuffed french toast is a popular breakfast item, but lunch and dinner gets a little more creative. The pollo habanero ($16) is a breaded chicken breast stuffed with ham, swiss, and pickles, served over sweet plantains and green beans. But their most popular dish is their juicy meat-filled empanada ($18), served either pollo or carne. Chef Oman Giner even beat Bobby Flay in a challenge on Flay's Food Network show, Throwdown! with Bobby Flay.
Maxwell's (closed) | 1039 Washington St.
Though it may be more well-known for its music venue in back, hosting bands like Nirvana, Red Hot Chili Peppers, and Sonic Youth, Maxwell's offers a variety of comfort foods, paired against some of the best drink prices for miles ($4 for Yuengling and $5 for Brooklyn Lager, Heineken, and Sam Adams). For some rock 'n roll history with dinner, try the tiger shrimp stuffed with crabmeat or the aptly named "Naughty Veggie Burger" ($10.95), topped with fresh mozzarella, basil pesto, onion rings, and every vegetarian's vice, bacon. With a menu as interesting as its visitors, Maxwell's is a best bet for lovers of food and music.
How to get there: Take the PATH train or the ferry to Hoboken Terminal. Hoboken is easily walkable. Should you need a taxi, they are easily found and charge a $5 flat fee within Hoboken.
For more ideas, read 10.5 Things to Do in Hoboken

View Best Places to Eat in Hoboken in a larger map