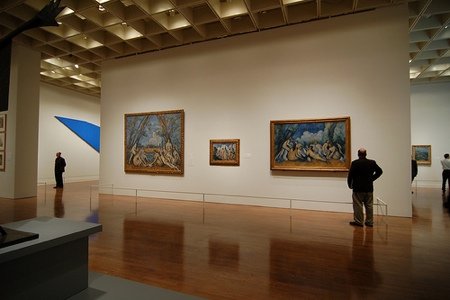 So much hype has surrounded the Cezanne and Beyond exhibition at the Philadelphia Museum of Art that I was calmly preparing myself to be disappointed on the trip "down south" a few days ago. Standing on a long line for twenty-five minutes to get in did nothing to make me any more optimistic. But when I finally got inside the galleries, any negative thoughts quickly vanished.
If you are a fan of Cezanne's, this exhibit will thrill you to the core. If you are simply a casual outsider to the world of art, you will be inspired to see more and to understand the broad impact that this one man has had on so many of the great artists of the Twentieth Century. Picasso, Matisse, Leger, and Mondrian are among the many artists who point specifically to the genius of Cezanne as the inspiration for their work. Brilliantly, the exhibition places the paintings of these artists next to relevant works of Cezanne, allowing us to see his influence directly. Small descriptions and background information often accompany the paintings and drawings, providing a more complete understanding of the significance of the art. One disappointing element, shared by my traveling companions, was the content of the headsets given to all visitors. We all found the commentary to be either obvious or filled with clichés. Try it, but if you find the first few blurbs inadequate, you'll probably do better to stop listening altogether.
Plan on a minimum of a couple of hours to survey the Cezanne exhibit, and if you don't have anything pressing, stay even longer to explore the rest of the museum. This is a world-class institution with art that will please even the most experienced traveler or art lover. While it is smaller than our own Metropolitan Museum of Art, it scores high in quality with a wonderful range of collections— antiquities to contemporary, furnished period rooms, American, Asian, and European art, and specialty collections ranging from Medieval armor to Japanese fashion.
When you think you have had enough art for one day, take a pleasant five-minute stroll to another national treasure, the Rodin Museum. This stunning, free-standing Neo-classical building houses more of the works of Auguste Rodin (1840–1917) than any institution outside of Paris. His Gates of Hell, Burghers of Calais, The Thinker, The Hand of God, and so many others are all housed in one beautiful space. Schedule an hour but be prepared to linger in the glory of these remarkable sculptures.
How to get there: Consult the Philadelphia guide in the Transportation Advisor section of offManhattan. (Philadelphia Museum of Art, 26th Street and the Benjamin Franklin Parkway, Philadelphia, 215.763.8100, philamuseum.org) (Rodin Museum, Benjamin Franklin Parkway at 22nd Street, Philadelphia, 215.568.6026, rodinmuseum.org)
*Note: This exhibit closes on May 31st. Please be aware that admission to Cezanne and Beyond requires special tickets that also give you access to the museum's entire collection.  Go online and get your tickets ahead of time; do not assume there will be any available at the gate.
Photo: Courtesy of Marusula