From Long Island to Westchester County, these five spa vacations in New York will bring you an invigorating day or weekend of pampering within the great Empire State. Catch the Metro-North or LIRR for your ticket to some eco-friendly rest and relaxation.
Mohonk Mountain House | New Paltz

Walk the grounds of New Paltz's Mohonk Mountain House and you'll be hard-pressed to find a corner of the property that isn't picture-perfect, from the cottages' rustic charm to the impressive backdrop of the Shawangunk Mountain Ridge. The award-winning getaway offers cozy-chic accommodations overlooking Lake Mohonk and acres of greenery and a luxurious spa complete with heated outdoor mineral bath. The Midweek Spa-Cation Special ($290 per person for double occupancy) allows you to rejuvenate and rest; the most moving you'll have to do is from the rooftop spa to your room. And if an overnight is out of the question, the Day Spa and Meal package ($150) will keep you well-fed and relaxed, with your choice of a massage or facial.
Treatment to Try: Let the power of the Shawangunk Ridge heal your tired bones, with the Signature Elements of Nature "Shawangunk Grit" Mineral Body Treatment ($170). Sink into the hydro-tub and feel the tension slowly leaving your muscles and preparing you for the exfoliating rub of minerals and botanicals to follow. End your experience with a rub down with moisturizing rosehips lotion and a guided nap.
How to get there: Catch an Adirondack Trailways bus at Port Authority, and ride until the New Paltz bus station. Mohonk Mountain House is a 10-minute taxi ride away.
Gurney's Inn | Montauk

The Hamptons are a hot spot all season round; especially when they lay claim to a therapeutic sea water spa and Roman baths. With complimentary spa services included in your stay, Montauk's Gurney's Inn is seaside bliss. Choose one of the inn's oceanfront suites, and admire the sun rising over the Atlantic each morning from the privacy of your own terrace. If unable to stay the night, services are available for the taking at affordable rates. Bring the kids and indulge them in a spa day, with treatements offered for all ages. The Teen Ocean Radiance Facial ($65) or Princess Manicure ($15) are perfect for young spa-goers.
Treatment to Try: Gurney's sea water spa is so inviting that it begs for you to take a lap in it. Select the Seawater Hydrotherapy Massage ($75) and soothe away all of your body's aches and pains as you inhale the scents of summer. The massage is part of Gurney's signature sea water bath series and is not one to miss.
How to get there: Take the LIRR or Hampton Jitney to Montauk, and the Inn is only a 10 minute taxi or bike ride away.
Viana Hotel & Spa | Westbury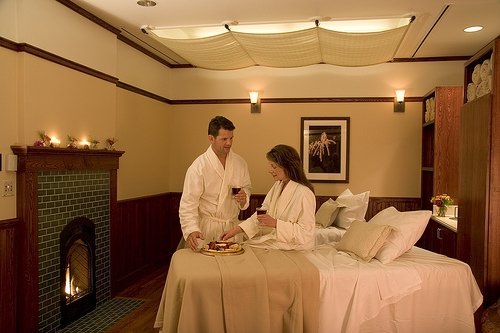 Possessing the distinction of being the only green hotel in Long Island designed using a feng shui orientation, Westbury's Viana Hotel & Spa has a lot to live up to. The modern hotel delivers; it is a sleek work of art, beginning with the in-laid glass compass marking your entrance in the lobby and leading to your contemporary room arranged in the most mood-enhancing way possible. Viana's full-service salon and spa will revitalize you in the time you have available, be it with the two-hour Beauty Express ($200) or Full Day ($355). Grab your partner for some pampering as a pair, with Viana's couples rooms. Enjoy side by side massages, or splurge on the Luxury Romance Package ($365) and rekindle your romance as you revitalize your energy.
Treatment to Try: So popular it is included in every package, Viana's Signature Facial is a must for all visitors. Feel your skin resume its luster as pores shrink and imperfections are exfoliated away, as deep cleansing, massage and a specialized masque are applied. After the facial is completed, sunscreen is the final step, to make sure your complexion retains its renewed glow.
How to get there: Take the LIRR to Westbury, the Inn is a 30-minute walk or 10-minute bike ride away.
Buttermilk Falls Inn & Spa | Milton

With a set-up this cozy, quaint and comforting, Hudson Valley's Buttermilk Falls Inn & Spa feels like you've come home for the weekend. The all-inclusive offerings start with cooked-to-order breakfast and continue to access to the Inn's tennis courts, gym, pool and more. Stop in for afternoon tea and cookies if possible, but you may just be too busy hiking the nearby Rail Trail or exploring Hudson Valley wine country. Be sure to put relaxing in the property's spa on your agenda, because it is well worth the trip. The offerings include Reflexology ($60) to relieve soreness in the body, Buttermilk's Signature Facial ($110), rebalancing your pH levels and applying rich nutrients to your skin, and many more.
Treatment to Try: Buttermilk Body Bliss ($155) is full-body therapy that will leave you smelling as good as you feel. Cane sugar, Virgin coconut oils and other nutrients come together to buff your skin, replenish your body of essential oils, and bring back a healthy-looking glow. The hour-long procedure is an exotic, exciting way to primp and pamper.
How to get there: Take Metro-North or Amtrak to Poughkeepsie. Take a taxi the remaining 12 minute drive to the Inn.
Oasis Day Spa | Dobbs Ferry
The name says it all; an oasis of relaxation awaits you at this Dobbs Ferry day spa, with peels, massages and packages to keep said pampering procedures affordable. Step into a lounge, stocked with tea, magazines and couches to kick up your feet as you await your appointment. After a relaxing Vichy shower or Milk & Honey Mani-Pedi to tame unruly cuticles, head out to Oasis's rooftop to feel the wind on your freshly exfoliated face.  Score the spa's best deals from Monday to Friday; the C-Lumination Facial ($145) and Skin Rescue Scrub & Wrap Combo ($165) are yours to enjoy for a reduced rate. October specials include 10% off for wearing pink, to support breast cancer awareness, and special sports massages in honor of th New York Marathon.
Treatment to Try: Restore your face to a glowing summer sheen, with the Pomegranate Brightening Peel ($95). Utilizing the fruit's natural acidic properties, this is the strongest peel available, short of visiting a dermatologist. Fight brown spots and discoloration from the summer sun with the spa's signature peel.
How to get there: Take the Metro-North to Hastings or Dobbs Ferry, and catch a taxi for the 10-minute ride to Oasis Day Spa.
Head image courtesy of Buttermilk Falls Inn and Spa.